Georgia's Democratic gubernatorial candidate Stacey Abrams refused to call Brian Kemp, the GOP governor-elect, the "legitimate" winner of their race during two Sunday interviews, though she did say Kemp was the "legal" victor of the governorship.
Speaking with MSNBC's Joy Reid on "AM Joy," Abrams criticized Kemp's actions as secretary of state in the lead up to the election when asked by Reid whether she considered the result to be legitimate.
"I think that it's legal," Abrams said of Kemp's win. "I think it's wrong. I think that what happened is that we have watched systematic erosion of our democracy and over the course of time that was overseen directly by my opponent in the race who also happened to be responsible for the administration of fair elections, and he didn't do so."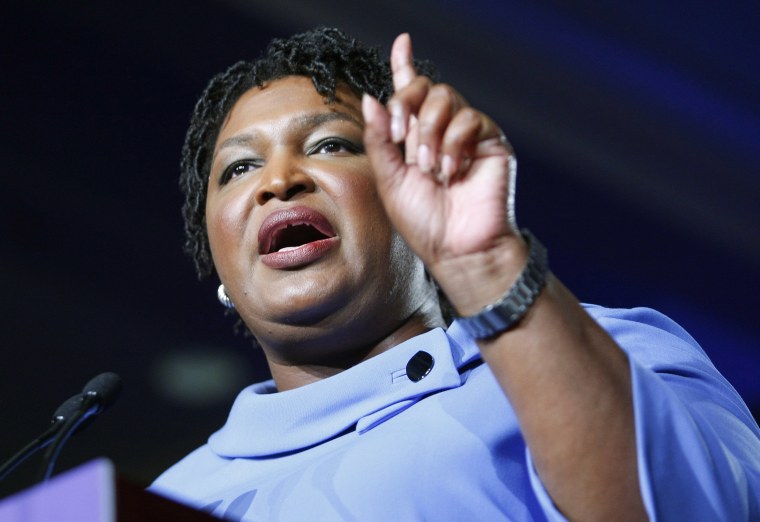 During an interview with CNN's Jake Tapper on "State of the Union," Abrams said Kemp was "the person who won an adequate number of votes to become the governor" when the CNN anchor asked her a similar question.
"You're not using the word legitimate," Tapper said. "Is he the legitimate governor-elect of Georgia?"
"He is the legal governor of Georgia," Abrams said. "And here's the thing, Jake. I want to be very clear. Words have meaning. And I have spent my lifetime not only as an attorney, but as a writer. And I'm very careful with the words I choose. And, yes, when he takes the oath of office, he will be the legal governor of the state of Georgia. He is the legal victor."
"But what you are looking for me to say is that there was no compromise of our democracy, and that there should be some political compromise in the language I use," she continued. "And that's not right. What's not right is saying that something was done properly, when it was not. I will never deny ... the legal imprimatur that says that he is in this position. And I pray for his success. But will I say that this election was not tainted, was not a disinvestment and a disenfranchisement of thousands of voters? I will not say that."
Abrams ended her candidacy on Friday, 10 days after Election Day. She refused to concede the race, however, and rebuked what she called a "rotten and rigged" election process. She alleged Kemp engaged in the "systemic disenfranchisement" of voters.
"So let's be clear, this is not a speech of concession because concession means to acknowledge an action is right, true or proper," she said in her Friday speech. "As a woman of conscience and faith, I cannot concede that."
The final vote tally showed that Kemp won more than 50 percent of the vote, enough to avoid a runoff election against Abrams. Kemp resigned as secretary of state, a position that allowed him to oversee the election he was running in, following Election Day.
In October, an Associated Press investigation found that Kemp's office had more than 50,000 voter registration applicants still pending, most of which were from black voters. As a result, Abrams and civil rights groups alleged that Kemp was engaging in discriminatory practices.
Kemp denied disenfranchising voters, saying he was just following the law.
Following Election Day, Abrams fought to have more ballots counted in hopes that Kemp's lead would narrow to the point that a recount or runoff was triggered, but it did not happen. During that time, the Abrams campaign accused the secretary of state's office of providing inaccurate and false information about the remaining votes.