WASHINGTON — Stacey Abrams and Stacey Evans are both lawyers, both Democrats, and both running for governor of Georgia in Tuesday's primary, which is being watched as test of competing electoral strategies for Democrats in the Donald Trump era.
Each Stacey has inspiring personal stories — Abrams was one of six children in a black family that struggled with economic and racial obstacles, while Evans was raised by a teenage mother who moved the family 16 times in 18 years to stay ahead of bill collectors and abusive men.
Both are are former state representatives, both are running on similar policy platforms, and either would be Georgia's first female governor.
But what sets the two Staceys apart — what's drawn the attention of Democrats and political observers across the country this primary season — is less what they're promising to do in office, but how they'd get there, with each representing alternate paths for how the party might find its way out of the political wilderness.
Abrams' campaign is an extension of a long-term project she embarked on years ago to turn Georgia blue by mobilizing its growing population of minorities, young people, and unmarried women who don't vote for one reason or another.
"We can win if we talk to a different coalition of voters — keep the ones we have, but expand who we can get," as she told NBC News last year at a meeting of the National Governors Association. "In each election, we get better and better and closer and closer, and 2018 is our year."
Meanwhile, Evans argues Democrats need to focus on winning over swing voters, who are mostly whites.
"There are two competing strategies on display here," Evans said in a debate Thursday hosted by the Atlanta Press Club. "I am the candidate running the only race that can win in November because it's the only strategy that focuses on the entirety of Georgia."
"You have to not just run one play. You have to play defense and you have to play offense. That's why I want to go into the suburbs of Georgia and talk to moderate voters," she continued.
The split reflects a central debate Democrats everywhere have been having since their shocking defeat in 2016, when working class voters defected at the same time that minorities and young people stayed home.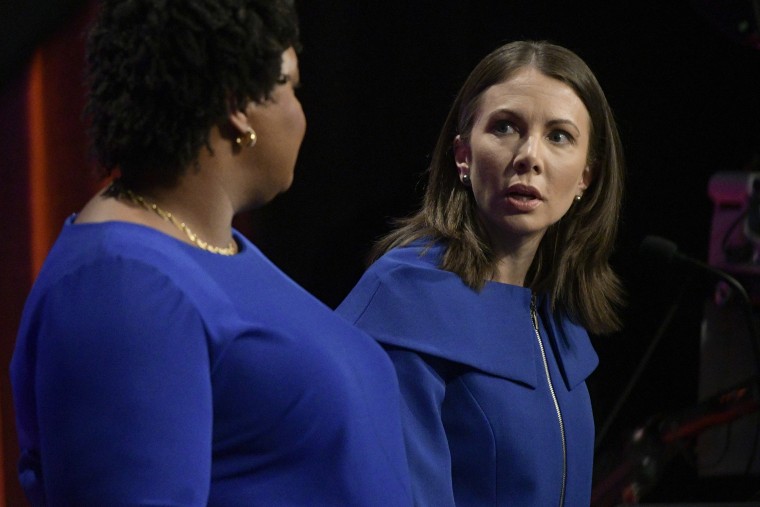 Of course, every Democrat says the party needs to do both — expand the overall pie of voters while also reaching to slice off a bigger share of it. But there's a question of priorities.
As Jim Galloway, a veteran columnist for the Atlanta Journal-Constitution, put it, Georgia Democrats have a choice between "immediate gratification and fundamental realignment."
Evans represents the more conventional approach, while Abrams supporters say recent defeats by famous-named white Democrats like Michelle Nunn and Jason Carter show the old model doesn't work anymore.
Last summer, progressive activists disrupted Evans' speech to the Netroots Nation conference in Atlanta by chanting "trust black women" the entire time she was on stage.
Abrams is the favorite heading into Tuesday's contest, with polls giving her a double-digit lead, though many voters remain undecided.
About 50 percent of the Democratic electorate in the state's presidential primary in 2016 was black, according to exit polls, with white voters making up less than 40 percent.
Abrams doesn't fit the historical profile of candidates Democrats have run for statewide office in the South.
The former minority leader of the Georgia State House was the first woman and the first African-American to lead either party in the chamber. And she's first black woman to run for governor in a state whose flag included the Confederate Stars and Bars until 2001.
She is unmarried and the author, under the pen name Selena Montgomery, of a series of successful romance novels with steamy titles like "Hidden Sins," "The Art Of Desire," and "Reckless."
National figures have overwhelmingly lined up behind Abrams, who is better known outside the state, including Sens. Bernie Sanders, I-Vt. and Kamala Harris, D-Calif., Emily's List, MoveOn, Planned Parenthood, and more.
"When you are with her and the voters, you can feel how much that authenticity and empathy cuts across the traditional race and class and issue lines and is an answer to the cynicism that pervades today's politics," said Ilyse Hogue, the president NARAL Pro-Choice America.
Some Evans supporters, meanwhile, chafe at all the out-of-state intervention.
"This election is not won in Washington D.C. It is won right here, in Georgia," former Georgia governor Roy Barnes said in a statement provided by Evans' campaign. "Georgians aren't laying up worrying about what Washington D.C. wants or some national party divide."
And Abrams made some enemies in the state during her tenure as minority leader, especially for a deal she cut with Republicans during the recession that slashed funding to the state's HOPE scholarship fund.
Evans, who was the first in her family to go to college because of the HOPE program, has made the cut a central focus of her campaign.
While most of the state's African-American leaders have backed Abrams, including Rep. John Lewis, D-Ga., the civil rights icon, there are some notable exceptions, like Atlanta's newly elected mayor.
Whichever Stacey wins will face a uphill battle in November, though not an impossible one, Democrats say.
Hillary Clinton came within five points of winning Georgia — much closer than in traditional swing states like Ohio and Iowa. Meanwhile, Republicans have their own heated primary to replace Republican Gov. Nathan Deal, who is term-limited.
And in a sign of Democrats' bullishness about Georgia, the Democratic National Committee chose Atlanta to host a major July fundraiser, and put the city on their 2020 convention shortlist.
DNC Chairman Tom Perez said the party is starting to make investments in the state it hopes will pay off.
"We're playing chess, we're not playing checkers anymore," he told NBC News.