LAUDERHILL, Fla. — Inside, a man in a suit argued for the merits of a paper clip over staples. Outside, a man in a Hillary Clinton mask held signs arguing for the former Democratic presidential nominee to be sent to prison along with local election officials.
Florida's statewide recounts got underway Sunday morning with lawsuits, protests and some high-stakes paper jams as both parties dug in for a prolonged legal battle over critical Senate and gubernatorial races in one of the largest states in the country.
"The whole world is watching this," Judge Betsy Benson said inside the Broward County Election office, which has been newly fortified by layers of police and private security forces to protect vote-counters from the protests raging outside.
Almost two decades after hanging chads and butterfly ballots earned it ignominy in the 2000 presidential recount, South Florida is once again ground zero for a closely watched recount.
"It was like déjà vu all over again walking in here," said Larry Davis, an attorney who has monitored elections for Democratic candidates and officials since 2000, calling out the names of GOP counterparts he recognized from the Bush v. Gore days 18 years ago. "Of course that had a little more importance to it."
Recounts rarely turn up more than a few hundred misidentified ballots and outgoing Republican Gov. Rick Scott leads Democratic Sen. Bill Nelson by about 13,000 votes in the Senate race. So could Nelson really still pull out a victory?
"Anything's possible," Davis said. "It's Florida."
NBC News has rated the race as too close to call.
Some counties have to run machines 24 hours a day to process the nearly 8.2 million votes cast statewide by the Thursday afternoon deadline for recount results. And there was talk of officials' planning to sleep in their offices so they would be in place to adjudicate any questionable ballots that might arise in the middle of the night.
"Bring your pillow," advised one attorney working for the Supervisor of Elections office in Broward County.
One employee was seen toting a gallon jug of water and two energy shots as he crossed the police lines at the tightly secured office to get into work early Sunday morning.
No one could sleep outside, given the din of 150 or so noisy pro-Donald Trump supporters yelling through bullhorns. A cherry picker hoisted a giant Trump flag in the air and a pickup truck was plastered with pro-Trump and pro-law enforcement flags like a MAGA porcupine.
A large troupe of Democratic supporters showed up on Friday, creating some tension with the pro-Trump side. But on Sunday, Trump fans had the parking lot outside the strip-mall voting office to themselves.
Republican officials from Scott to Sen. Marco Rubio of Florida to Trump himself — who has tweeted about Broward no less than five times in the past few days — have promoted unsubstantiated allegations about voter fraud here, putting a target on the heavily Democratic county.
Scott asked the Florida Department of Law Enforcement to investigate, but the department said it had received no evidence of fraud.
That hasn't stopped the protests.
"I imagine we're going to have people there every day," said Diana Taub, vice president of the Southwest Broward Republican Club.
Still, Broward County and its supervisor of elections, Brenda Snipes, have been plagued by legitimate election administration concerns for years.
"Snipes is not someone who would manufacture boxes of ballots to throw an election. She's simply incompetent," the Fort Lauderdale Sun Sentinel editorial board wrote Friday, reiterating the newspaper's call, first issued in June, for Snipes to step down or be removed from office.
What started with a small, red-hatted prayer circle in the morning swelled with the Florida heat into a large crowd by noon.
The mood was alternatively festive and angry. One minute, members of Bikers for Trump were dancing to songs like Can's "I Want More," re-recorded with pro-Trump lyrics, and the next minute, a woman with long blonde hair who said her name was MJ was yelling at the top of her lungs about "the f------ Jews."
An ersatz news conference broke out around the woman, who told the assembling crowd that she herself was Jewish, but frustrated that the large Jewish population in South Florida reliably votes Democratic.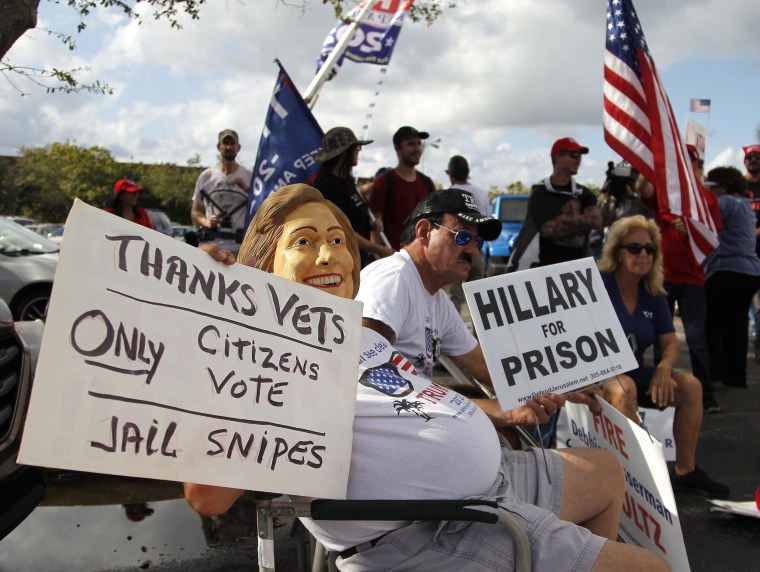 A large tattooed man with a shaved head who gave his name only as Taco stepped up beside her. He was wearing a cut-off black shirt that featured a drawing of Trump riding a Harley Davidson Motorcycle and holding a sawed off shotgun that said "Drain the Swamp."
"They control the media, they control the entertainment business and that's what they do," he said. "Donald Trump has done more for the Jews and Israel than anybody before. And it doesn't matter."
Another man in a white shirt, Art Manon, stepped into the fray and noted he had been in Fallujah, Iraq.
"The liberals over here, I fear them more than I did the terrorists," he said, clarifying to a reporter later that he had not been in the military in Iraq, but rather was working for Halliburton, the oilfield services company.
The scene, or one like it, may repeat itself for days, since a manual recount is likely to follow the machine version once it's completed Thursday. And the hand count is where the real fun starts, as attorneys inside joked morosely. But anyone who remembers the eight-month slog that led to Al Franken's ascent to the Senate, no thanks to an infamous vote for "Lizard People," may disagree with the amusement factor.
Republicans are trying to prevent a manual count, asking judges to stop the count and impound Broward and Palm Beach counties' vote-counting machines.
Across town, addressing a very different crowd at a black church, Democratic gubernatorial candidate Andrew Gillum demanded that every vote be counted, invoking the dogs and firehoses turned on black voters during the Civil Rights era.
"What a notion that we should find ourselves a few days after Election Day begging, pleading for people who legally cast their ballots to have those ballots counted," Gillum said.
After a service that included comments from a Muslim, a Jew and a labor union organizer, the crowd erupted in a chant of "Count every vote!"