/ Source: Associated Press
LANCASTER, Ky. — A high school math teacher ousted the majority leader of the Kentucky House of Representatives on Tuesday, with a narrow win in the GOP primary race.
Travis Brenda credited a groundswell of teacher support for the win and said it sends a message that teachers and public workers won't be silent. His race follows a wave of education protests at the Kentucky Capitol and elsewhere around the country, with teachers and others calling for increased pay and other benefits.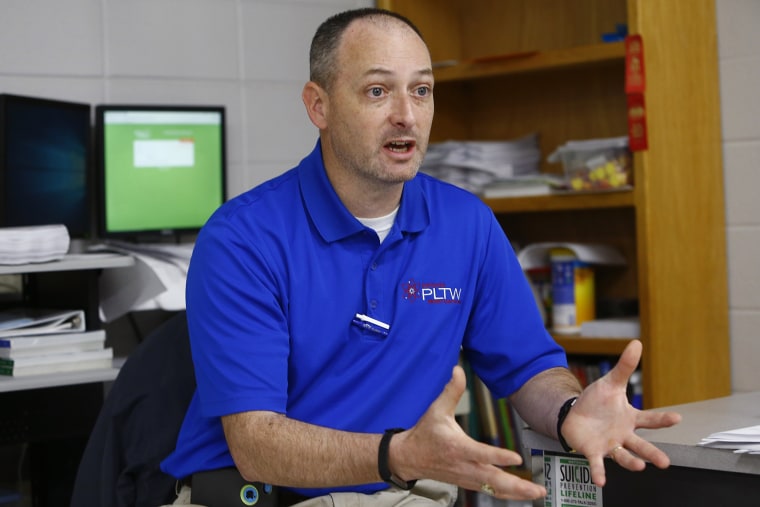 Votes turned on Rep. Jonathan Shell — who two years ago was credited with helping orchestrate the first GOP takeover of the state House in nearly 100 years — over his role in writing a new state law changed the state's pension system.
"He lied to us," school bus driver Carol Plummer said. "I hope it sends a message."
Shell co-authored a bill that moved all future teachers into a hybrid pension system. Lawmakers passed it on one of the last days of the legislative session, hurrying it through. It was never available for the public to read before the vote.
The bill, signed into law by Republican Gov. Matt Bevin, prompted thousands of teachers to march on Kentucky's Capitol, closing schools in more than 30 districts.
"They picked on the wrong group," said Brenda, a fourth-generation farmer and 20-year teaching veteran who's never run for public office before. "Not just the educators, but all state employees are rising up and we're not going to let things be done to us."
Shell did not answer a phone call from The Associated Press seeking comment after the race Tuesday.
The election result is a warning to other Republican lawmakers on the ballot in November, where dozens more teachers are mounting challenges, mostly as Democrats.
Jerry Ward is a retired firefighter who said he voted for Brenda. "Basically everything that the federal government gave me in the tax cut, the state pretty much took," Ward said.
Brenda will face Democrat Mary Renfro in November.