By the numbers, Tea Party-backed challenger Chris McDaniel lost Tuesday night's runoff election to incumbent Mississippi Sen. Thad Cochran, but the conservative firebrand says he's not giving up the fight yet.
"Now, it is our job to make sure the sanctity of the vote is upheld," McDaniel said in a fiery speech – which did not include a concession – after the race was called. "Before this race ends, we have to be absolutely certain that the Republican primary was won by Republican voters."
Sign up for breaking news alerts from NBC News
McDaniel and his backers objected to Cochran's open courting of non-GOP voters, including the state's sizable African American Democratic population. Party registration is not required to vote in primary elections in the state, and any voters who did not participate in the Democratic primary were eligible to vote in the GOP runoff.
On Tuesday night, McDaniel hinted at a legal challenge to the results, which showed Cochran winning 50.8% percent of the vote to McDaniel's 49.2%.
"Today the conservative movement took a backseat to liberal Democrats in Mississippi," he said.
The race went into overtime earlier this month, when neither Cochran nor McDaniel reached the 50 percent of votes needed to avoid a runoff.
McDaniel, who had the backing of major outside conservative groups, originally appeared to have momentum going into Tuesday's election. He and allies tried to paint Cochran as too attached to Washington's federal coffers and out of touch with the state's conservative voters, and he compared his own campaign to that of Tea Party heroes like Texas Sen. Ted Cruz and Kentucky's Sen. Rand Paul.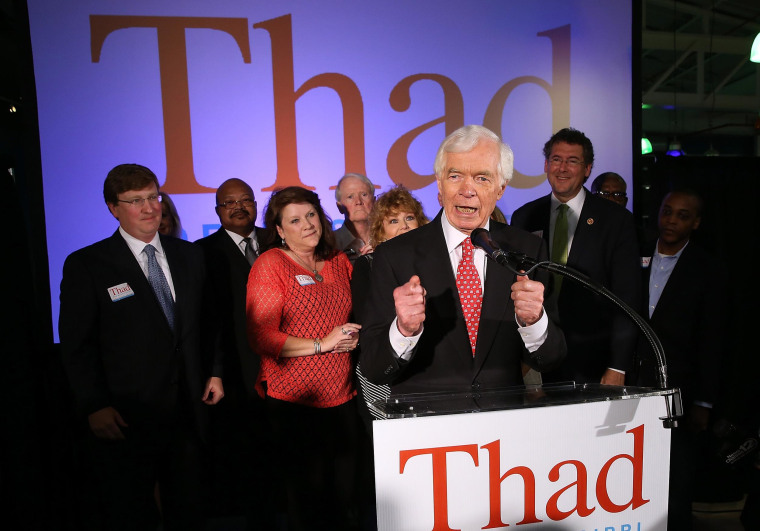 But Cochran got a last-minute influx of support from Republican establishment groups and high-profile surrogates like fellow senator John McCain of Arizona. Promising to keep bringing federal dollars to Mississippi, the senator's campaign worked to appeal to voters outside the typical GOP electorate, including Democratic black voters.
"You were the ones who helped reach all the voters and made sure they knew they were important to this election, because it is a group effort, not solo," Cochran told supporters during his victory speech Tuesday. "We all have a right to be proud of our state tonight."
The Tea Party favorite's supporters, including outside groups like the Senate Conservatives Fund and FreedomWorks, had sent volunteers to polling locations in the state to oversee voting and prevent those ineligible to vote from casting a ballot.
Many national Democrats had been hoping for McDaniel – who made a series of controversial statements during his time as a radio host – to topple the long-time senator.
Even in the deeply conservative state, they believe they have a strong candidate in former Rep. Travis Childers, who could have exploited any potential missteps by the less experienced McDaniel.