WISE, Va. — For Whitney Smith Castle, the health care debate in Washington felt even further away than the 400 miles this corner of Virginia's coal county is from Congress.
Her daughter was having health problems and she didn't know what to do.
"You have no idea how many times we've been to doctors," she told the specialist at a free clinic set up at the county fairgrounds here that treats some 2,500 patients in a single weekend each year.
Her 8-year-old daughter, Miranda Smith, looked up through blonde bangs at the pediatric neurologist — who also happens to be the state's lieutenant governor and a physician — as he put a stethoscope to her chest. He provided a diagnosis and his cell phone number, assuring Castle that everything should be fine.
Lt. Gov. Ralph Northam, running for governor as a Democrat, had just come from his first debate against Republican Ed Gillespie that morning. The two had argued about the GOP plan to repeal and replace the Affordable Care Act — and now Northam was treating those who had fallen through its cracks.
"Just another day at work," Northam said in the drawl of Virginia's rural Eastern Shore.
Wise County voted 80 percent for Donald Trump, but with unemployment, poverty and disability rates all above the national average, most of the patients here didn't care about whether the White House would prevail in the health care debate raging in D.C. or what version of the GOP plan would be voted on. They just wanted care.
"I don't have insurance enough to have an opinion on that," said William Doss of repealing Obamacare as he waited to see a dentist.
For his part, Northam said Obamacare is working and that he hopes to get Virginia to finally accept the law's Medicaid expansion if he wins, which might help people like those at the clinic.
"I'm a big believer that health care should be a right, just like education is a right," he said. "In the richest county in the world, people should be able to not be one medical issue away from financial demise or death."
He added, "I think everybody that is in policy-making should come out and see what's going on out here."
Stan Brock founded Remote Area Medical, which has run this pop-up clinic for 18 years, to send doctors to developing countries. But he found the need was so great in Appalachia and other parts of the U.S. that the non-profit now runs dozens of free clinics each year right at home.
Hundreds of people travel from all over southwest Virginia to spend the night in their cars and line up in the pre-dawn hours to see a doctor, get their teeth fixed, or leave with a new pair of glasses.
Brock knows it can be a photo opportunity for politicians. Democratic Gov. Terry McAuliffe visited Friday and almost didn't recognize Sen. Tim Kaine, D-Va., who was volunteering at patient registration.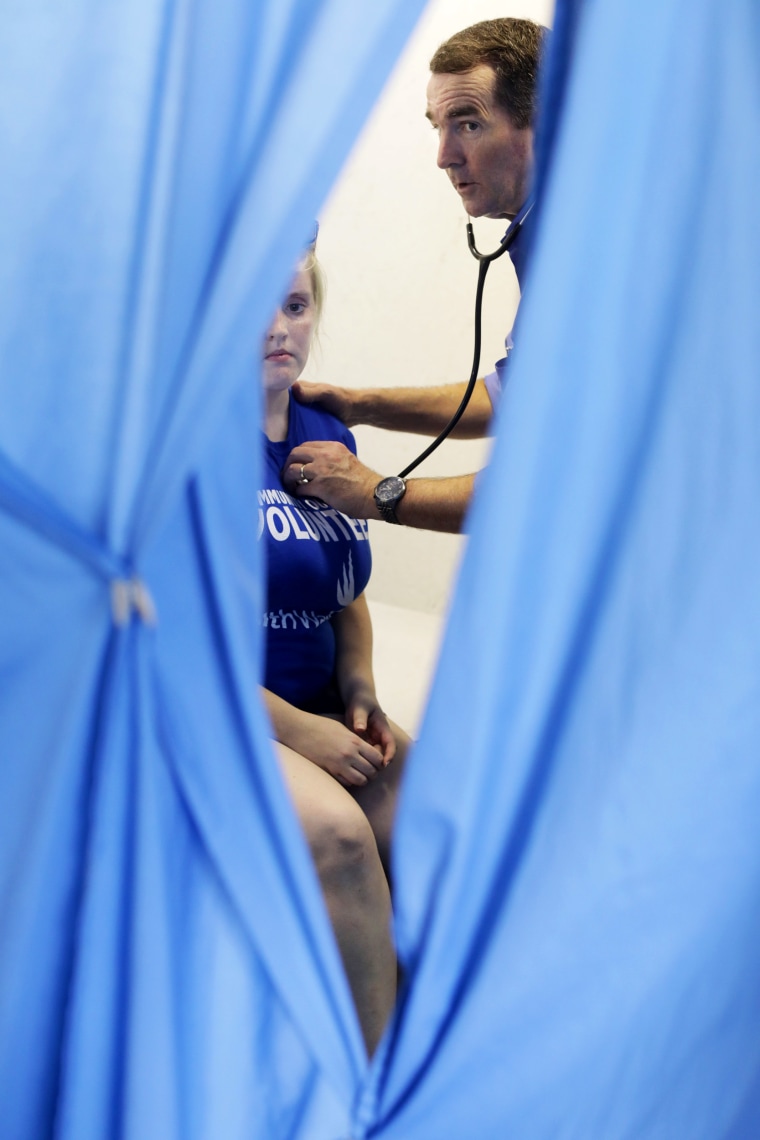 But Brock, a former TV star as co-host of "Wild Kingdom" who at 80 still looks camera-ready, wants every politician to see the failures of the country's healthcare system with their own eyes.
"I'm actually convinced that if President Trump were to come to one of these big events, he would say to himself, 'Wow, I should do something about this,' " Brock said. "They're all cheering for him now, but they're all expecting something to change for the better. And it's not, for now, at least."
This was Northam's fifth time volunteering at a free clinic, which he said gives him a chance to practice the field medicine skills he honed in the Army during the first Gulf War.
As he wound his way between open-air dentist chairs where people were getting their teeth pulled, doctors and nurses in scrubs kept coming up to greet "Dr. Northam." The patients didn't seem to notice or care about the VIP in their midst.
It's a two-and-half hour drive in any direction to the nearest county that went for Hillary Clinton last year. She didn't even crack 18 percent of the vote in Wise County, even though her husband won it twice 20 years ago.
Trump is still popular among many at the clinic, but there's also a deep cynicism about all of politics.
"Everyone says they'll help this area. No one ever does," said Aaron Breedlove, who recently moved over the border to Tennessee where the economy is a bit better.
"There's no jobs, all the stores are shut down," said Crystal Phillips, pointing to the decline of the coal industry. "And they wonder why all the kids wind up on drugs or stealing."
Northam doesn't need southwest Virginia to win the state next year, but as a veteran from Virginia's rural Eastern Shore who admitted to voting for George W. Bush, he thinks he can improve Democrats' margins outside the state's population centers.
"I feel like if anybody can get out and listen to these folks and let them know we're here to help them, I can do that," he said. "Most people, especially parents, trust their pediatrician."