SANIBEL, Florida — Some days, Justin Bloom can't open the windows of his Sarasota home because the water in front of his house smells so bad.
"I've got a 4-month-old inside and we can't open the windows. We've got the AC cranked because what viewers can't detect is the smell. It's been horrible here," Bloom told NBC News, flanked by fellow concerned community members who gathered on his front porch to talk about the scourge of red tide and toxic blue-green algae that has packed a one-two punch to Florida's waters and residents' daily lives.
Florida's Senate primary Tuesday will likely be a quiet contest setting up Gov. Rick Scott's general election battle against incumbent Democratic Sen. Bill Nelson. Their race is already one of the most closely watched races this cycle.
The governor's race, on the other hand, has been an open fight on both sides. Trump's endorsed candidate, Rep. Ron DeSantis, faces off against Florida Agriculture Commissioner Adam Putnam, while a crowded field of Democrats vie for the chance to take back the Sunshine State's executive position for their party.
Among them, former Rep. Gwen Graham — a moderate who hopes to break Florida's gubernatorial glass ceiling — former Miami Beach Mayor Philip Levine and Bernie Sanders-backed progressive Andrew Gillum. Both sides of the race have sought to make President Donald Trump a wedge issue, Republicans hewing close to him while Democrats try to one-up each other on who will stand up to him once elected.
And while few things energize voters all over the map like the Trump factor, the state that could decide which party controls the U.S. Senate seems to be voting with algae and the environment — not Trump, Russia or tariffs — front of mind.
"I really don't consider myself a single issue voter," Rusty Chenis said, "but I think in this election, I'm pretty much a single issue voter."
Red tides are naturally occurring, but this latest one has stuck around Florida's coasts for more than nine months, scattering trails of dead marine wildlife across the waves. It comes as blue-green algae blooms are also roiling Florida's fresh water supply, spilling into rivers and canals and making the water less like a liquid and more like a thick — and pungent — version of guacamole.
John Lighter, 35, a boat captain, said he's never voted before — but that will change on Tuesday.
"My life is this water," he said. "Not just for a business. I live here because this is what I enjoy. How can you not? Animals, everything else. It's just dying off little by little, year after year because of pollution."
Curbing pollution and better regulating the environment is essential, both to voters and environmentalists drawn to Florida to investigate the algae crisis.
Collin O'Mara, head of the National Wildlife Federation, acknowledged that some level of algae is natural in these ecological systems — but the challenge now is the pollution, which makes "these systems explode."
"We have to reduce the amount of pollution in the water," he said. "There's no alternative."
Some lay blame at the feet of Scott, citing his weakening of environmental regulations and budget cuts that shaved millions from the state's water management districts that are responsible for water quality management.
"I think Governor Scott has to own this," said Kathy Antunes, another concerned Florida voter. "I don't trust the Republican Party to fix this mess they've created it over the past eight years." To her, it's simple: "You gotta own that you were in charge here, this is on your watch and now. ... The chickens are coming home to roost."
Scott's argument, however, is that Nelson has kicked the can down the road. The governor says that algae, like the slime NBC saw close-up on the Caloosahatchee River, is a problem for the federal government (and thus, Nelson) to fix because the blooms are worsened by water discharges from the dyke at polluted Lake Okeechobee.
To counter that problem, the governor declared a state of emergency in July that allowed water from "Lake O" to be stored, rather than released into Florida's waterways.
But even Republicans, like Kathy Lagana, aren't sure who to turn to for relief.
"The algae thing is I think a major crisis here," she said. "I'm a Republican. I vote Republican. But I don't know if I would vote for Rick Scott. But I won't vote for Nelson either."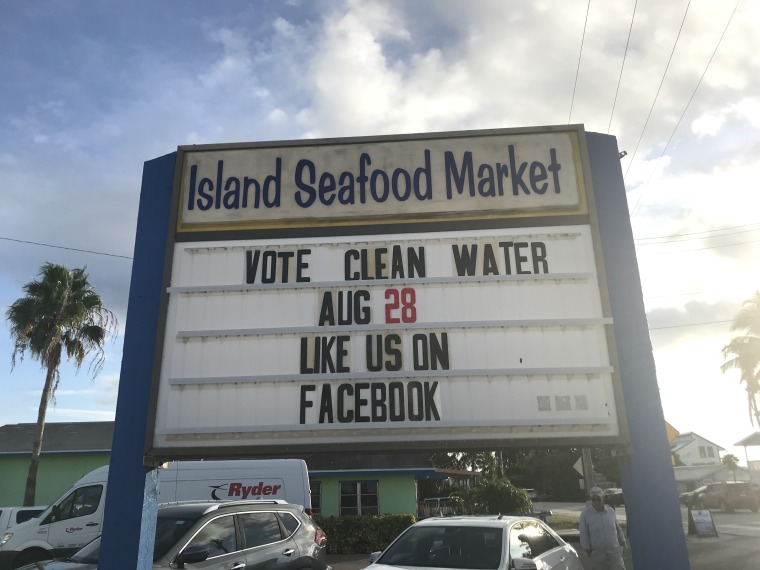 Voting might be the only way to make change, though.
Cape Coral business owner Casey Streeter has a sign posted outside his fish market urging Floridians to "vote clean water" in the Aug. 28 primary.
"Governor Scott was here, something could have been done. Senator Nelson has been in, something could have been done. They kicked the can down the road," he lamented.
As Florida looks for its next governor, Streeter sees DeSantis as a possible answer to a complicated problem.
"As business owners we really want to see something change," he said. "That's what is drawing me to Mr. DeSantis. It's not a red or blue thing, it's a way of life. My business depends on it ... Hopefully (DeSantis) is going to back up what he says and we can move towards some sort of solution instead of finger pointing."
And while most races in 2018 hinge on external factors out of Washington, the motivating factor for Floridians might be right under their noses.
"You can see images of dead fish and wildlife but the odor has been atrocious," Bloom said. "And that's going to stick with me when I walk into the poll booth. And I think a lot of people around here. That acrid scent and smell is gonna be in the back of their throat. So I think that's gonna motivate people a lot. And it's certainly gonna motivate me."