SUNRISE, Fla. — Donald Trump on Wednesday night admonished Hillary Clinton for having the father of the Orlando shooter seated behind her at a recent campaign rally.
"Wasn't it terrible?" Trump asked, that Seddique Mateen was "sitting with a big smile on his face right behind Hillary Clinton ... When you get those seats, you sort of know the campaign."
But as he said those words, disgraced former Congressman Mark Foley smiled up at him from behind the stage.
Foley, a Republican who represented southern Florida, was forced to resign his seat in September 2006 in the wake of allegations that he sent sent suggestive emails and instant messages to congressional pages. The former congressman shared Trump's camera shot, with a smile, for the entirety of the hour-long rally.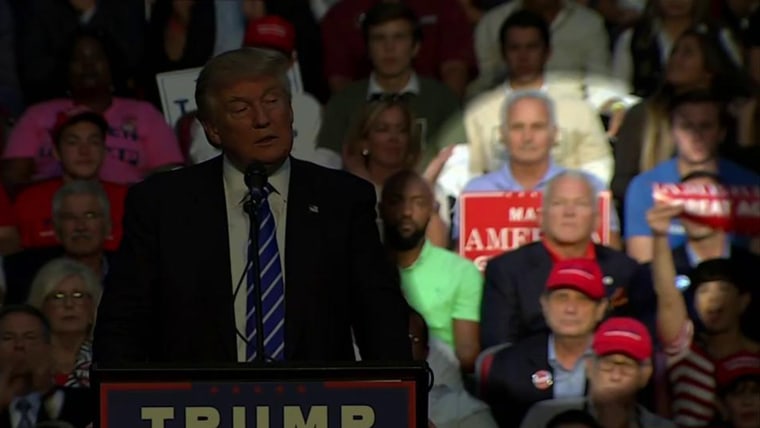 The candidate himself turned around multiple times, once during the Mateen riff against Clinton, asking the attendees seated behind him, "How many of you people know me? A lot of people know me."
Foley, among others, raised his hand and waved in response.
Foley told NBC News' Thomas Roberts immediately after the rally via text message that "yes" he is a Trump supporter. "He's been a friend of mine for 30 years and one of my biggest contributors," Foley wrote.
Clinton disavowed Seddique Mateen's support in the aftermath of her rally. Campaign spokesman Nick Merrill told NBC News that Clinton "disagrees with his views and disavows his support."
Trump's campaign, when asked if they or the candidate knew Foley was there and seated behind Trump, did not immediately respond.
At another point during the rally, the Republican nominee called President Barack Obama "the founder of ISIS" — and doubled-down on that outrageous and unfounded claim by calling Hillary Clinton the "co-founder" of the terror group.
It wasn't the first time Trump has tied Clinton to ISIS's success. One day earlier in North Carolina, comments about Clinton winning an MVP trophy from the terror group were buried by controversy over Trump saying "Second Amendment people" could take action against her should she be elected.
"If they gave a trophy for most valuable player, the winner of the trophy for ISIS would probably have to be Hillary Clinton," Trump said Tuesday.
The crowd egged the rhetoric on, loudly chanting "lock her up" among boos, cries of "liar" and unprintable expletives directed at the Democratic nominee for President of the United States.
Former Arkansas Gov. Mike Huckabee, appearing for the first time with Trump, gave the crowd more of what they wanted when he affirmed their belief that "the media has failed you" — to more boos. More glares. More cries of "liars."