ATLANTA — The city that gave Martin Luther King Jr. his pulpit and the South its first black mayor may elect its first white one in nearly half a century on Tuesday.
The debate over whether that's a step backward or forward has turned the contest into an ugly, racially tinged and nationalized battle that has divided a city known for better relations between its black and white communities.
President Donald Trump has even become a factor in this heavily Democratic, majority African-American city.
The candidates in Tuesday's runoff election for the city's next mayor are both women, both city council members, and both tout support for progressive policies. One is black, the other is white.
Polls show a neck-and-neck contest between Mary Norwood, a white independent, who is garnering about 80 percent of the white vote, and Keisha Lance Bottoms, a black Democrat, who captures about three-quarters of the black vote.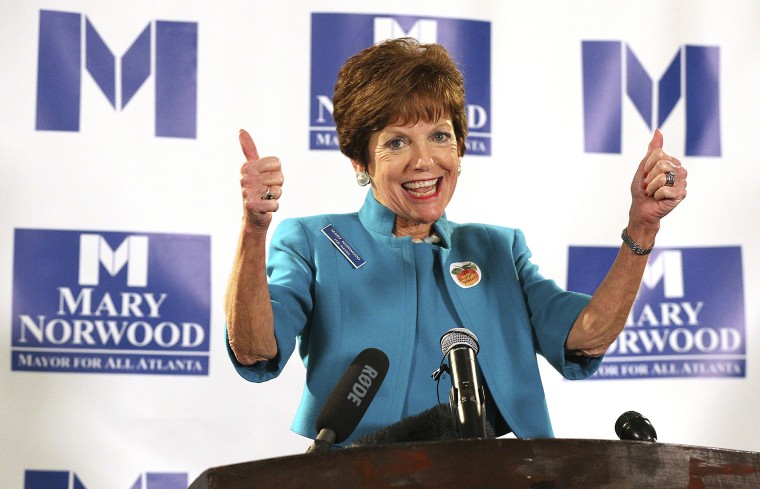 At a Bottoms rally last weekend, the city's reigning black establishment — minus some conspicuous absences — warned of a regression akin to the election of Trump after Barack Obama.
"Ladies and gentlemen, don't wake up on Wednesday like we felt on 11/9," said term-limited Mayor Kasim Reed, referring to the day after last year's presidential election.
"There's no way on earth that the city that raised Dr. King … is going to allow ourselves to go backwards," said City Councilman Kwanza Hall.
They've called in the cavalry, with Sens. Kamala Harris of California and Cory Booker of New Jersey — the two highest-profile black Democrats not named Obama — traveling to Atlanta in the race's final days to stump for Bottoms.
The city has become the epicenter of Democrats' efforts to regain ground in the South, from Hillary Clinton's campaign to the special congressional election this spring to next year's gubernatorial race.
And Harris, who said visiting Atlanta is like "coming home" for black politicians, said Democrats nationally need their "best fighters in the field" in the city.
Georgia Democrats have tied Norwood to Trump, putting out mailers that feature her portrait side-by-side with his, and declare that "electing her mayor would be turning Atlanta over to the party of Trump."
Rep. Hank Johnson, D-Ga., mocked Norwood by saying she wants to "Make Atlanta Great Again."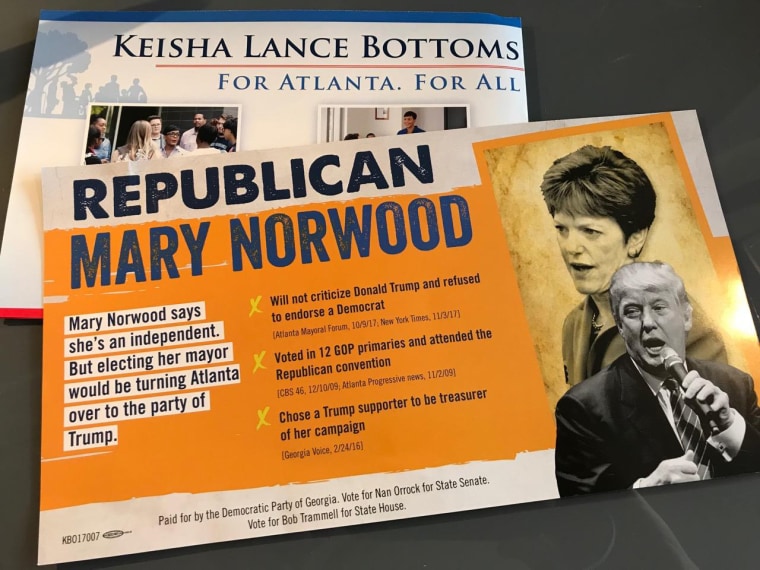 But Norwood signs can be found next to rainbow flags in the windows of gay-friendly stores in the city's midtown district, and she's spent years campaigning in black churches and making Democratic friends.
Most notably, Norwood is backed by some prominent defectors from the black establishment, including former Mayor Shirley Franklin and City Council President Ceasar Mitchell, who have clashed with Reed.
"Some people say that endorsement may hurt my legacy, because I've endorsed a white woman over a black woman," Franklin says in a Norwood ad running on black radio stations. "This election is about character, transparency and integrity. Not race."
The contest has become incredibly nasty ahead of Tuesday's vote, with the final debate over the weekend focusing more on tax liens, secret audio recordings and character attacks than potholes and public schools.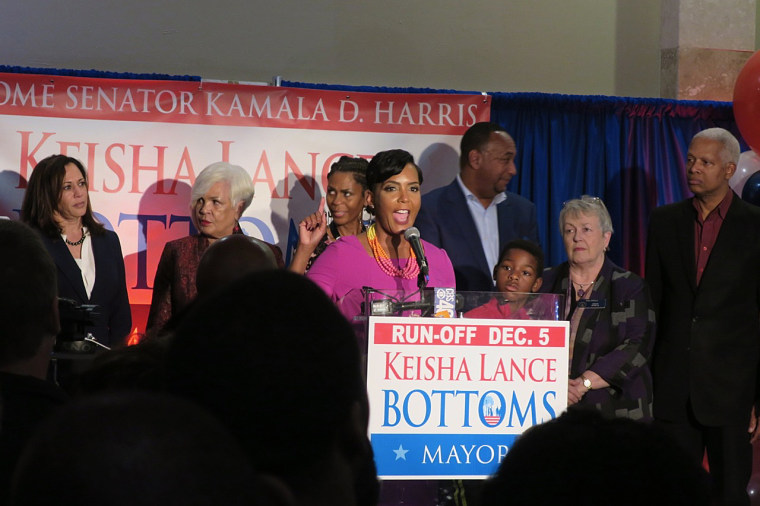 Norwood questioned Bottoms' fitness and "temperament," which Bottoms said was an attempt to portray her in the racist stereotype of an "angry black woman."
Norwood would be the city's first white mayor since 1973, when Maynard Jackson became one of the first black mayors of a major American city.
The city prospered under the unbroken succession of black mayors as they partnered with local corporations like Coca-Cola to build a more integrated political and business community than what's found in many other cities, north or south.
But former mayor Andrew Young told NBC News that the city was a victim of its own success.
New arrivals have made the city whiter, and Young said they've brought with them the more cynical racial politics of wherever they came from. Many are now looking to throw out a political machine they see as corrupt and out-of-touch.
"The white community now is different," Young said. "We've grown so fast, and we've been so successful, that we haven't worked on integration with the new people."