This year's competitive gubernatorial contest in Virginia could very well serve as a referendum of sorts on the controversy over Confederate monuments.
Democratic nominee Ralph Northam, the state's lieutenant governor, backs their removal.
"I support [the] City of Charlottesville's decision to remove the Robert E. Lee statue," Northam said Wednesday. "I believe these statutes should be taken down and moved into museums. As governor, I am going to be a vocal advocate for that approach and work with localities on this issue."
And Republican nominee Ed Gillespie, who narrowly lost a bid for U.S. Senate in 2014, wants them to stay.
"I believe that decisions about historical statues are best made at the local level, but they should stay and be placed in historical context," he wrote on Wednesday.
The disagreement in Virginia has become a flashpoint after last weekend's protests — and violence — in Charlottesville over that city's Robert E. Lee statue.
Northam has joined Virginia Gov. Terry McAuliffe, a Democrat, in supporting the removal of these Confederate monuments.
And Gillespie is now on the same side as President Trump, who tweeted Thursday: "Sad to see the history and culture of our great country being ripped apart with the removal of our beautiful statues and monuments."
Related: Trump Rails Against Removal of Confederate Statues
A recent national NPR/PBS/Marist poll found 62 percent of Americans believing that statues honoring leaders of the Confederacy should remain as historical symbols – suggesting that the immediate politics of this issue might be on Trump's and Gillespie's side.
White House chief strategist Steve Bannon told the New York Times that this is a fight they will win.
"The race-identity politics of the left wants to say it's all racist," he said. "Just give me more. Tear down more statues. Say the revolution is coming. I can't get enough of it."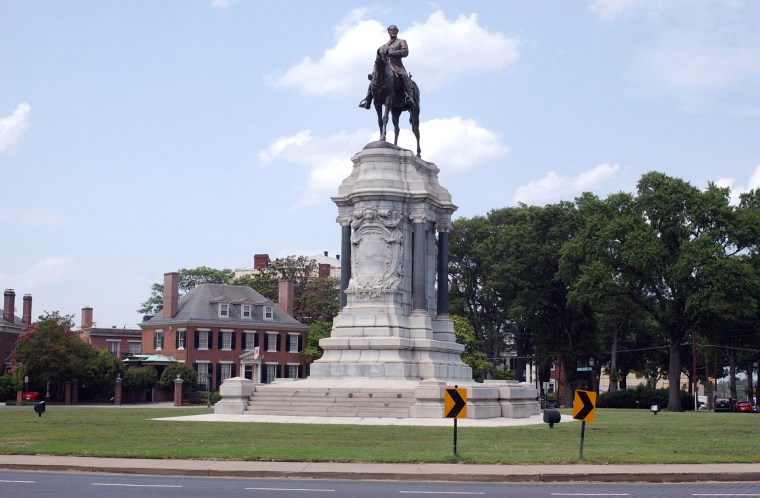 On the other hand, Trump is deeply unpopular in Virginia – a Quinnipiac poll conducted before the Charlottesville controversy showed that just 36 percent of Virginia voters approve of his job (versus 51 percent for McAuliffe).
And so the more Trump gets involved in the issue could make it more unpopular. Most polls have shown Northam with a single-digit lead over Gillespie in the gubernatorial race, making him the slight favorite in November.
The issue of Confederate monuments was a major topic in the GOP gubernatorial primary, with Gillespie's primary opponent – conservative Corey Stewart – making it a pillar of his campaign.
Gillespie barely beat Stewart in June's primary, 44 percent to 43 percent.