The most useful elections to follow on Tuesday could be the ones off most political journalists' radar: All 100 seats in Virginia's House of Delegates are up for grabs, and the results could be a good harbinger of the high-stakes 2018 midterms.
New Jersey and Virginia's gubernatorial races are Tuesday's two biggest prizes, but they're far from national bellwethers. Democrats are strongly favored to pick up the top office in the Garden State. Meanwhile, the Virginia race is tighter than the state's Democratic lean and the pro-Democratic national environment would suggest.
Live Blog: Everything You Need to Know About Tuesday's Elections
That's in part because GOP nominee Ed Gillespie, a well-connected former lobbyist, holds appeal with many business-minded voters in the vote-rich Northern Virginia suburbs that Donald Trump lacked in 2016. It's also because Democrat Ralph Northam, a mild-mannered physician, has struggled to excite casual Democratic voters.
But Virginia's House of Delegate races, driven less by personality, could be better tests of voters' attitudes toward the parties. And how many seats Democrats gain on Tuesday could tell us whether they are on track to win the House in 2018.
So far in 2017, Democrats have performed impressively in extremely low-turnout special elections for state legislative and House seats. They also suffered disappointment in a June special election for Georgia's 6th District, where turnout was sky-high and the GOP base was unusually engaged. However, Tuesday's gubernatorial turnout — likely to be somewhere in between — could better approximate a 2018 midterm scenario.
Democrats have nowhere to go but up in the House of Delegates: They currently hold just 34 seats out of 100, thanks to district lines aggressively gerrymandered by the GOP in 2011. Of the 66 Republicans, 17 are sitting in districts that voted for Hillary Clinton in 2016. Most of those 17 are in very competitive races that could go either way.
The most sensational race is unfolding in the 13th District, based in some of Northern Virginia's most rapidly diversifying outer suburbs. Republican Del. Robert Marshall, a 25-year incumbent and an outspoken social conservative, faces well-funded Democrat Danica Roem, a local journalist and transgender woman. Marshall has refused to acknowledge Roem as a female.
Another bellwether is the 12th District, anchored by Blacksburg and home to the only competitive race in Southwest Virginia. GOP Del. Joseph Yost, who is regarded as a moderate, faces Democrat Chris Hurst, a former news anchor whose girlfriend, reporter Alison Parker, was fatally shot on live television in Roanoke in 2015.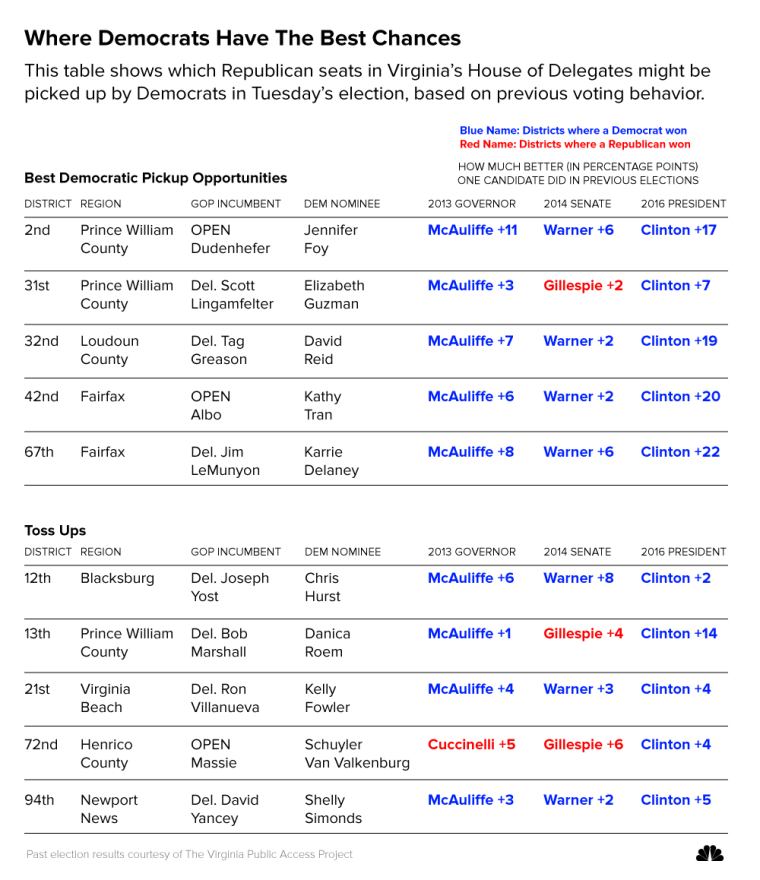 Virginia's delegate races have often foreshadowed midterm results: In 2009, the GOP's six-seat gain took Democrats by surprise and presaged Republicans picking up the House in 2010.
This year, if Democrats pick up fewer than five GOP-held seats, Republicans would probably take it as a relief. If Democrats pick up between five and 10 seats, it would confirm the House is in play. If Democrats surprise and gain 10 or more seats, it would be a sign they are probably on track to take back the House next year.
Democrats' best takeover opportunities are in Northern Virginia, where voters have been rapidly moving away from the GOP. But the difference between a good night and a great night for Democrats depends on their ability to expand beyond those targets and wrest seats in downstate regions like Richmond and Hampton Roads, where Trump's anti-DC posture is less of a liability.
David Wasserman, House editor for The Cook Political Report, is an NBC News contributor and senior analyst with the NBC Election Unit.