Voting rights advocates are accusing a Washington bureaucrat of helping Republican-led states enforce tight restrictions on voter registration, a move they say turned a federal voting agency into a de facto ally of state officials looking to make voting harder.
A progressive group on Wednesday called on the federal Election Assistance Commission (EAC) to conduct an internal investigation into the actions taken by Brian Newby, the agency's executive director.
The group, Allied Progress, charged that Newby had improper private communications with his former boss, Kansas Secretary of State Kris Kobach, and perhaps other election officials, about their requests to change the federal voter registration form to require applicants to show proof of citizenship.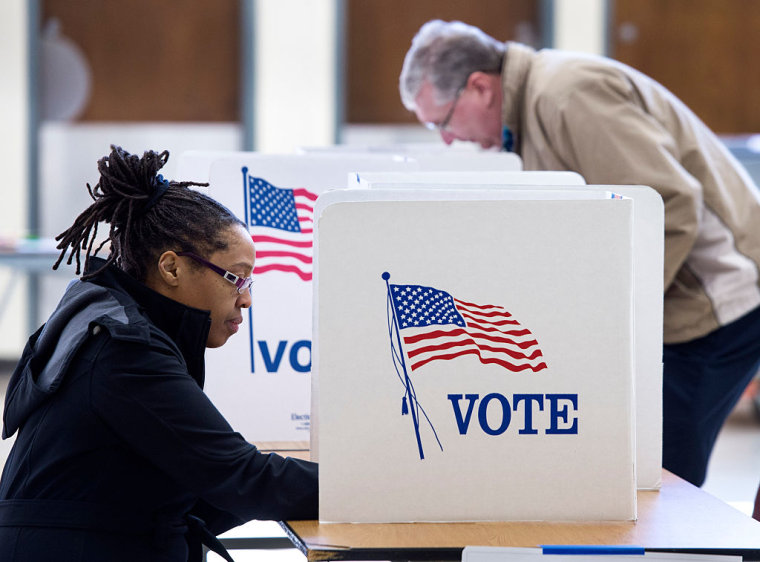 Patricia Layfield, the inspector general of the EAC, said no decision had yet been made on whether to open an investigation into Newby's actions.
"I continue to consider the various options available," Layfield told NBC. "I'm taking the concerns expressed in the letter very seriously."
Related: Courts Rule Whether Thousands of Kansas Residents Can Vote
The EAC was created in 2002 after the fiasco of the 2000 Florida recount, with a goal of helping states to administer elections, and making voting easier. It usually has two Republican and two Democratic commissioners, but one of the Democratic seats is currently vacant.
In January, a month after taking over as the agency's executive director, Newby outraged voting rights advocates by changing the state-specific instructions on the federal voter registration form for three states — Kansas, Alabama, and Georgia — requiring voters in those states to show proof of citizenship when registering to vote. Newby acted without approval from the agency's commissioners and without a public comment period.
Those states had passed proof-of-citizenship laws for voter registration applicants and had asked that the EAC change the form to reflect that requirement. The agency had until then declined to do so, saying that the change violated federal voting law, which aims to make registration as easy as possible.
Related: Do voter purges discriminate against the poor and minorities?
Kansas is the only one of those states enforcing its proof of citizenship law. Voter registration applicants in all states already are required to certify on penalty of perjury that they are U.S. citizens.
Soon after Newby made the change to the form, voting rights groups sued to block it from going into effect. On September 9, a federal appeals court blocked the change, noting that 17,000 voter registration applications in Kansas were on hold thanks to the move. Only three non-citizens voted in Kansas between 1995 and 2013. A lower court will now consider the case on the merits.
But even with Newby's change blocked, Allied Progress wants him held accountable. In its Wednesday letter, the group noted that EAC policy bars staff from communicating privately with anyone who has business before the agency, on any issue over which it has authority. It charges that Newby may have violated that policy by holding private conversations about whether to change the form with Kobach and perhaps the two other secretaries of state. The letter accuses Newby of jeopardizing the EAC's "integrity and efficacy."
Newby revealed his conversations with the secretaries of state in an interview with MSNBC in February, saying there was nothing improper about them. In that interview, Newby also drew a distinction between the federal form itself and the state-specific instructions that accompany the federal form, saying he had the authority to change the latter without approval from agency commissioners.
Citing the ongoing litigation, an EAC spokesman declined to make Newby available for an interview Wednesday or to respond to the claims in the Allied Progress letter.
Adding to the concerns of Newby's critics is what appears to be his friendly relationship with Kobach, the Kansas Secretary of State who is a leading advocate of strict voting and citizenship laws. Kobach, a Republican, reappointed Newby to his previous job as a county election administrator in Kansas, and has said that he recommended Newby for the EAC post.
Related: Could Voting Restrictions Be GOP's Trump Card?
In emails exchanged between the two before Newby began the EAC job last December, later obtained by the Associated Press, Newby told Kobach that he could "count on" Newby and promised to keep Kobach "in the loop." On a personal blog that Newby kept while he was in Kansas, he praised Kobach as a "steady hand" and wrote that he was "extremely proud to be affiliated" with the Kansas secretary of state.
Newby also has come under for fire for actions taken during his time as a county election administrator. An audit released earlier this year by Sedgwick County found that he claimed nearly $40,000 in questionable expenses, including limousine rides to catch flights despite a $300-a-month car allowance. Newby has called the audit "inaccurate, incomplete and misleading."
Separately, Kobach's effort to enforce the proof of citizenship law has run into legal obstacles. In May, a federal judge ruled that the state can't require proof of citizenship from those registering to vote in federal elections at motor vehicle offices.