Ongoing legal battles over voting rights are threatening to complicate elections in some close races with national implications this November.
North Carolina and Arkansas are both home to contests that will help decide which party controls the Senate next year. They also have impending legal challenges to changes in voter laws. The same goes for Wisconsin, which is home to one of the country's most closely watched governor's races, and Texas.
Civil rights groups argue that new Republican-supported voter ID laws passed in some states are meant to keep minorities, who largely support Democrats, from the polls. And voter advocacy groups say the litany of lawsuits that have resulted from the regulations will lead to confusion for both poll workers and voters.
But Republican legislators argue voter identification is necessary to avoid fraud at the ballot box, and limiting early voting keeps costs down for taxpayers.
The U.S. Supreme Court last week upheld a request by Ohio Republicans to reduce the number of days voters can cast their ballots ahead of Election Day, a decision Attorney General Eric Holder called "a major step backwards." The Court may also weigh in on the Wisconsin and North Carolina laws before Election Day.
Here is a look at how the battle over voting rights will be a factor in some states with tight midterm races:
North Carolina
The Tar Heel state has become a hotbed for the controversy over voting rights after the state's Republican-led legislature made controversial changes to its voting laws in 2013. The new laws include requirements that voters present photo identification at the polls, eliminate same-day registration and reduce the window for early voting.
Last week a federal appeals court ruling reinstated same-day registration and said that the state must count provisional ballots cast outside voters' home precincts. The State Board of Elections has to vowed appeal the decision.
Early voting in North Carolina begins Oct. 23. The closely-watched Senate race between Republican Thom Tillis and Democratic incumbent Sen. Kay Hagan could impact which party controls the Senate come 2015.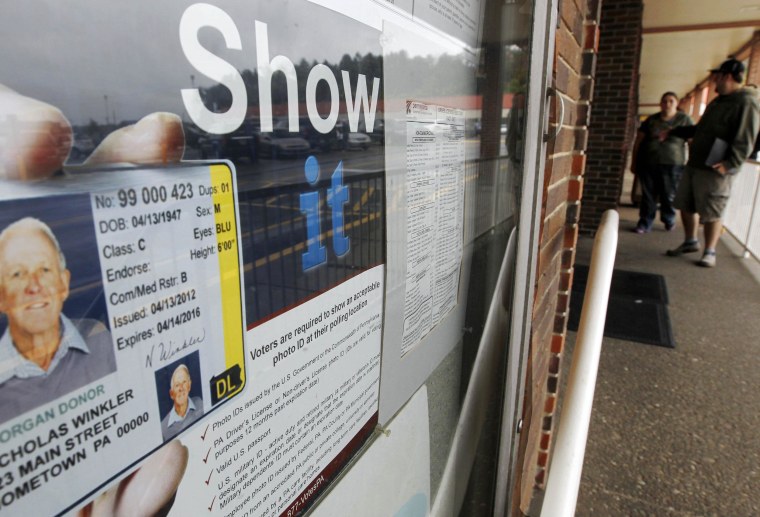 Arkansas
The state Supreme Court heard arguments last week over the constitutionality of a 2013 law requiring voters to produce identification at the ballot box. In May, a judge ruled the law as unconstitutional but suspended his ruling so that the ID requirement remains in effect. It is unclear if the Arkansas Supreme Court will issue a ruling that will have an impact on the November 4 election, though.
Early voting in the state begins Oct. 20. The Senate race between Democratic Sen. Mark Pryor and Republican Tom Cotton a key to GOP hopes of taking back control of the Senate.
Wisconsin
Similarly, Wisconsin also passed a voter identification law three years ago, but because of legal challenges, November could be the first general election the law is enforced.
An appeals court on Monday upheld the law. Voter advocacy groups have asked the Supreme Court to halt the law's enforcement arguing there is not enough time to properly implement the law. That decision could come any day.
State officials have been working to contact voters who have already cast absentee ballots to tell them to provide copies of their IDs, the Milwaukee Journal Sentinel reports.
Early voting in Wisconsin begins Oct. 20. Republican Gov. Scott Walker is facing his third election in four years and is locked in a tight race against Democrat Mary Burke.
Texas
The Justice Department has filed suit against Texas for what Holder has called "sweeping restrictions on voting rights." Texas, like North Carolina, added strict voter identification requirements after the Supreme Court struck down key parts of the Voting Rights Act that required states with a history of racial discrimination to get federal approval before changing voting laws.
A federal district court is deciding whether or not to block the ID law, and a ruling could come before Election Day.
Early voting begins Oct. 20. Democratic gubernatorial candidate Wendy Davis is expected to come up well short of Republican Greg Abbott, but incumbent Democratic Rep. Pete Gallego is about the only member of the state delegation in danger of losing a re-election bid.