ISSAQUAH, Wash. — In her election ads, Dr. Kim Schrier wears a white doctor's coat as she declares that health care is a right.
She talks about her Type 1 diabetes, her concern as a parent over President Donald Trump's policies and how she counsels families of depressed teen boys as a longtime pediatrician.
The Democrat running for an open U.S. House seat in Washington is framing her candidacy around health care issues with a personal touch, hoping that the popularity of aspects of former President Barack Obama's health care law and support for improving access to medical care drives her to victory.
"I don't think there's anything radical about wanting people in this country to have health care," Schrier said at an Oct. 17 debate with Republican opponent Dino Rossi, a longtime state lawmaker.
Schrier and the Democratic Party have focused on the health law's protections for people with pre-existing conditions after the GOP failed to repeal Obamacare last year.
Republicans have rolled out ads slamming her plan to expand Medicare as a "scheme" that could "double taxes" as they try to keep the seat in the 8th District, which encompasses the ultraliberal eastern Seattle suburbs and the solidly conservative rural Cascade Mountains. The seat is open because Rep. Dave Reichert is retiring.
Schrier, who vows to protect Planned Parenthood and abortion rights, is one of four Democratic female doctors running for the House. The doctors who have been elected to Congress so far have largely been Republican men.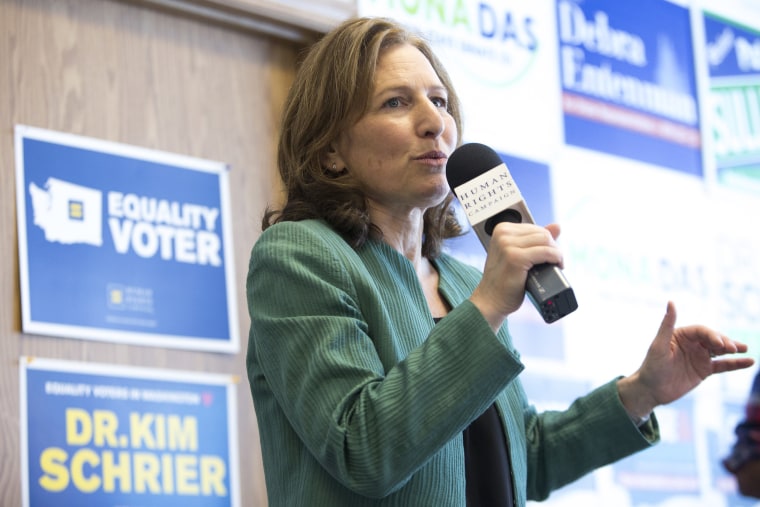 "I just think we are losing a lot of humanity in the country right now and a lot of compassion, and that's what women physicians bring," Schrier said.
A recent poll by The Associated Press-NORC Center for Public Affairs Research and MTV found that health care is on voters' minds and that they're sympathetic to the core Democratic stance that government should be involved.
The survey says 69 percent of young Americans between 15 and 34 favor a national health plan, known as a single-payer program. Eighty-eight percent of young Democrats and 40 percent of young Republicans favor government-run health insurance, according to the poll. Roughly two-thirds of young independents are in favor.
The American Medical Association, which has supported Obama's health care law, said that it doesn't track the political leanings of its member doctors but that the number of female doctors overall reflects recent diversity in the field.
"As half of all medical school students today are women, it's no surprise that female physicians are increasingly politically active," Dr. Barbara L. McAneny, president of the group, said in a statement. "The physician perspective is critical in the legislative process."
The other three female doctors running for Congress as Democrats are Hiral Tipirneni, an emergency room doctor in Arizona; Kyle Horton, a former Veterans Affairs doctor in North Carolina; and Danielle Mitchell, a family physician in Tennessee.
If one of them is elected, she would be the first Democratic female doctor in Congress. Donna Christian-Christensen is a doctor who served as a non-voting delegate from the U.S. Virgin Islands.
The GOP Doctors Caucus didn't respond to requests seeking comment.
The race for Washington's 8th District seat is among the most expensive House races in the country, according to the Center for Responsive Politics. With more than $25 million pouring in, it has already doubled the previous state record.
It's one of two dozen districts nationwide held by the GOP but whose voters chose Hillary Clinton over Donald Trump in the 2016 presidential election. It's one of the tightest midterm races and a critical potential pickup for Democrats trying to take the House for the first time since 2010.
Rossi, the Republican candidate, has called Schrier a product of an anti-Trump movement who lacks leadership experience. He said he supports future efforts to defund Planned Parenthood and repeal Obama's signature health care law, suggesting instead a "high risk" insurance pool for people with pre-existing conditions.
Rossi, a 59-year-old real estate investor, paints Schrier's priority of expanding Medicare as a "government takeover of health care" that lacks funding details.
"Is there some other scheme that she has to pay for this? No one's asked her," Rossi said.
Schrier wants to allow the public to buy in to Medicare, which she said would pay for itself.
Christina Ewig, director of the Center on Women, Gender and Public Policy at the University of Minnesota, said female doctors often work as general practitioners who bring a different empathy to the health care debate.
"It's important women doctors are running in light of the (Affordable Care Act) but there's only so much they can do" alone to protect the health care law, Ewig said.