The Tea Party has been declared reborn, on life support, alive and well, and dead as a door nail – and that's all been in the last three months.
But, in spite of scathing public disapproval of Washington and a flood of funding from conservative outside groups, it's clear that Tea Party-backed insurgents aren't packing the punch they once did against the GOP's more pragmatic wing.
"Reports of their death were premature and reports of their resurgence are premature," says Jennifer Duffy of the nonpartisan Cook Political Report. "But it's definitely fair to say they are diminished."
Case in point: After narrowly failing to get to 50 percent in the June 3 primary election, conservative Chris McDaniel seemed headed for a runoff win on Tuesday against Thad Cochran, a 78 year-old, six-term senator who had been quoted admitting that the Tea Party "is something I don't really know a lot about." Blasting Cochran's long tenure in Washington, McDaniel won raucous applause at rallies for listing himself in the pantheon of conservative heroes like Sens. Ted Cruz, Rand Paul and Mike Lee.
Instead, McDaniel fell short after Cochran – after being sure to highlight some of McDaniel's harshest language during his tenure as an in-your-face radio host – expanded his base by touting the federal spending he had managed to direct towards his home state.
Another Senate candidate backed by Cruz and Palin, T.W. Shannon of Oklahoma, also failed on Tuesday night to force Rep. James Lankford into a runoff despite painting him as a status-quo-hugging member of House GOP leadership. National Republicans got their man in Colorado's gubernatorial primary as well, with the more mainstream Bob Beauprez easily dispatching with anti-immigration crusader Tom Tancredo. And earlier this year, anti-establishment challengers in Kentucky, North Carolina, South Carolina and Georgia all fizzled.
"What voters didn't hear in 2010 and in 2012 was 'Hey, this isn't a strong candidate, this is a flawed candidate, and this candidate can't win.'"
It's a far cry from the last two election cycles. Cruz, of Tea Party accolades, brought down a well-funded lieutenant governor in his Texas primary race in 2012. Two years before, Republicans in Utah ousted sitting senator Bob Bennett, whose seniority and genteel style put him squarely in Cochran's mold, in favor of Mike Lee. The same year in Kentucky, where Minority Leader Mitch McConnell recently coasted to victory over Tea Party-backed Matt Bevin, Senate heir apparent Trey Grayson fell to Rand Paul by double digits.
Conservatives aren't without some wins this year. Tea Party groups point to the stunning defeat of Majority Leader Eric Cantor earlier this month at the hands of a little-known libertarian-minded economics professor as a clear victory.
But, while Cantor foe Dave Brat undoubtedly harnessed anti-establishment sentiment (and capitalized on local resentment of Cantor's leadership ambitions), he did so without the support of the outside conservative organizations that have pumped millions into other challengers' campaigns. Outside groups spent over $5 million backing McDaniel, $1.4 million supporting Shannon, and over a million dollars in support for McConnell challenger Bevin, according to the Center for Responsive Politics. Brat received just one outside contribution of $15,000 and not a dime of PAC money.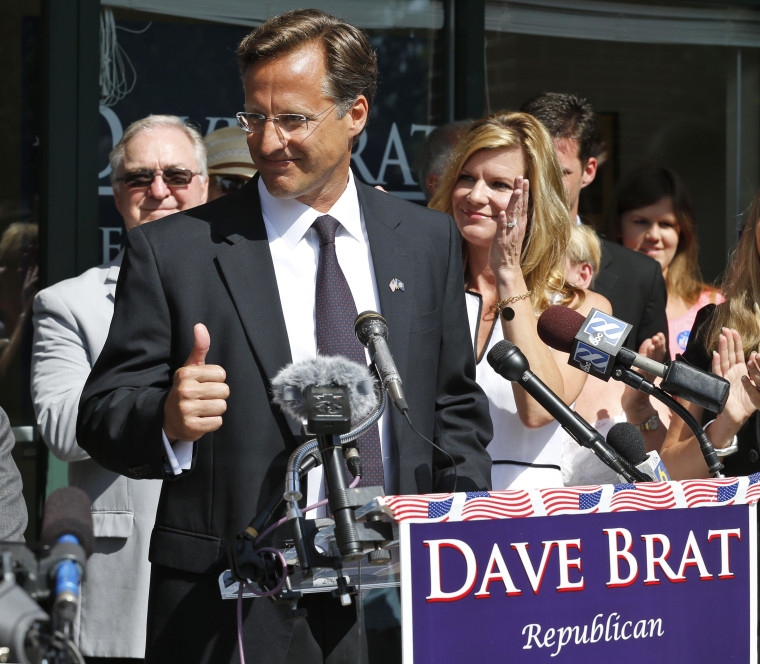 Some of the Tea Party's woes stem from a lesson establishment Republicans learned over the past two cycles, says Duffy: Candidates matter, and electability arguments work.
"What voters didn't hear in 2010 and in 2012 was 'Hey, this isn't a strong candidate, this is a flawed candidate, and this candidate can't win,'" she says. "Now, they're hearing that."
And polling shows that – while Americans are as dissatisfied with elected officials in Washington as ever – the Tea Party isn't faring well either, even among mainstream Republicans.
In latest NBC News/Wall Street Journal poll, just 22 percent of Americans said they have a positive impression of the Tea Party, compared to 41 percent who have a negative view. Among Republicans who say they don't identify with the Tea Party, that positive rating is just 18 percent.
And there's a major split among Republicans about how much influence the party's conservative wing should have.
Of those who say they consider themselves Tea Party supporters, 56 percent say their ideological wing has too little influence on the party as a whole. Among Republicans who aren't Tea Party fans, 41 percent say it has too much clout.
There are still a handful of primaries where conservative challengers could topple establishment figures and give the movement new momentum. In Kansas, Milton Wolf – a cousin of President Barack Obama – is running against longtime senator Pat Roberts. In Tennessee, challenger Joe Carr is gaining some traction from anti-immigration groups in his run against Sen. Lamar Alexander. And a slate of conservative candidates is vying for dominance in Alaska's Senate race.