While the majority of Americans aren't yet paying attention to a presidential race, the chase for precious financial support is already well underway. Donors -- that active subset of the American citizenship -- are watching developments closely and actively working to ensure that their candidate, or cause, comes out on top.
The problem is that major disagreement exists between the moneyed class that is critical to give a candidate the resources needed for a national campaign and the activists that are more far more numerous and active in each party's primary process. And it's a bridge that candidates are going to have to work hard to close.
On the Democratic side, the grassroots has been energized by the populist message of Massachusetts Sen. Elizabeth Warren, who insists she has no plans to jump in the race. Candidate or not, the liberal group MoveOn.org Political Action has pledged to spend $1 million to begin organizing activists in the first two critical nominating states in Warren's name. Another progressive group, Democracy For America, has also pledged $250,000 to the effort.
On Wednesday the group held a high-profile meeting, recruiting volunteers to open offices and put the infrastructure in place for a potential Warren race. They plan to do the same in New Hampshire in early January.
Warren has sparked the excitement of a critical component of the Democratic Party's activists with her anti-Wall Street crusade and support for the working class. But $1.2 million is far from the tens of millions Warren would need to run a presidential primary campaign. And her distaste for Wall Street has bought her few friends among the high-dollar moneyed class who could fund a presidential run. In addition, her supporters might be rabid, but they still have a lot of work to do to convince casual Democratic voters. In a new NBC News poll, only 37 percent of Democrats back Warren. Even though Democracy For America's members support a Warren run, it's leader, former Vermont Governor and presidential candidate Howard Dean, said he would like to see a Hillary Clinton presidency.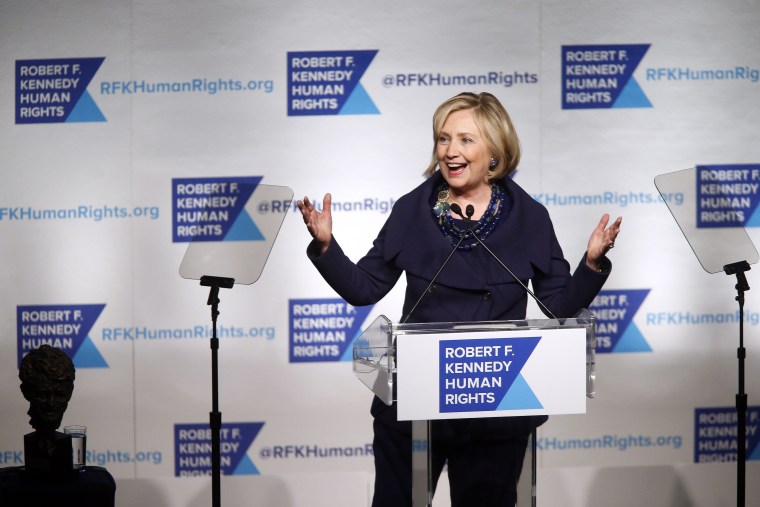 Hillary Clinton, meanwhile, has the long-standing support of wealthy Democrats, gathered between her and Bill Clinton over more than two decades in politics. This would be the fourth presidential campaign for a Clinton, giving them a deep rolodex of donors and tremendous name recognition, evident in the NBC poll that found 82 percent of Democrats approve of Clinton. And her more moderate stance on regulation and the economy doesn't scare the financial industry.
"If it turns out to be Jeb versus Hillary we would love that and either outcome would be fine," a Republican-leaning Wall Street lawyer told Politico in April. "It's Rand Paul or Ted Cruz versus someone like Elizabeth Warren that would be everybody's worst nightmare."
Victoria Kaplan, field director for Run Warren Run, which is part of MoveOn Action, said that Warren has proven to be a prolific fundraiser and that if she decided to jump in, she'd have "significant support."
"Washington DC insiders like to think they know what it takes to be president," Kaplan added.
Warren has raised a significant amount of money, bringing in more than $42 million for her inaugural Senate race in 2012. But she was running against a Republican in one of the most high profile races in the country. The competition for funds against Clinton would be much different. One of Warren's biggest contributors was EMILY's List, whose president has been mentioned for the role of Clinton's campaign manager.
The gap between the donors and the grassroots is just as exposed on the Republican side, too. Now that former Florida Governor Jeb Bush has inched closer to a presidential run by "exploring" the presidency, donors are thrilled.
David Beightol called Bush talented and said he's the only one – other than Mitt Romney – who knows what it takes to run a presidential campaign as both his brother and father have done it.
"He's the guy with the talent … and I think he'll win," Beightol said.
Donors want electability and they think a moderate candidate has a better chance of winning the general election. Numerous articles have been written about donors hoping to "clear the field" here and here.
Meanwhile, the grassroots of the party is not so excited about a potential Bush candidacy. Outspoken syndicated radio host based in Iowa, Steve Deace, put out an advisory saying Bush will "never" be president because of conservatives' dissatisfaction with the former governor. According to a new NBC News poll released Wednesday, only 31 percent of Republicans could support a Bush presidency.
Putting the Bush name aside, which receives mixed reviews in Republican circles, activists are skeptical of his support of comprehensive immigration reform and education standards known as Common Core. Bush himself even said he wouldn't move to the right just to obtain the nomination.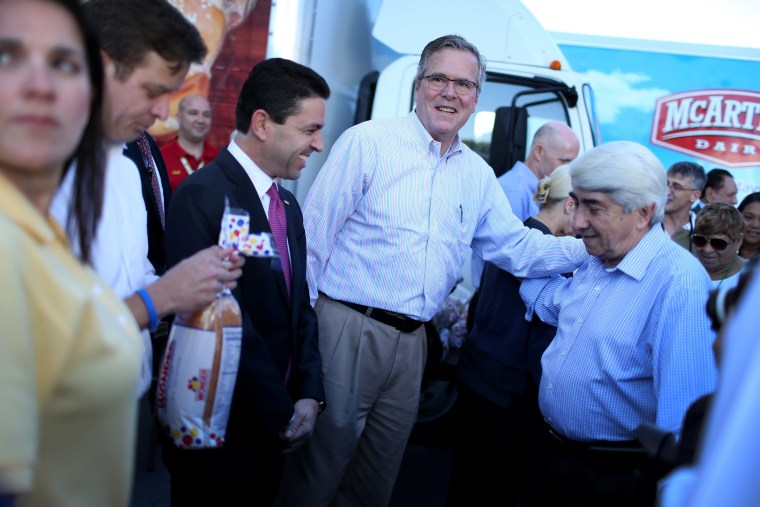 Unlike donors, conservative activists don't buy the notion of electability.
"We have been sold a bill of goods about electability and moderation. The last time I checked with President Romney and President McCain, that didn't work," Iowa leader of social conservatives Bob Van der Plaats said.
The grassroots are more pumped about a potential run by a social conservative like former Arkansas Governor Mike Huckabee or former Pennsylvania Senator Rick Santorum. Some in the base are charged over the possibility of a bid by Kentucky Senator Rand Paul or tea party favorite Sen. Ted Cruz of Texas. Then there's neurosurgeon Ben Carson whose direct and sometimes brazen remarks electrify the base.
Can a candidate with the support of donors and not the base win a primary? Or vice versa?
Republican donor and bundler Beightol insists that conservative activists will grow to like Bush when they let him explain his positions.
"Once they hear him speak about those two things (Common Core and immigration), he'll be fine," Beightol predicted.
A Republican strategist challenged the idea "that big money interest is trying to marshal all the support." He pointed to grassroots candidate Rick Santorum's unexpected win in the Iowa caucuses in 2012 over the well-financed establishment favorite Mitt Romney.
While Santorum gave Romney a solid run, igniting social conservatives and outperforming most political watchers, in the end, Romney won that nomination. While Santorum had the support of one sugar daddy, entrepreneur Foster Friess who financed most of his campaign, Romney raised $60 million more than Santorum during the primary.
Candice Nelson, director of the Campaign Management Institute at American University, said the role of money is significant.
"If you have a donor base, you have the resources to get your message out and to build a grassroots campaign," Nelson added. "You need money to do everything else."
"If you have a donor base, you have the resources to get your message out and to build a grassroots campaign," Nelson added. "You need money to do everything else."
Romney's primary win, despite luke-warm feelings from the Republican base about the candidate, was not an anomaly. In presidential primaries dating back to at least 1992, the candidate with the most money won. For instance, in 2008, Republican nominee John McCain, another moderate that conservatives were not thrilled about - who even ran out of money at one point in the primary - had raised $36 million by the time his closest competitor, Huckabee, who dropped out of the race in early March. Huckabee amassed only about $16 million, according the Center for Responsive Politics.
On the Democratic side, then-candidate Barack Obama outraised Hillary Clinton in the long-drawn out primary that didn't end until June. Notably, Obama was extremely successful at turning his grassroots support into a donor base while also, eventually, appealing to the high-donor class.
In 2004, John Kerry outraised Howard Dean, mostly by giving himself loans from his vast fortune. And in 2000, Al Gore had more money than Bill Bradley and George Bush far outraised John McCain. The pattern continues: Republican Bob Dole outraised Pat Buchanan in 1996 and Bill Clinton outraised Jerry Brown and Paul Tsongas in 1992.
In most presidential races since 1972, however, the era of unlimited donations to third party political groups didn't exist. Kathy Kiely, managing director of the Sunlight Foundation said, that now with the advent of unlimited spending, big donors are able to deepen the divide between what the grassroots wants and what the donors want.
"Prior to the emergence of super PACs, you had to have the ability to raise a lot of money in small amounts. You had to be able to get a very broad base of support and mobilize that support over the long haul," Kiely said.
With unlimited spending, the gap between donors and voters might be more difficult to close.
Shaquille Brewster contributed to this report.