Lawyers told Steve Bannon and other managers of data firm Cambridge Analytica in 2014 that only U.S. citizens should be "making decisions about U.S. election activity," but the Cambridge teams working on several congressional campaigns that year were largely composed of foreign nationals anyway, according to two former staffers.
As first reported by The New York Times, attorney Lawrence Levy of Bracewell & Giuliani sent a memo to Bannon, conservative megadonor Rebekah Mercer and Cambridge founder Andrew Nix that said Nix would have to be "recused from substantive management of any such clients involved in U.S. elections" because Nix is not a U.S. national.
The memo from former New York mayor Rudy Giuliani's law firm, obtained by NBC News, also says that foreign nationals could collect and process data, but "may not play strategic roles including the giving of strategic advice to candidates, campaigns, political parties or independent expenditure committees."
It also advises that "final analysis of said data should be conducted by U.S. citizens and conveyed to any U.S. clients by such citizens."
Click here to read the full memo
But Chris Wylie, a 28-year-old Canadian who ran messaging for Cambridge out of its London office in 2014, said he worked on all the company's U.S. political campaigns in 2014, "and stopped at most of them, like Thom Tillis's campaign." Tillis ran for and won a U.S. Senate seat in North Carolina in 2014.
Wylie said that many foreign nationals worked on the campaigns, and many were embedded in the campaigns around the U.S. "It was not just me," he said. "Like 20 other people were. We had Canadians, British, Eastern Europeans, Lithuanians, Germans, Romanians, Greeks."
"We weren't just working on messaging. We were instructing campaigns on which messages go where and to who."
Wylie said that his largely foreign team instructed the Tillis campaign "on the messaging. We crafted his messaging, we targeted his messaging."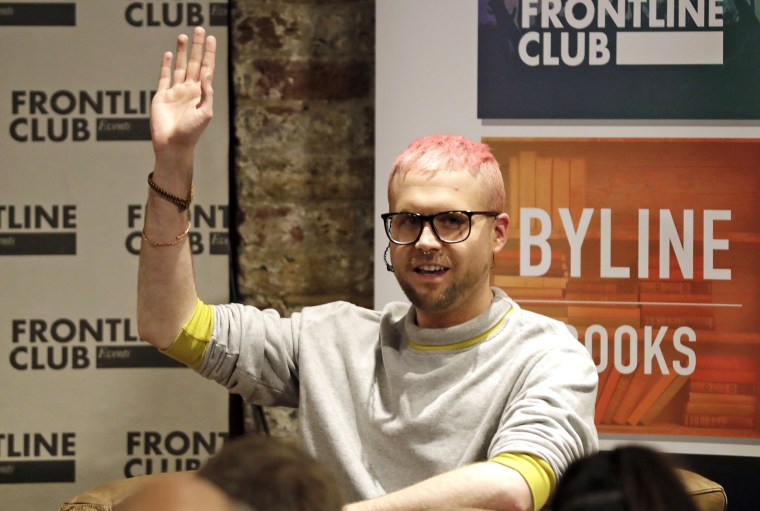 He said he couldn't recall any American Cambridge employees working on the Tillis campaign. "There were three or four full-time CA staffers embedded in Tillis's campaign on the ground in Raleigh. All of them were foreign nationals."
Wylie said the workers were flown from London to North Carolina in July.
Cambridge has said that Wylie left the company in July 2014. Wylie told NBC News that while he gave notice in July, he continued to work for the company until just before the elections on Nov. 4, 2014.
A second former senior Cambridge staffer also said that most of the messaging team in 2014 was composed of foreign nationals. The staffer confirmed that there were foreign nationals in North Carolina working on the Tillis campaign.
The staffer said that the team handling the data and data modeling back in London was largely Eastern European and did not include any Americans.
A spokesperson for the Tillis campaign said that Cambridge staffers could not have been embedded in the campaign in Raleigh because the Tillis campaign was based in Cornelius, N.C., which is outside Charlotte. NBC News, said the spokesperson, "apparently doesn't understand that a candidate's campaign and a state party are not the same things."
A spokesman for the Republican Party of North Carolina also said the Cambridge Analytica workers were not embedded in the Tillis campaign, but worked for the state party.
He said that there is "not one single accusation that we or Tillis did anything wrong, unethical or unlawful."
"What is most important is the work for the party ended at the conclusion of the 2014 election cycle. We made one payment in 2015, for 2014 work."
He also said that Cambridge Analytica is not accused of breaking any law or FEC rules during its work in North Carolina in 2014, and that the state party had not worked with the company since.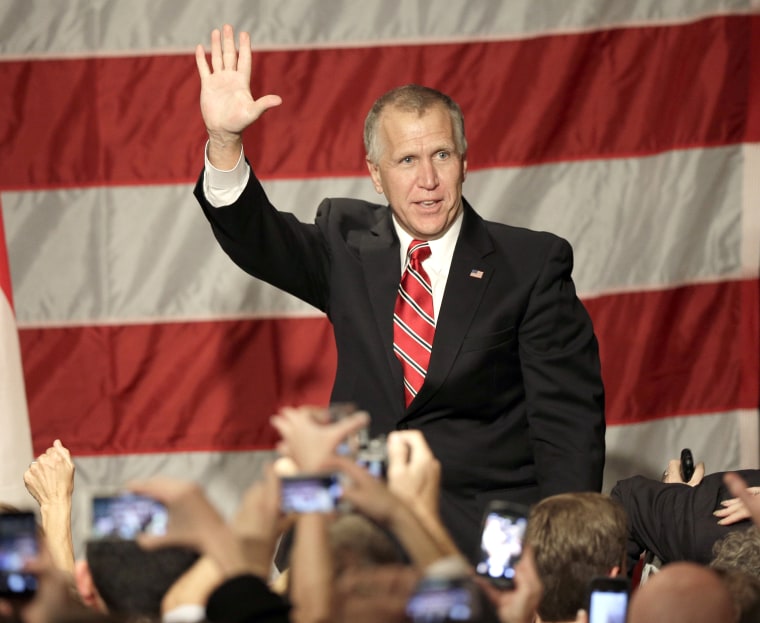 SCL, the parent company of Cambridge Analytica, did not respond to the specific assertion that foreign nationals were directly involved in messaging decisions, but has previously told NBC News that all personnel in strategic roles were U.S. nationals or green card holders. The company also said that Nix never had any strategic or operational role in U.S. campaigns.
An attorney for an electoral law watchdog group said he was "not aware" of the Federal Election Commission addressing whether the foreign national ban should specifically apply to a group like Cambridge Analytica.
"The general rule that a foreign national should not be directing or otherwise involved in decisions about contributions or expenditures made by a campaign or super PAC should apply, regardless of the formal role they have in the campaign or with the super PAC," said Brendan Fischer of the Campaign Legal Center. "The FEC has not squarely addressed this issue."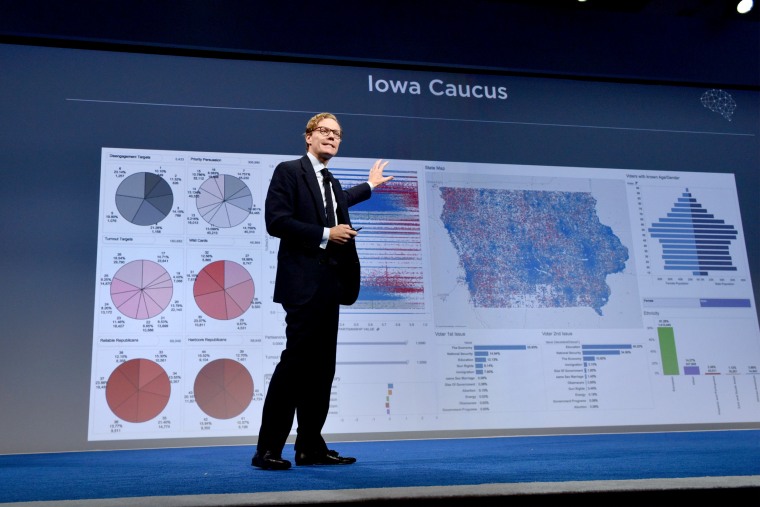 Fischer said that if the foreign national is only providing advice about expenditures, but is not part of the decision-making about the expenditures, "the FEC might say that that's okay."
Fischer also said Nix could also play a major role as long as he were not involved in how particular committees made expenditures.
The Campaign Legal Center has filed an unrelated complaint with the FEC that alleges Cambridge Analytica served as a conduit between the Trump campaign and a super PAC funded by the Mercer family during the 2016 campaign.
The FEC did not immediately respond to a request for comment.