The Department of Homeland Security has widened its investigation into migrant children found cleaning slaughterhouses and is now working with the Justice Department to examine whether a human smuggling scheme brought migrant children to work in multiple slaughterhouses for multiple companies across multiple states, according to two U.S. officials familiar with the investigation. 
At the heart of the investigation is determining how Central American children, some as young as 13, wound up working dangerous jobs that are legal only for American adults by presenting identification stolen from U.S. citizens, the officials said. 
Last month, the Labor Department found that Packers Sanitation Services Inc., known as PSSI, employed 102 children at 13 slaughterhouses across eight states. The children were cleaning blood and animal parts off the floor of meatpacking plants by night and going to school by day, the Labor Department investigators said.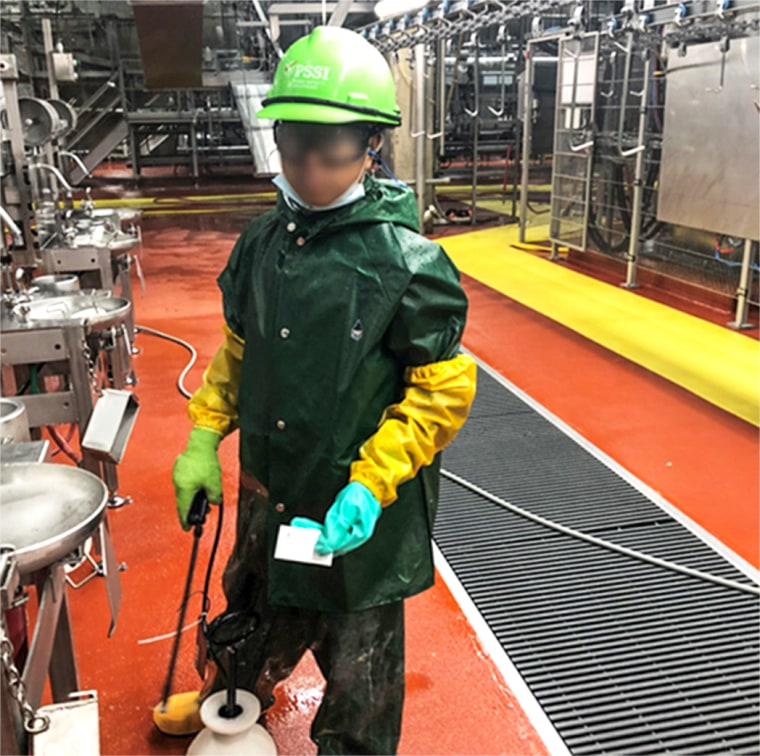 So far the investigation is focused on smugglers who may have provided the children with false identities and possibly led them to dangerous jobs. The companies themselves are not targets of the investigation, the officials said.
NBC News reported in January that DHS's Homeland Security Investigations (HSI) was investigating whether children ended up working for PSSI through a human trafficking scheme.
The newly expanded probe by HSI and the Justice Department is examining whether those children and others were part of a scheme to smuggle minors from Central America into the United States to work for multiple companies in the meatpacking sector nationwide.
The U.S. officials familiar with the investigation described it as "ongoing and robust," and stretching across multiple law enforcement field offices. 
"Due to an ongoing investigation, HSI is unable to comment at this time," an ICE spokeswoman for the Midwest and Northeast regions said. 
The Justice Department declined to comment. 
PSSI spokesperson Gina Swenson said the company has not been contacted by law enforcement and has "no knowledge of any such investigation."
"We have always taken rigorous steps to comply with the law, including use of the government's E-verify system for new hires, extensive training for all hiring managers, multiple audits, and use of biometrics," Swenson added.
NBC News was first to report that a former PSSI employee hired the same "known minor" twice under two different names in the span of six months, according to an internal company document. 
A former PSSI manager said it is common in the meatpacking industry to turn the other way when a prospective employee presents an ID that appears false. 
"In this industry you have a lot of people who are undocumented workers. A lot of times it's because they're not going to pay well enough to hire people in America who want to do it," said the former manager, who spoke on the condition of anonymity. 
The former manager confirmed that the company uses the federal government's E-Verify program, but said that while some employees presenting false documents were turned away, it was common for workers who presented obviously false IDs to get hired as long as the documents stated they were legal and of age.
"You can look at the ID and tell the person on the ID is not even close to the person standing in front of you," the manager said.
Swenson, the PSSI spokesperson, has denied the manager's claims.
"This is categorically false — period," she said. "We have been crystal clear that we do not want a single person under the age of 18 working for the company. We have trained and retrained our hiring employees on how to actively spot identity theft — as part of our extensive efforts to enforce this absolute prohibition against employing anyone under the age of 18."