Advertisers in the 2016 presidential race have now spent $491 million over the airwaves, according to ad-spending numbers from NBC News partner SMG Delta.
The two biggest spenders to date have been the campaigns and allies of two candidates who exited the race months ago -- Jeb Bush and Marco Rubio. Bush's Right to Rise Super PAC and campaign spent a whopping $82 million in ads, while Rubio and his outside groups spent more than $67 million.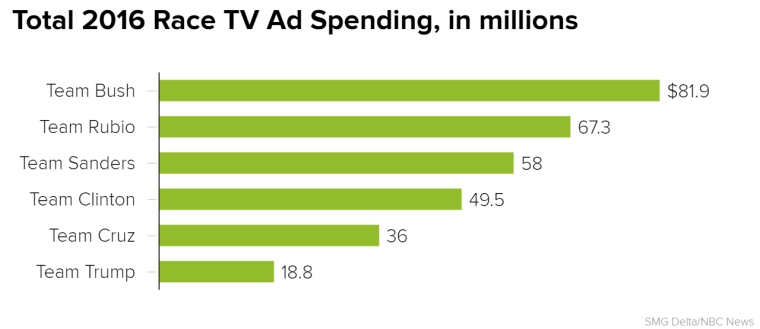 Of the candidates remaining, Bernie Sanders and his allies have dropped $58 million, and Hillary Clinton and her outside groups have spent nearly $50 million on ads.
And as for presumptive Republican nominee Donald Trump, his ad spending is at the bottom of this list -- $18.8 million.
The biggest ad spenders to date:
Team Bush: $81.9 million ($76.9M from Right to Rise Super PAC, $5M from campaign)
Team Rubio: $67.3 million ($37.8M from Super PAC, $18.9M from campaign, $10.6M from 501c4)
Team Sanders: $58 million ($57.8M from campaign, $253K from National Nurses United Super PAC)
Team Clinton: $49.5 million ($44M from campaign, $5.5 million Priorities USA Super PAC and other outside groups)
Team Cruz: $36 million ($16.5M from campaign, rest from outside groups)
Team Trump: $18.8 million ($18.8M from campaign, $24K from TrumpPAC)