WASHINGTON — Throughout the 2018's primaries, the "year of the woman" has been cited as a dominant recurring theme, but as summer winds down, another storyline is emerging. The 2018 election may bring the most diverse set of candidates in U.S. political history — and not just racial diversity, but also a diversity of religion and sexual orientation.
Already, as we have noted on the Data Download, this is shaping up to be a historic year for women candidates. And the numbers keep climbing.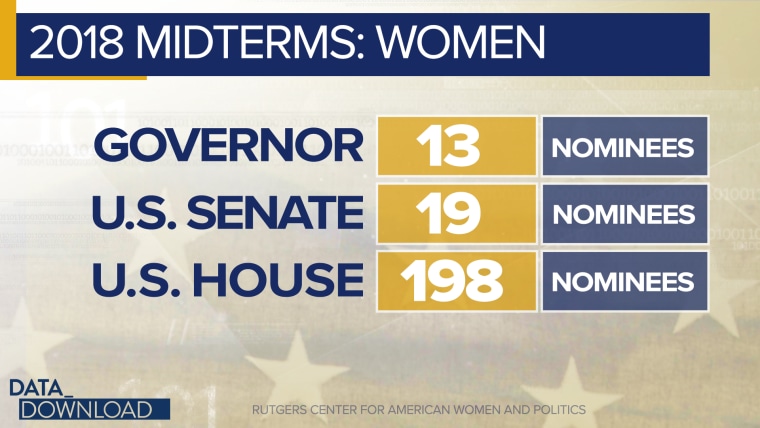 So far in 2018, 13 women have won gubernatorial primaries, 198 women have won House primaries and 19 women have won primaries in U.S. Senate races. That number took a jump this week with three more women securing their party's Senate nominations.
And those tallies are not complete. There are still nearly 100 women in running in primaries for those offices that have not yet been held.
But beyond gender, 2018's primary results show a growing diversity in the candidate pool in other ways.
The number of candidates who are "out," openly LGBTQ, is at an all-time high this election cycle.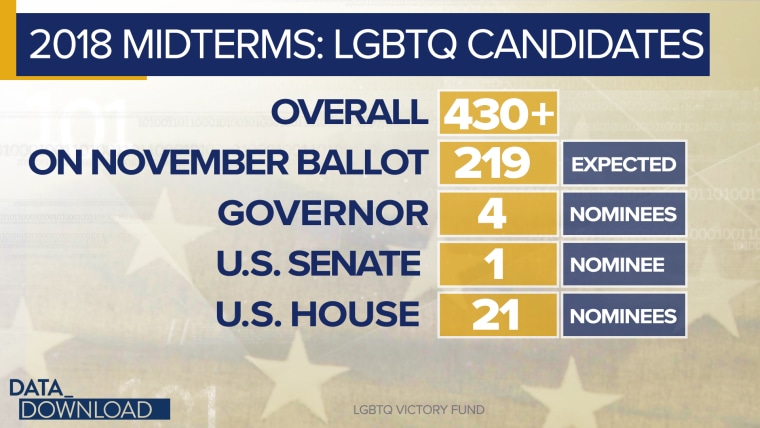 In the broadest sense, 2018 has seen 430 LGBTQ candidates for office, according to data from the LGBTQ Victory Fund. That includes everything down to races for local positions. But there have also been noticeable increases in the numbers among the number of LGBTQ candidates for federal and statewide office.
The Victory Fund reports there are already two LGBTQ Senate candidates that will appear on the ballot in November and another three possible candidates for the fall. In the House, 21 LGBTQ candidates have already won their primaries. And there are four LGBTQ Democratic gubernatorial nominees already on the ballot for the fall.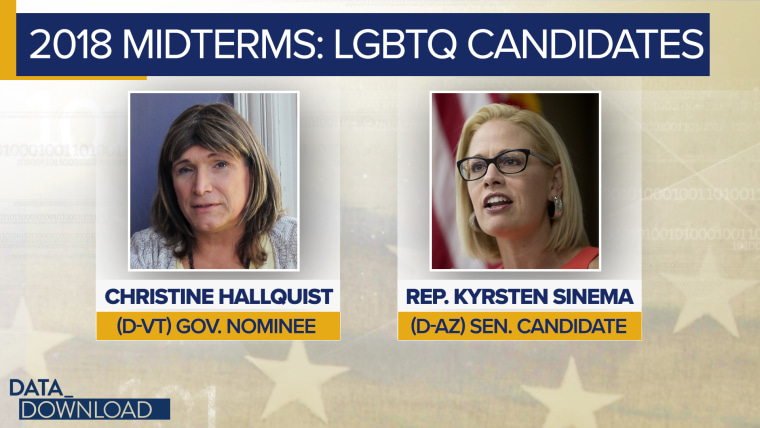 Included in that roster is Christine Hallquist, who just this week became the first transgender woman to win a major party nomination for governor when she won the Democratic primary in Vermont. Also on the list is Krysten Sinema who is already the first openly bisexual member of the House, and is currently the frontrunner for the Democratic nomination for U.S. Senate in Arizona. That primary is Aug. 28.
And the increased diversity on the ballot this year extends into the realm of faith; the data suggest that 2018 is shaping up to be a banner year for Muslim-American candidates. This cycle is seeing the largest number of Muslim-Americans run for office since before Sept. 11, 2001, according to JETPAC, a nonprofit working to increase American Muslim civic engagement.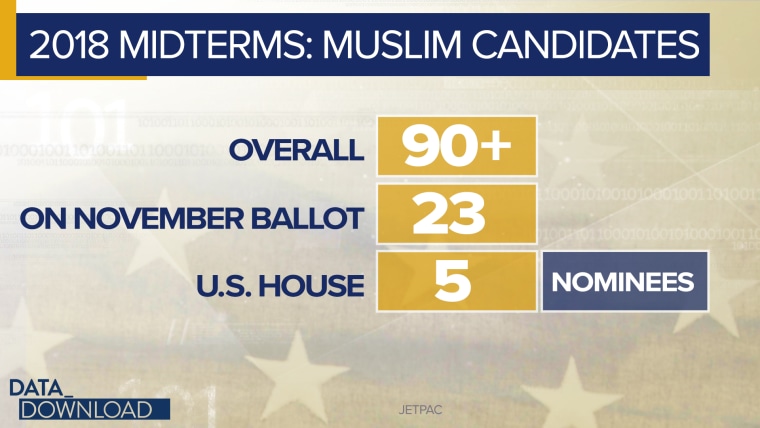 So far this year 23 Muslim-American candidates have won primaries — across all levels of government — another four still have primaries to come. Included in that list of nominees are five candidates for House — three Democrats and two Republicans.
And it appears that a few of those candidates are on track to make history in the next session of Congress. Rashida Tlaib in Michigan's 13th Congressional District and Ilhan Omar in Minnesota's 5th both won Democratic primaries in areas that are solidly Democratic, Detroit and Minneapolis respectively. That makes them set to become the first two Muslim-American women elected to Congress.
Taken together, that is a very different set of people on the ballot this year, but these data are about more than a simple exercise in counting heads. These numbers have a meaning this midterm season because they are a part of the nation's political moment.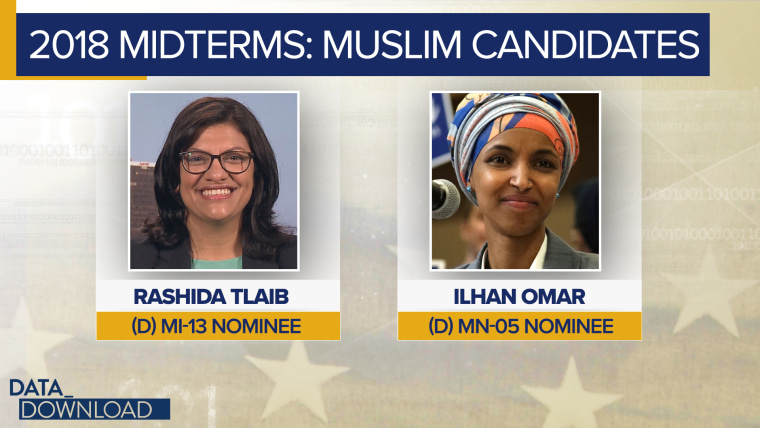 Politics is not a static thing. It is constantly in flux with actions creating reactions. This is the other side of the axiom "elections have consequences."
George W. Bush's presidency activated Democrats, led to the 2006 midterm wave and paved the way for Barack Obama. Obama's time in the White House led to the rise of the Tea Party movement and, later, to Donald Trump.
If the takeaway from the 2016 presidential race was the influence and power of the vote of working-class white men, it may well be that 2018's field of candidates is showing a reaction to that. The final tally in November will show how big that reaction is.