WASHINGTON — It was a summer of summits (in Singapore and Helsinki); a Supreme Court vacancy and nomination (goodbye Anthony Kennedy, hello Brett Kavanaugh); tariffs and separations at the border; more developments in the Russia probe (indictments, guilty pleas, guilty verdicts); surprising primary victories; and more women winning party nominations.
But here's a reminder about the upcoming midterm elections, which are now two months away: They're going to be — more or less — about President Donald Trump.
Historically, midterms have been referendums on the current White House occupant. On average, since the Truman Era, a president's party loses more than 28 House seats in his first midterm election. (In 2018, Democrats need to pick up a net of 23 seats to win back the House.) The one exception when the president's party gained seats was in 2002 (after the 9/11 terrorist attacks).
A president's first midterm since WWII (in House seats gained/lost)
1946 Truman: -55
1954 Eisenhower: -18
1962 Kennedy: -4
1966 LBJ: -48
1970 Nixon: -12
1974 Ford: -48
1978 Carter: -15
1982 Reagan: -26
1990 Bush: -8
1994 Clinton: -54
2002 Bush: +8
2010 Obama: -63
Average: -28.6
SOURCE: Vital Statistics on Congress
(Notes: Ford's first midterm election came right after he succeeded Richard Nixon in 1974; LBJ's came in 1966 three years after succeeding Kennedy; and Truman's came in 1946 after succeeding Roosevelt.)
But in the six times when that president's job-approval rating was BELOW 50 percent, his party lost an average of 43.5 House seats
That president's approval rating in September of that election year, per Gallup
1946 Truman: 33 percent
1954 Eisenhower: 66 percent
1962 Kennedy: 63 percent
1966 LBJ: 46 percent
1970 Nixon: 57 percent
1974 Ford: 50 percent
1978 Carter: 42 percent
1982 Reagan: 42 percent
1990 Bush 76 percent
1994 Clinton: 39 percent
2002 Bush: 66 percent
2010 Obama: 46 percent
SOURCE: Gallup
Trump's most recent approval in Gallup? 41 percent.
Also, while Dem and GOP TV ads have focused on health care, Washington, D.C. and Nancy Pelosi, Trump has been the clear subtext of the 2018 campaign — including for some gubernatorial races. "We're in a fight for the soul of America," former Vice President Joe Biden said in Pittsburgh. "It's about time we restored dignity to work. It's about time we start talking to each other like we're civilized. And deal with one another with respect."
Republicans also have embraced the idea that the midterms are about Trump. "We have to mobilize Republicans, and that's why President Trump — he's our secret weapon going into the midterms," RNC spokeswoman Kayleigh McEnany recently said. "We see what his endorsements do. They swing elections by 20 to 30 points. He's going to be out across the country … So President Trump can mobilize the base and can defy history."
And the polling also suggests that Trump is front and center of voters' minds. According to the 10 state NBC/Marist polls we've released over the past three months — including today's survey of Missouri — majorities or pluralities of voters say their 2018 vote for Congress will be to check and balance Trump, versus supporting his agenda.
But when the choice is presented a different way, the August NBC/WSJ poll showed a different result: 46 percent of registered voters said they were more concerned that Republicans won't provide a check and balance to Trump, while 45 percent said they were more concerned that Democrats might go too far in obstructing Trump.
So the midterms are going to be about Trump. But smart Republican campaigns in many states and districts also will want to make them about Democrats going too far, Nancy Pelosi and even impeachment.
And don't miss the special feature by NBC's Alex Seitz-Wald, Jonathan Allen and Benjy Sarlin: Mad About Trump: Two Americas, both political parties in upheaval and the midterm elections around the corner.
NBC/Marist poll: McCaskill and Hawley are tied in Missouri
"Incumbent Democratic Sen. Claire McCaskill is tied with Republican challenger Josh Hawley, according to a new NBC News/Marist poll of Missouri, in one of the most high-profile races of 2018 that could determine control of the U.S. Senate," one of us writes. "Among likely voters … McCaskill and Hawley both get 47 percent support, with just five percent who are undecided. Among the larger pool of registered voters, Hawley is at 47 percent, while McCaskill is at 46 percent."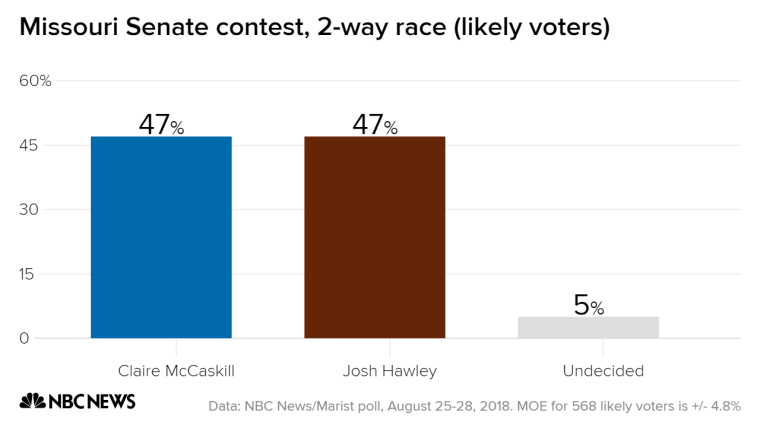 "When the field is expanded to include the Libertarian and Green Party candidates in the race, McCaskill leads by 4 points among likely voters, 44 percent to 40 percent, but that's well within the survey's margin of error. McCaskill benefits by having the more enthusiastic supporters: According to the poll, 68 percent of her backers strongly support her, compared with 46 percent of Hawley's backers who strongly support him. But McCaskill also has a net-negative favorable/unfavorable rating, with 49 percent of likely voters having a negative view of her, versus 41 percent who view her positively."
We'll be unveiling another NBC/Marist state poll tomorrow...
And speaking of polls, the latest Washington Post/ABC survey shows Democrats with a 14-point lead in the generic ballot among registered voters, 52 percent to 38 percent.
Brett Kavanaugh's Senate confirmation is set to begin
At 9:30 a.m. ET, the Senate Judiciary Committee will begin its confirmation hearings on Brett Kavanaugh's Supreme Court nomination. And according to excerpts of Kavanaugh's opening remarks that NBC's Hallie Jackson obtained, the nominee is expected to say: "A good judge must be an umpire—a neutral and impartial arbiter who favors no litigant or policy … I don't decide cases based on personal or policy preferences. I am not a pro-plaintiff or pro-defendant judge. I am not a pro-prosecution or pro-defense judge. I am a pro-law judge."
But Democrats have been crying foul. "This isn't normal. It's not normal, because we are not able to see 100,000 documents, that the archivist has just — because the administration has said we can't see them," Sen. Amy Klobuchar, D-Minn., said on "Meet the Press" on Sunday. "They've exerted their executive power — 148,000 documents that I've seen that you cannot see, because they won't allow us to make them public. So I can't even tell you about them right now on this show."
Klobuchar added, "And then you have the president's campaign chair having been just convicted. You've got his lawyer pleading guilty. And you have a nominee who had one of the most expansive views of presidential power that we've seen in history … This is all very relevant. And no, it's not normal."
Trump complains about the indictments of two GOP congressmen
Last month, we wrote about how Trump praises or pardon friends/allies have committed crimes (Paul Manafort, Joe Arpaio, Dinesh D'Souza), but calls for the prosecution of enemies who haven't been charged at all (Hillary Clinton, James Comey, Peter Strzok, Christopher Steele).
Well, here's another example from yesterday: "Two long running, Obama era, investigations of two very popular Republican Congressmen were brought to a well publicized charge, just ahead of the Mid-Terms, by the Jeff Sessions Justice Department," Trump tweeted. "Two easy wins now in doubt because there is not enough time. Good job Jeff."
So Trump is decrying the indictments of two GOP congressman — obviously Reps. Chris Collins, R-N.Y. and Duncan Hunter, R-Calif., both of whom were early endorsers of the president — and he's blaming the Justice Department for endangering the GOP's chances of holding on to those seats.
What happened to the rule of law?
It's Primary Day in Massachusetts, plus the final primaries of 2018
While the victories by the Andrew Gillums and Alexandria Ocasio-Cortezes have been more the exceptions than the rule during this primary season, there are three upcoming Dem primaries where incumbents are getting challenges from the left.
Also, the D and R primaries in NH-1 will settle the race for one of the most competitive districts that typically goes to the party that wins the election cycle. It's a true bellwether district.
Sept. 4: Massachusetts (Rep. Mike Capuano vs. challenger Ayanna Pressley)
Sept. 6: Delaware (Sen. Tom Carper vs. primary challenger Kerri Harris)
Sept. 11: New Hampshire (D and R primaries for NH-1), Rhode Island
Sept. 13: New York (Gov. Andrew Cuomo vs. challenger Cynthia Nixon)\
Democrats' Top 25 House pickup opportunities and the Next 25
One way to look at the Democrats' quest to net the 23 House seats needed to flip the chamber is by arranging their pick-up opportunities into two different groups — the Top 25 and the Next 25.
Democrats Top 25 pick-up opportunities (in alphabetical order):
AZ-2
CA-25
CA-39
CA-45
CA-48
CA-49
CO-6
FL-26
FL-27
IA-1
IL-6
ME-2
MI-11
MN-2
MN-3
NJ-2
NJ-11
NY-19
NY-22
PA-5
PA-6
PA-7
PA-17
TX-7
VA-10
The Next 25 (in alphabetical order):
CA-10
IA-3
IL-12
IL-13
IL-14
KS-2
KS-3
KY-6
MI-8
NE-2
NJ-3
NJ-7
NC-9
OH-1
PA-1
TX-23
TX-32
UT-4
VA-2
VA-5
VA-7
WA-5
WA-8
WV-3
WI-1
It's time for the press to stop complaining — and to start fighting back
Finally, here's something one of us wrote for the Atlantic: "Instead of attacking rivals, or assailing critics — going negative, in the parlance of political campaigns — reporters need to showcase and defend our reporting. Every day, we need to do our job, check our facts, strive to be transparent, and say what we're seeing. That's what I've tried to do here. I've seen a nearly 50-year campaign to delegitimize the press, and I'm saying so. For years, I didn't say a word about this publicly, and at times I even caught myself drawing false equivalencies because I was afraid of being labeled as biased. I know that stating the obvious will draw attacks, but I've also learned that the louder critics bark, the more they care about what's being reported."
"I'm not advocating for a more activist press in the political sense, but for a more aggressive one. That means having a lower tolerance for talking points, and a greater willingness to speak plain truths. It means not allowing ourselves to be spun, and not giving guests or sources a platform to spin our readers and viewers, even if that angers them. Access isn't journalism's holy grail — facts are."