For all the talk of a "blue wave" that could remake Congress in 2018, there is another trend emerging in this year's early primary results, a wave of women candidates, and in the long run, it could have the bigger impact on Washington.
There have been primaries in 13 states so far this year – Arkansas, Georgia, Idaho, Illinois, Indiana, Kentucky, Nebraska, North Carolina, Ohio, Oregon, Pennsylvania, Texas, and West Virginia. Those states have produced four female gubernatorial nominees and one senate race in Nebraska, where two women will face off in November.
But the numbers for the nominees in U.S. House races are especially eye-opening. The states that have held primaries so far have produced 72 female House nominees in 66 districts (which means some races in the fall will be between two women). That number, 72, is a staggering increase when compared to the last two elections, 2016 and 2014.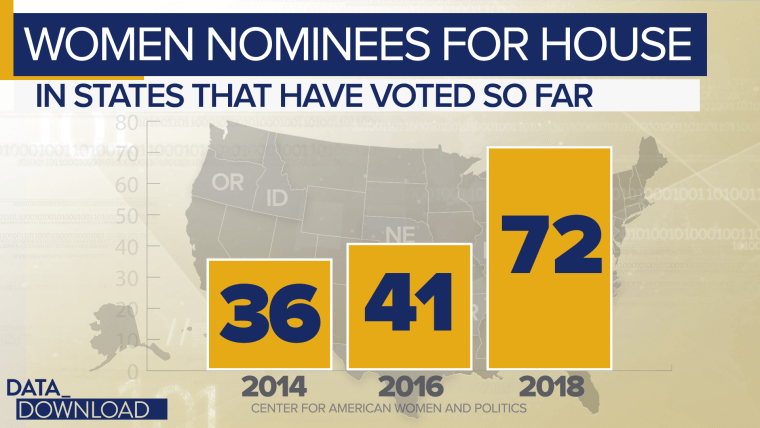 In 2016, 41 women won a nominating contest in those same states. In 2014, it was 36 women in those states.
What can we say about these primary winners? First, they are overwhelmingly from the Democratic Party, 62 versus 10 for the Republicans. And second, they are not career politicians. More than half of them, 45, have not run for office before.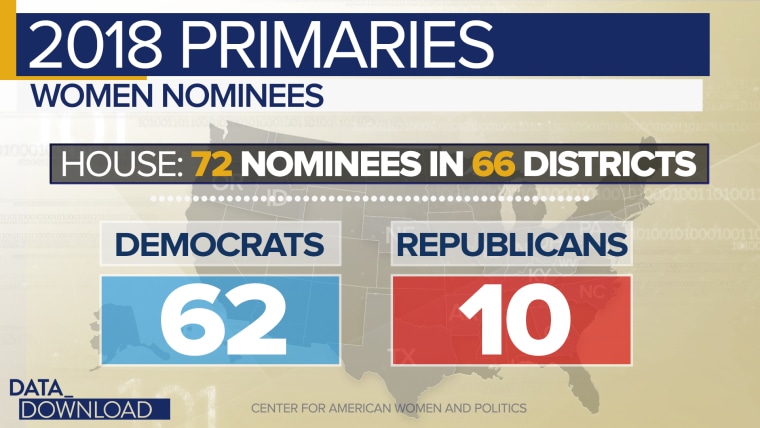 Instead, many of them come from a wide range of fields, including medicine (nurses and doctors), education and law and several of them are veterans. And most of them are citing that "real world" experience as one of their key qualifications.
Maybe most surprising, when you look at the districts that nominated these women, there is no clear trend in the data. The 66 districts with these nominees are a true amalgam of American places: urban and rural, high and low income, ethnically and racially diverse and much less so. In other words, judging by the results of these 13 states, women are winning primaries everywhere.
This wave of women could have a big impact on what the House potentially looks like. In 51 of the 66 districts where there is at least one female nominee, the House seat is currently held by a man.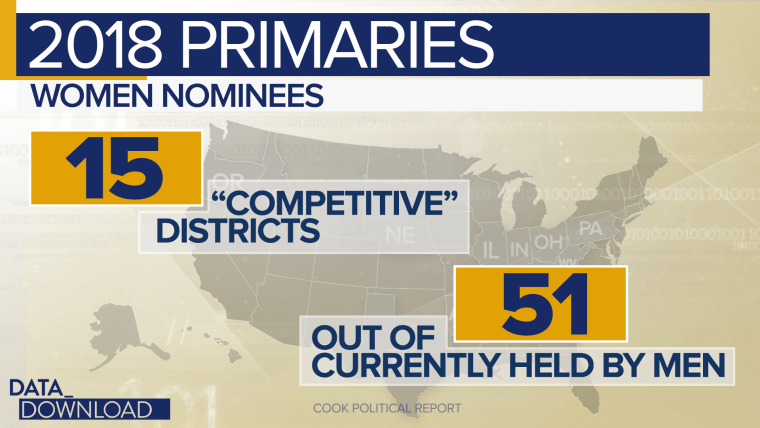 That tidal wave may be unlikely, however. According to the House ratings at the Cook Political report only 15 of those 51 districts is currently seen as "competitive." The others have less of a chance of the seat flipping parties. And since incumbents or men from the incumbent party are running in most of those districts, it means most of those seats will likely remain held by men.
But even if most of these female nominees don't win in November, the early results suggest there may be something more seismic is going on with gender in American politics in 2018.
The fact that so many women are running for office and winning primaries is significant and could have impacts far beyond this year's midterms. If this year's numbers for women candidates prove to be more than a one-year wave and become a rising tide, politics could look very different for many years to come.