WASHINGTON — For months now, enthusiasm among Democratic voters has been a dominant 2018 theme in polls and interviews. Now that the primaries are over, a look at the total primary vote in U.S. House races this year shows that the chatter is more than just talk.
Democrats have been turning out in record numbers this year, and midterm history suggests that could have real significance in November.
In the most basic sense, the numbers show the difference in enthusiasm between 2018 and the last midterm election in 2014. There have been increases in turnout for both of the major political parties in this year's House primaries, but the number for Democrats has skyrocketed.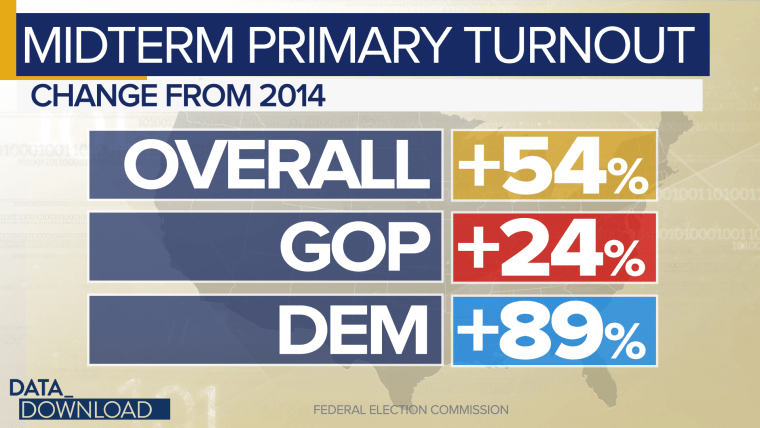 In 2018, Republican House primaries produced about 24 percent more votes than they did in 2014. But Democratic House primaries in 2018 produced 89 percent more votes than they did four years ago, based on an analysis of the vote by Pew Research and the Data Download team.
That's nearly a doubling in the number Democratic House votes this year, and it's enough to give Democrats a big lead over Republicans in votes this year. In total, 4.3 million more Democrats voted in House primaries this year than Republicans.
What kind of meaning might that have for the midterms this fall? Consider 1998 and 2006.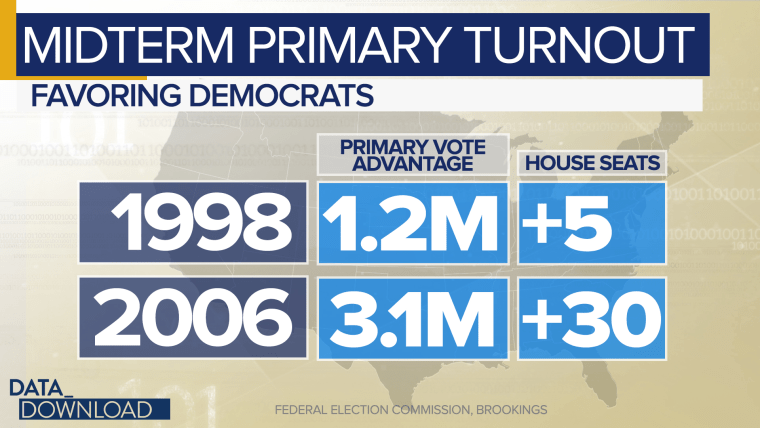 In both those races Democratic voters turned out for their House primaries and in November the party reaped the rewards.
The edge was small in 1998, about 1.3 million more Democrats than Republicans voted, and in the general election, the Democrats gained five seats in the House. Democrats had a bigger 3-million vote edge in the primaries of 2006 and in the fall the party gained 30 seats in the House — plus six seats in the Senate — on their way to capturing both chambers of Congress.
Using the House primary vote as a metric reveals a similar correlation for Republicans.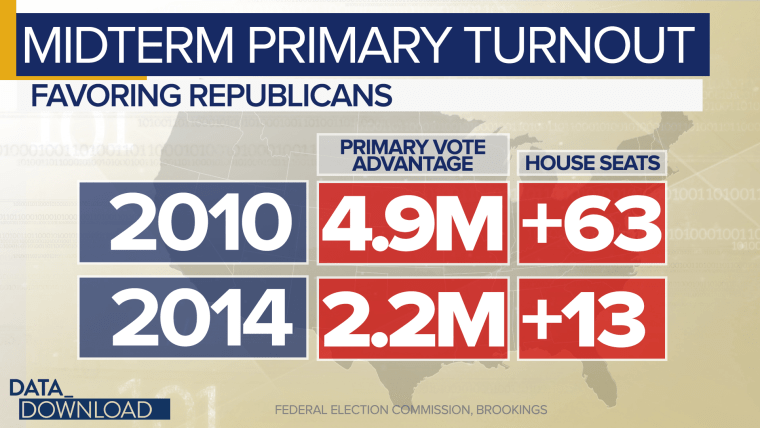 In 2010, when the Republicans rode a massive wave election to gain 63 seats in the House — as well as six Senate seats and numerous governorships — the party had an enormous 4.9-million vote edge in House primaries. And in 2014, the GOP had a smaller 2.2-million vote advantage in the House primary vote and gained 13 seats in the chamber.
So how big is the Democratic turnout edge this year? It's pretty big. About 4.3 million more Democrats than Republicans voted in the House primaries of 2018.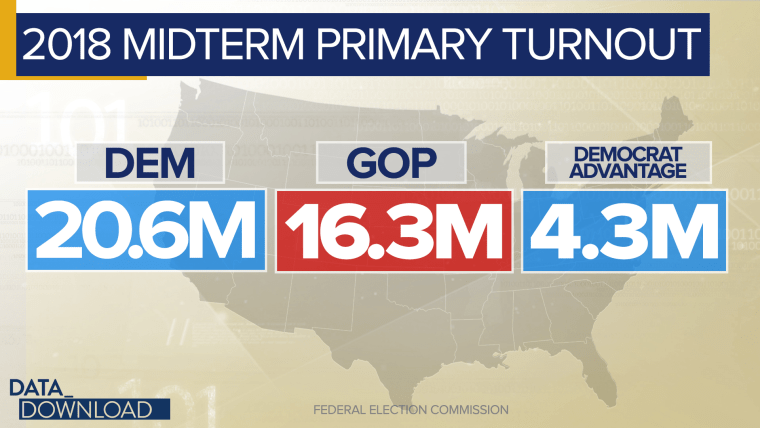 That number compares favorably with others from recent elections. In raw terms, that's a larger advantage than Democrats held in 2006 and close to the GOP number from 2010. In percentage terms (remember different numbers of people vote in every set of primaries) the Democratic edge is roughly equivalent to the party's lead in 2006.
To be clear, these numbers don't mean a Democratic wave is a certainty this fall. There are a number of reasons for 2018's high primary turnout by Democrats.
More Republican retirements in the House in this cycle meant more open seats. Open seats generally lead to higher turnout, particularly among the opposition party. And this measurement of total national House primary vote doesn't take into account differences in specific races.
But the size of the difference between Democratic and Republican House primary vote offers some real, data-based evidence of the 2018 enthusiasm gap. And if past elections are any guide, the numbers here suggest Democrats have good reason to be hopeful about November.