Of all the nation's major sports, baseball holds a special place. It's been a part of American summers for well over a century, marking time through the nation's history and changing along with it.
That last point is especially true when you look at some of the numbers around Major League Baseball as it comes to Washington on Tuesday night to play its first All-Star Game in the city since 1969. MLB returns as a different league — demographically, geographically and financially — and it reflects the differences that have remade the country during that time.
The most obvious difference in the game between then and now may be who's in the field and the names in the box score.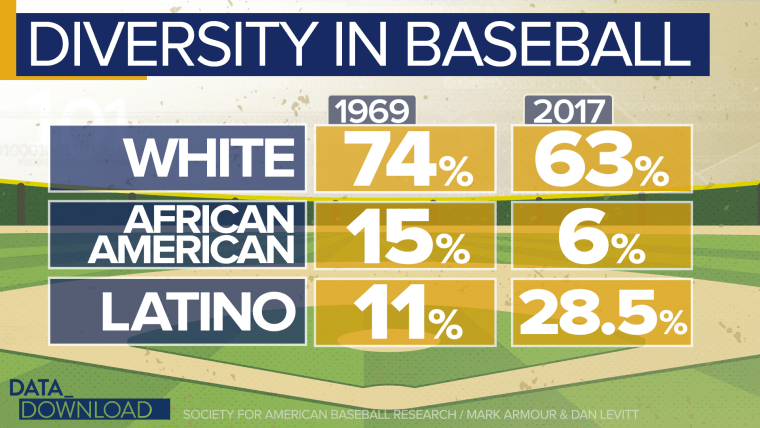 In 1969, about 74 percent of the players who appeared in a major league game were white, according to data from baseball researchers Mark Armour and Dan Levitt. About 15 percent of the players were African-American and another 11 percent were Latino.
Last year those numbers looked very different. Only 63 percent of the players were white and the African-American number declined to about 6 percent. But the Latino number has grown by nearly 20 points to roughly 29 percent.
Those numbers don't mirror the overall changes in the population exactly, of course. And the decline in African-American players in the majors since then speaks to other factors — the rise of other sports with black fans and youth. But the decline in white players and the rise in Latinos follow larger changes in the nation as a whole.
The geography of the majors also mirrors larger changes in the population. In short, since 1969, the greatest growth in the United States has come in the nation's western and southern states.
Overall, the nation has grown by about 61 percent since July 1969, going from 202 million to 325 million. But in that time Texas and Colorado have seen their populations more than double to 28 million and 5.6 million people respectively. And Arizona, with 7 million people, and Florida, with 21 million, have seen their populations more than triple in that time.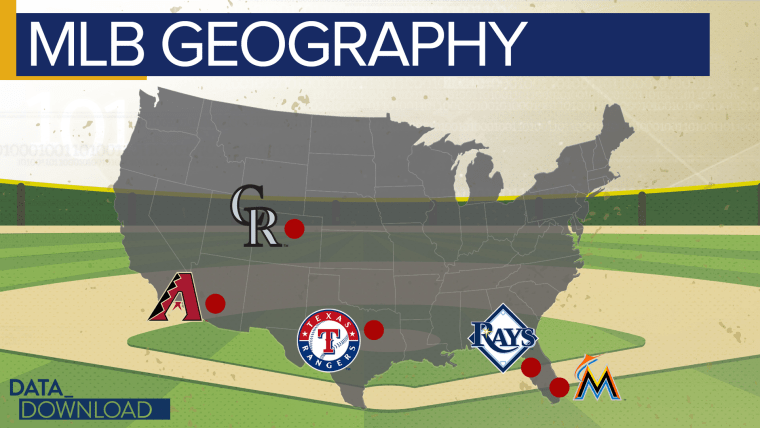 When a population moves, markets are created and the major leagues have followed the potential fan bases.
In 1969, there had never been an MLB team in Florida, today there are two: the Marlins and the Rays. There had never been an Arizona franchise, but today the state has the Diamondbacks. The same goes for Colorado and the Rockies. And Texas, which already had the Astros in 1969, did not yet have the Texas Rangers. It got that team in 1972 after it moved to the Dallas metro area from … Washington, D.C.
And, of course, there are differences in fan experiences and, well, costs. Changes in those areas have hit all sports, but you can see them pretty clearly in major league baseball — especially this week at Nationals Park.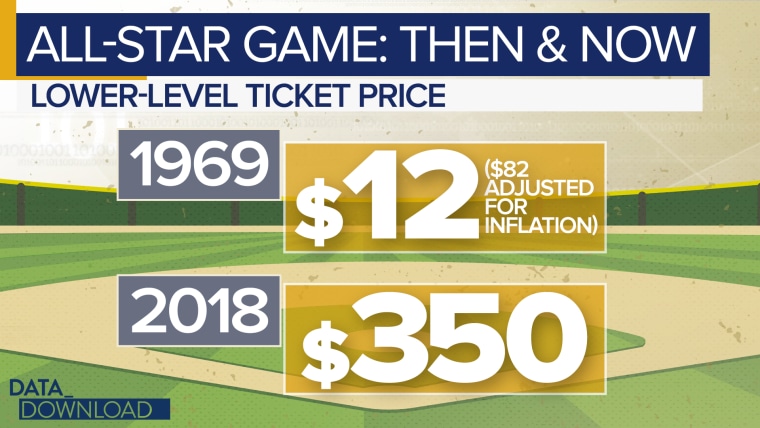 In 1969, a lower-level box seat for the All-Star Game at Robert F. Kennedy Stadium had a face-value price of $12. Add in the impacts of inflation and that ticket would go for roughly $82 today.
That would be a bargain-basement price for Tuesday night's game, where seats in that part of Nationals Park have a face value of $350. That's an overall increase of more than 300 percent.
Despite those increases, however (and the many complaints that have accompanied them), Major League Baseball has seen major growth in attendance since 1969.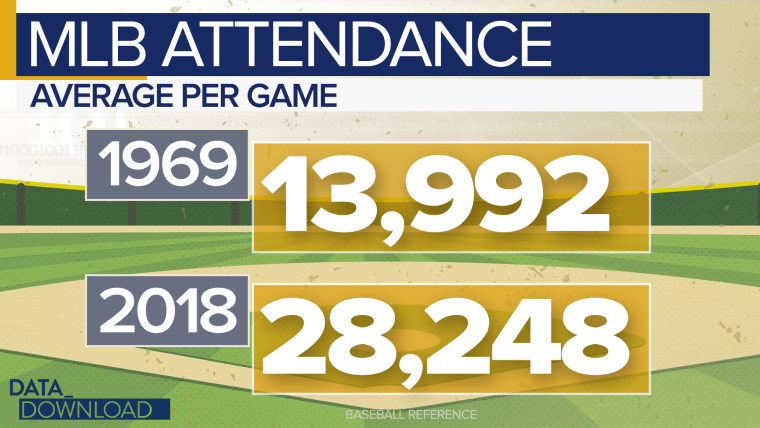 In 1969, the average major league game drew about 14,000 fans. Today the number is double that, 28,000.
While much has been made of declining TV ratings for baseball (and other sports), this attendance number is often overlooked. And again, this trend mirrors a larger trend in attendance gains in most major sports in the last 49 years as going to a game, any game, has become more about the experience of the ballpark, or stadium, or arena.
As baseball has followed all those trends, however, there is one it has missed out on more than most other sports: the rise of political partisanship infecting fandom.
While the NFL struggles with how to handle fights over standing or kneeling for the national anthem and both NBA finals teams said they didn't plan to visit the White House if they won, Major League Baseball has largely stayed out of the nation's political tumult. And consumer data from Simmons Research, shows some of that impact.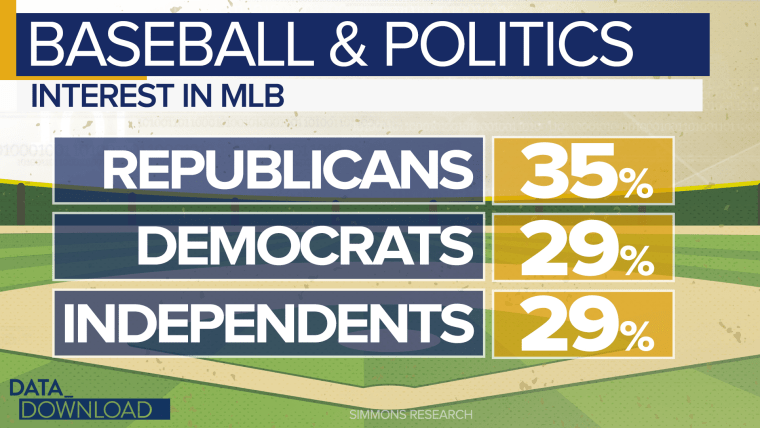 Overall, 29 percent of Democrats say they are somewhat or very interested in Major League Baseball. The number is the same for Independents, 29 percent. The number is only a bit higher for Republicans, with 35 percent saying they are somewhat or very interested in the major leagues.
Only a six-point difference between Democrats and Republicans? In 2018, that may be enough to label Tuesday night's All-Star Game a rare moment of bipartisanship in the nation's capital.