Two-thirds of Americans have lived in a household with a gun at some time in their lives. Forty-four percent personally know someone who's been shot. Half view gun violence as a very big problem in the United States, and the public is equally divided about whether more firearms in America would lead to more crime or less of it.
In other words: The country's relationship with guns? It's complicated.
A sweeping new survey from the Pew Research Center looks at the extent to which Americans' knowledge and opinions about guns unite and — more often — divide them.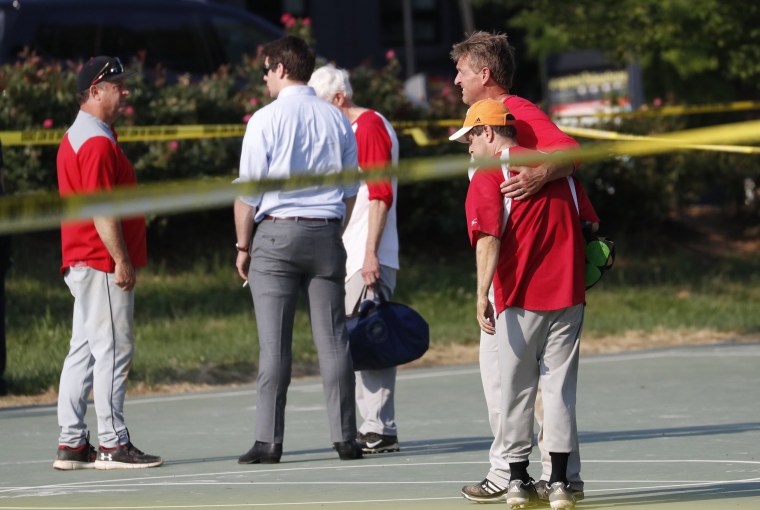 The poll also comes just a week after a gunman opened fire on Republican lawmakers at a congressional baseball practice in Virginia, reigniting the debate over gun laws and personal safety.
They survey's findings suggest that — while there's broad agreement about the need to keep guns out of the hands of the mentally ill or those on no-fly lists — America remains divided about how much of a problem gun violence poses and how to stop it.
The public has a lot of exposure to guns ...
While there's lots of well-documented disagreement about how Americans view guns, it's also true that most Americans have at least some experience with guns. Two-thirds say they have lived in a household with a gun at some point in their lives, and 72 percent say they've shot a gun. While only 30 percent say they personally own a gun right now, an additional 36 percent say they might be open to owning one in the future.
Special Feature: Journey of a Bullet
There's also broad support for allowing legal gun ownership for most people. The poll found that a majority — 64 percent — of Americans say that "most people" should be able to own guns legally.
Still, a substantial chunk of Americans have also had a significant bad experience involving a firearm. More than four-in-ten (44 percent) say that they personally know someone who has been shot, either by accident or intentionally. That includes about half of all gun owners (51 percent) and a majority of African-Americans — 57 percent — compared to 43 percent of whites and 42 percent of Hispanics.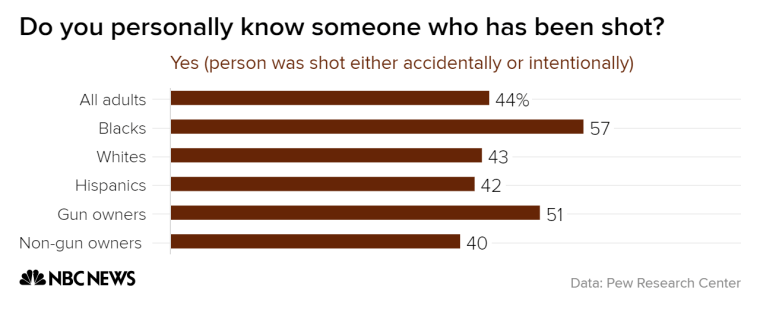 About a quarter of Americans also say that either they or someone in their family have been threatened or intimidated by someone with a gun.
… but they're divided about how much of a problem guns are ...
The Pew survey finds that Americans' perceptions of gun violence may have a lot to do with whether or not they own a gun themselves.
While half of Americans overall call gun violence a very big problem in the United States, only a third of gun owners — 33 percent — say the same. Non-gun owners (22 percent) are also twice as likely than gun-owners (11 percent) to say that gun violence is a major problem in their local community.
Race also plays a significant role. Nearly half of African Americans say they are very concerned about gun violence in their community, for example, compared to just 11 percent of whites and 29 percent of Hispanics.
Perhaps the starkest differences, though, have to do with Americans' perceptions of how levels of gun ownership impact crime.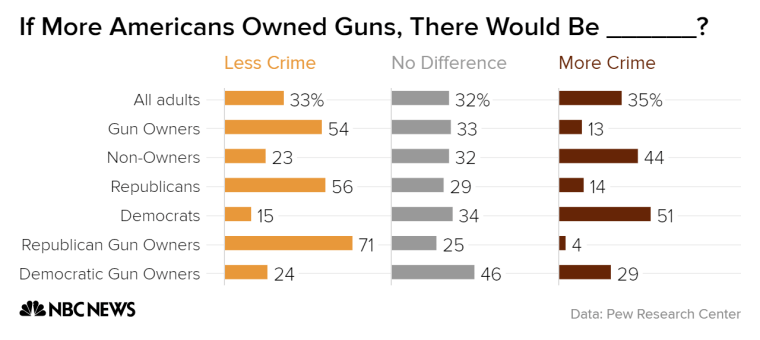 Overall, 33 percent of Americans say that there would be less crime in America if more people owned guns, while about an equal share (35 percent) believe that more guns would lead to more crime. The remainder think that a change in gun ownership wouldn't make a difference.
But gun owners are more than twice as likely than non-owners to believe that more guns would translate into a reduction in crime. Fifty-four percent of gun owners say more guns would mean less crime, while only 23 percent of non-owners agree.
Add partisanship into the mix, and the divide grows even larger.
Fully seven-in-ten Republican gun owners believe that more gun ownership would lead to less crime, compared to just 24 percent of Democratic gun owners and 13 percent of Democrats who don't own guns at all.
… and even more divided about what to do about it.
Half of all Americans say they favor stricter gun laws, but that includes only 24 percent of Republicans compared to 75 percent of Democrats.

What's more, big majorities of Republicans who own guns are far less likely to favor measures like banning assault-style weapons (38 percent) and creating a federal database to track gun sales (43 percent).
That's striking, even compared to Democrats who also own guns. Among that group, 66 percent support banning assault-style weapons and 73 percent back a federal database.
Still, those who support changing gun laws can point to three areas of broad agreement. About nine-in-ten gun owners and non-gun owners, regardless of party affiliation, favor proposals to prevent the mentally ill from purchasing guns. About eight-in-ten say that gun purchases should be barred for people who are on no-fly lists. And big majorities favor background checks for private and gun show sales.