President Donald Trump's approval rating remains historically poor but stable amid months of feuding in Washington over his firing of FBI Director James Comey and the probe into Russian interference in the 2016 election, according to a new poll from NBC News and the Wall Street Journal.
The new survey finds that Trump's overall job approval rating stands at 40 percent approve, 55 percent disapprove — numbers that are historically low for a new president but virtually unchanged from the poll's findings in both May and April.
Democrats and independents still give the president dismal marks, disapproving of the job he's doing in the Oval Office by 90 percent and 63 percent, respectively.

But continued support from within his own party has kept Trump from free fall despite his rocky tenure over the past months. Trump has seen no erosion in support from Republicans, who gave him the same 82 percent approval rating in this survey that he enjoyed last month. He still receives a relatively comfortable rating from voters overall on his handling of the economy (44 percent positive, 48 percent negative).
And while half of Americans say that Trump's problems can be blamed on a lack of experience and competence, a significant chunk — 42 percent — say that his failings are mostly because "the establishment in D.C. opposes the changes that Trump wants to make." That share includes 48 percent of men, 57 percent of white working class Americans, and 80 percent of Republicans.
"The vast majority of the public has not been moved in a significant way off of their impressions of Trump from the beginning of his presidency," said Democratic pollster Fred Yang, who conducted the survey along with Republican pollster Bill McInturff.
"If President Trump and his team could get to the hard work of producing results rather than winning the Twitter war right now, the survey suggests he still has an opportunity to improve his standing with the public."
A shift away from Trump on control of the country's agenda
While Republicans have remained loyal to the leader of their party overall, Trump does appear to be losing some influence when it comes to policy issues.
Asked if they would prefer to see congressional Republicans, congressional Democrats or Trump himself take the lead on creating policy, 54 percent of Republicans now pick their party's representatives on Capitol Hill, compared to 40 percent who point to the president himself. That's a flip from February, when 60 percent of Republicans wanted Trump to take charge of policy, while just 34 percent instead chose GOP leaders in Congress.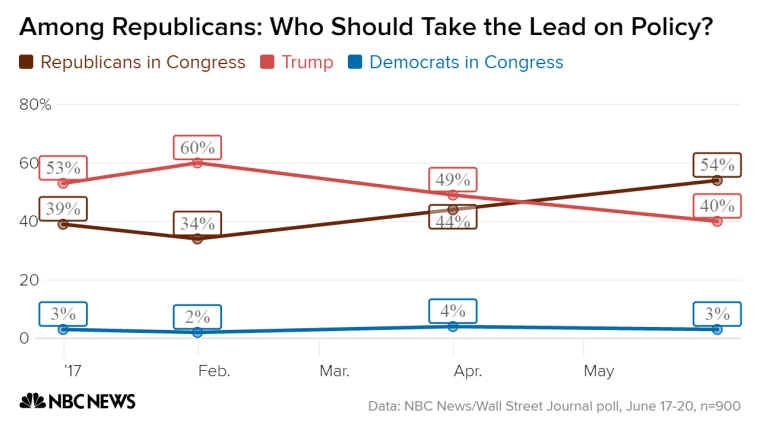 Trump has also lost ground on this measure with independents. While about a third (32 percent) wanted Trump to take the country's policy reins when he was inaugurated, 19 percent say the same now.
The shift comes as Trump and GOP congressional leaders struggle to make good on one of their central promises during the 2016 election: the repeal of Barack Obama's signature health care bill. Data from the NBC/WSJ poll that was released earlier Thursday showed that the Republican alternative to Obamacare that has passed the House is harshly reviewed by the American public, with only 16 percent calling it "a good idea."
Trump continues to be haunted by character questions
One of the most powerful factors in Trump's weak favorability is his persistently low ratings on key character qualities. Just 31 percent of Americans give him a good rating on being honest and trustworthy, a factor surely coming into play again this week after his revelation that he did not tape his conversations with FBI Director Comey as he'd previously hinted. Just 28 percent of Americans affirm that Trump is knowledgeable enough for the presidency, and only 22 percent give high marks to his temperament.
In fact, half of Americans give Trump a poor evaluation on all three qualities: his trustworthiness, his knowledge and his temperament for the job.
That's compared to only 18 percent who evaluate him positively on all three traits.
Even among Republicans, just 43 percent rate him positively on his honesty, knowledge and temperament, while an additional 46 percent offer a mixed assessment.
Democrats have an advantage heading into midterms — but with caveats
After going 0-4 in attempts to pick up House seats in special elections this spring, Democrats can take heart in one key data point in the poll: They now have an eight-point advantage when it comes to which party voters want to see in control of Congress after next year's election. Fifty percent of registered voters said they hope Democrats control Congress after the upcoming midterms, compared to 42 percent who prefer a Republican-led Congress.
That could be a sobering number for Republicans. Democrats enjoyed a similar advantage (of 10 and 11 points, respectively) before their last major congressional landslides back in 2006 and 2008.
Even more alarming for the GOP might be the gap between Americans who say they'll vote to send a message for or against the party in power. Thirty-nine percent of all adults say their vote in 2018 will be in favor of more Democrats who can be a check against Republicans, while 29 percent say they'll vote for more Republicans to help Trump get things done.
But, inside the numbers, it's not quite clear yet that Democrats can turn their nationwide advantage into a difference in enough congressional districts to flip control of Capitol Hill.
Despite his anemic popularity among all voters, Trump remains above water (49 percent to 47 percent) in Republican-held districts. And voters in GOP-held congressional districts still want to see their party continue to control Capitol Hill by a margin of 11 points, 52 percent to 41 percent.
For more insight into the poll, download the latest episode of 1947: The Meet the Press Podcast.
The NBC News/ Wall Street Journal poll was conducted June 17-20 of 900 adults. It has an overall margin of error of plus-minus of 3.3 percentage points. More questions from the poll will be released Sunday.