WASHINGTON — It isn't clear if President Donald Trump's low standing in a trio of NBC/Marist polls of Midwest states is due to the fallout after Helsinki (the polls were conducted mostly after his presser with Putin), or backlash to his tariffs in these states, or just that they're tougher-than-usual polls for the president.
But as Bloomberg's Josh Green observes, it's likely not a coincidence that the three states where Trump's job rating is below 40 percent in our polls — Michigan (steel, autos), Minnesota (corn, soybeans) and Wisconsin (Harley Davidson) — are states with companies and products that have been hit hard by the tariffs.
And today, Trump heads to two more Midwest states — Iowa and Illinois — where he'll participate in a roundtable on workforce development and deliver remarks on trade. The good news for Trump today is that he has SOMETHING in hand to talk about on trade (the $12 billion in aid, plus the European Union's concession to buy soybeans). The question, however, is whether that something is enough.
Here are the NBC/Marist results for Trump and the GOP in Michigan, Minnesota and Wisconsin:
Trump's job rating (among registered voters)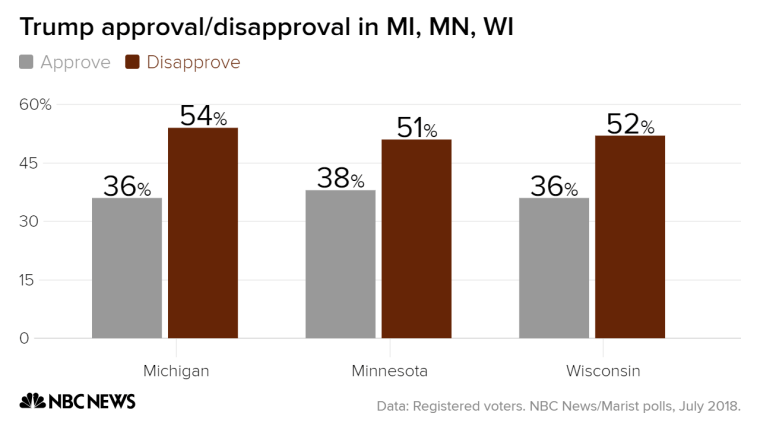 Congressional preference (among registered voters)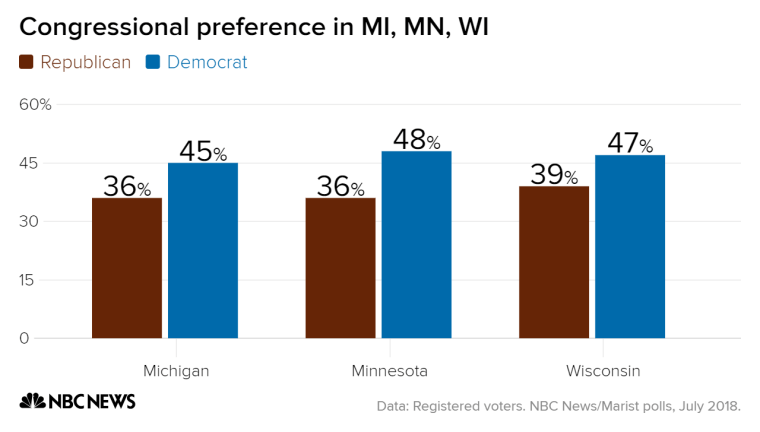 Does Trump deserve re-election?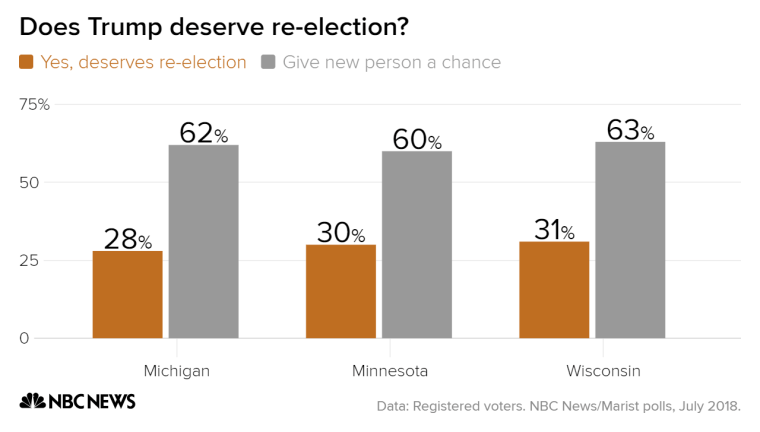 The other numbers in the NBC/Marist polls – including the primary and general-election horseraces in these states — come out later today.
A truce in the trade war? Or just a lull in the conflict?
Maybe given those numbers, Trump tried to dial down trade tensions with the European Union. The New York Times on yesterday's joint statements from Trump and Jean-Claude Juncker, president of the European Commission: "The two sides, he said, had agreed to hold off on further tariffs, and work toward dropping the existing ones on steel and aluminum, while they tried to work out a deal to eliminate tariffs, nontariff barriers and subsidies on industrial goods, excluding autos."
More: "It was hard to say, given Mr. Trump's bluster and unpredictable negotiating style, if the agreement was a genuine truce or merely a lull in a conflict that could flare up again. Twice, Mr. Trump's aides have negotiated potential deals with China, only to have him reject them and impose further tariffs. Cutting these trade barriers to zero would be an extraordinarily complex political challenge on both sides of the Atlantic."
And: "And Mr. Trump stepped back from punitive tariff threats for some relatively minor European concessions: the purchase of soybeans to make up for a steep falloff of buying by China, and the promise to purchase liquefied natural gas once the United States builds more export terminals, which are far away."
The White House (Update: Finally) corrected its official transcript for the Helsinki presser
Yesterday, we were a little quick to judgment over the White House's omission in its official transcript of Vladimir Putin stating he wanted Trump to win in 2016. The White House released a statement after our publication saying the omission wasn't malicious.
"The White House stenographer uses the audio from the White House audio to produce the transcript. The audio mixer at the site did not bring up the question mic level in time to catch the beginning of Jeff's question because the translator was still speaking. This was by no means malicious," the White House said to NBC's Peter Alexander.
So the White House didn't deliberately alter or delete its transcript. Fair enough.
But get this: A full day after this became a story, the White House STILL HADN'T UPDATED its transcript. Until after First Read's original publication on Thursday morning, it showed this:
REUTERS' JEFF MASON: And did you direct any of your officials to help him do that?
PUTIN: (As interpreted.) Yes, I did. Yes, I did. Because he talked about bringing the U.S.-Russia relationship back to normal.
Instead of this:
REUTERS' JEFF MASON: Did you want President Trump to win the election, and did you direct any of your officials to help them do that?
PUTIN (as interpreted): Yes, I did. Yes I did. He talked about bringing the Russian relationship back to normal.
The White House finally corrected the transcript to include the question later Thursday.
And why did this all matter? Just this week, Trump claimed via Twitter that Russia "will be pushing very hard for the Democrats" in November. "I'm very concerned that Russia will be fighting very hard to have an impact on the upcoming Election. Based on the fact that no President has been tougher on Russia than me, they will be pushing very hard for the Democrats. They definitely don't want Trump!" he said.
Bill Shine's already made an imprint at the Trump White House
You can already see the impact that Bill Shine, the former Fox News executive who's now Trump's top communications aide, is having at the White House. First yesterday was that Trump-EU announcement in the Rose Garden, which JUST HAPPENED to interrupt the rough grilling that Secretary of State Mike Pompeo was getting on Capitol Hill. So someone gets stagecraft and being able to put another story on TV.
Then came the news that the White House banned a CNN reporter from that Rose Garden event. "The White House banned a CNN reporter from attending a press event with President Donald Trump on Wednesday after she asked him questions about his former lawyer Michael Cohen and Russian President Vladimir Putin," per NBC News. "The cable network's White House reporter Kaitlan Collins had served as the 'pool reporter' during an Oval Office photo op with President Trump and European Commission President Jean-Claude Juncker on Wednesday, meaning she was asking questions on behalf of several news organizations. As the president sat for pictures, Collins tossed out a few questions in hopes that Trump might answer."
Our esteemed colleague Dan Balz put it well: "[T]he White House retaliated against CNN's @kaitlancollins for doing her job—which was to ask questions of the president about news of the day. The action by WH was totally unjustified and outrageous."
Stacey Abrams vs. Brian Kemp in Georgia could be the most ideologically polarizing race in the country
NBC's Alex Seitz-Wald: "She's an outspoken proponent of gun control; he's a gun-loving NRA member who posed with a small arsenal in his campaign ads. She decries the 'heartless' treatment of immigrants; he says he's 'got a big truck just in case I need to round up criminal illegals.'"
"She's a progressive Democrat who would be the nation's first black female governor; he's a white male 'politically incorrect conservative' with the backing of President Donald Trump. This year's race for governor of Georgia features a striking contrasts between the candidates, with each party's hopefuls offering a clearer distillation of their base's passions than you'll find in almost any other race in the nation this year."
"'I'm calling it the battle of the bases,' said Kerwin Swint, a political scientist and dean at Kennesaw State University, just outside Atlanta. 'This may be where our politics are headed: This race is going to be ideological in a way that Georgia is not really used to. And it's going to be nationalized in a way that is Georgia is not really used to.'"
So this could end up being a replay of Trump vs. Clinton — or maybe even a preview of Trump vs. Warren.