First Read is your briefing from Meet the Press and the NBC Political Unit on the day's most important political stories and why they matter.
Are the wheels coming off Trump's 'fine-tuned machine'?
WASHINGTON — Accusations of incompetency can undermine even the most talented of politicians. Just ask George W. Bush (Iraq war, Hurricane Katrina) or Barack Obama (HealthCare.Gov).
But while the events and news over the last 24 hours seem like just another day for the Trump White House, they expose a level of dysfunction and chaos that could leave a lasting mark for a president who said back in February that he was running a "fine-tuned machine." Consider:
The whole point of electing a businessman to become president was expecting someone to effectively run the government. But what happens when that businessman can't run the government? That's the significant long-term danger for Trump and his administration.
Don't be surprised if Interior Secretary Zinke's calls launch an inspector general investigation
As for that news from Alaska — that Interior Secretary Ryan Zinke reportedly threatened that Sen. Murkowski's "no" votes could have consequences for the state — it likely will launch, at a minimum, an inspector general investigation. It's not insignificant that the state's other senator, Dan Sullivan, talked to Alaska media about the threat. Sullivan has been a reliable "yes" vote for Trump and Senate Majority Leader Mitch McConnell.
'No majority for replace, no majority for repeal. On to the Mystery Plan'
Meanwhile, the Senate yesterday once again voted down a measure to repeal Obamacare. NBC's Leigh Ann Caldwell: "Senate Republicans delivered another blow in their effort to dismantle the Affordable Care Act when they failed to pass a repeal of the Obama-era law on Wednesday afternoon. The vote, which is one of many expected during the ongoing health care debate, only garnered the support of 45 Republicans, short of the 50-votes necessary.
"Sens. Shelley Moore Capito, R-W.Va., Susan Collins, R-Maine, Dean Heller, R-Nev., and John McCain, R-Ariz., and Rob Portman, R-Ohio, Lisa Murkowski, R-Alaska, and surprisingly Lamar Alexander, R-Tenn., the chair of the Senate Health Committee, joined all Democrats in voting against it. The defeat eliminates the chances of Congress sending a nearly-full repeal of the law to President Donald Trump to sign."
As NBC's Benjy Sarlin tweeted, "No majority for replace, no majority for repeal. On to the Mystery Plan" — that is, the "Skinny Repeal." But here's the thing: No on still knows, publicly at least, what that legislation actually entails. And the expectation is that Senate Majority Leader Mitch McConnell will offer up this "Skinny Repeal" as one of the last votes.
Health care opponents have spent $15 million on ads opposing the Senate GOP legislation, while supporters haven't spent a dime
As for the ad spending in the health-care fight, here's what one of us has written: "The Republican senators whose votes are crucial to the fate of health care in America have faced a $15 million barrage of TV advertising from outside groups opposing the GOP legislation — and no air cover from any group backing the bills.
According to ad-buying tracker Advertising Analytics, groups opposing the GOP health care push have spent $14.8 million since May on TV ads targeting 13 key senators, with even more ad buys rolling in daily as the debate in the Senate reaches fever pitch. No groups have run ads in those states in support of the ever-evolving Republican legislation to repeal and replace parts or all of Obamacare."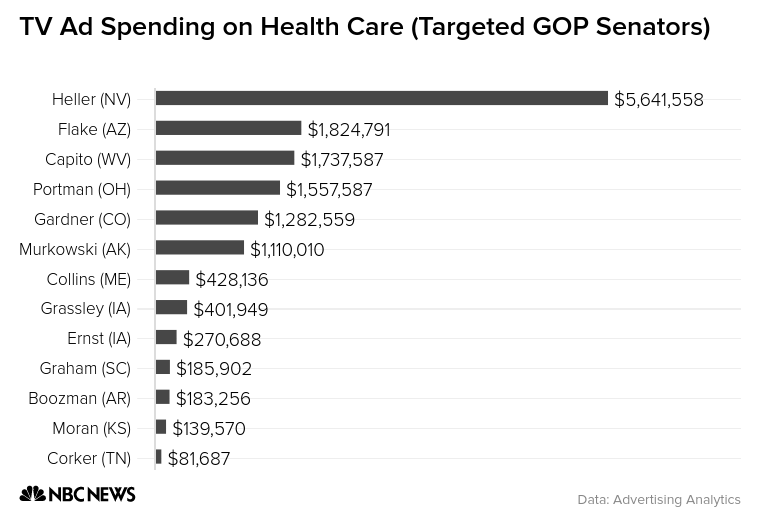 When Orrin Hatch is blasting the administration's transgender-military announcement, you know the politics have shifted on this issue
Finally, it is striking how much blowback the Trump White House received on its transgender-military policy — from conservative Republicans. "I don't think we should be discriminating against anyone," Sen. Orrin Hatch, R-Utah, said in a statement. "Transgender people are people, and deserve the best we can do for them." When the Orrin Hatches are saying this, you REALLY know the political earth has moved on this topic.