WASHINGTON — Voters in three key Senate battleground states prefer the next Congress to be a check on President Donald Trump rather than a booster for his policy priorities, and only about a third say Trump deserves to be re-elected, according to new polls of Arizona, Florida and Ohio conducted by NBC News and Marist College.
In Arizona, 52 percent of registered voters say they'll use their vote to send a message that the country needs more Democrats to serve as a check on Trump, while 36 percent said the nation needs more Republicans to pass his agenda.
While Trump won the state of Arizona by four points in 2016, he's underwater now when it comes to his approval rating in the state. His job approval rating among registered voters in Arizona is 41 percent approve, 47 percent disapprove. And just 35 percent say definitively that Trump deserves to be re-elected, while 57 percent disagree.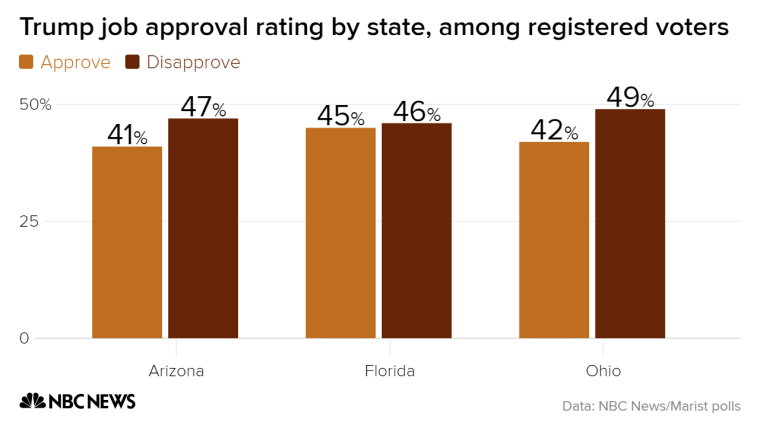 In Florida, another key swing state that's home to one of the marquee Senate races of the cycle, 49 percent of voters favor a Congress that serves as a check on Trump, while 40 percent want lawmakers to assist Trump in passing legislation. The president's approval rating among voters in the Sunshine State is the highest of the three states surveyed by NBC and Marist — at 45 percent approve and 46 percent disapprove. But a majority — 54 percent — still say that a new person should be given a chance in the White House, while 37 percent say they believe Trump deserves re-election.
And in Ohio, 51 percent want more Democrats in Congress in order to counter Trump's efforts, while 35 percent say they'd like to see more Republicans on Capitol Hill to help the president advance his agenda. Forty-two percent of voters approve of Trump's performance, while 49 percent disagree. And just 34 percent say Trump deserves to win another term.
It's worth noting that these surveys were in the field June 17-22, during a time when the national conversation was focused on the administration's policy of separating migrant children from their parents.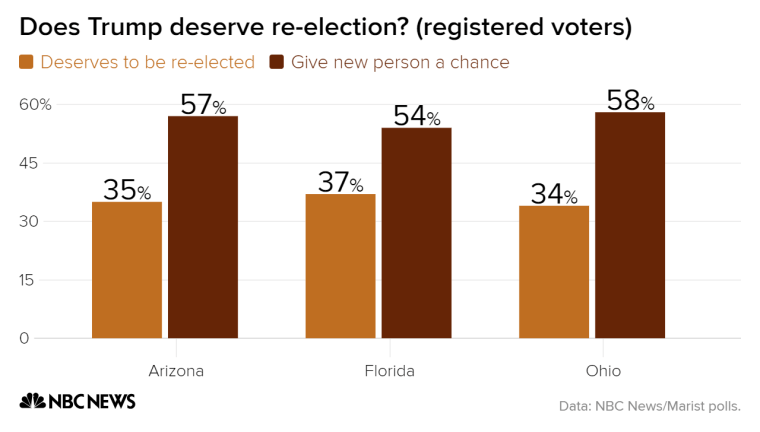 Voters are about equally divided between preferring a Republican or Democratically-controlled Congress in each of the three states. In Florida, 42 percent of voters want Democrats in charge on Capitol Hill after November, while 39 percent want Republicans to stay in power. In Ohio, it's 43 percent for Democrats, 40 percent for Republicans. And in Arizona, it's 43 percent for Democrats and 39 percent for Republicans. While Democrats may seem to have a slight edge, all three results are within the margin of error.
While perceptions of the president in these states — all of which he won in 2016 — might not be particularly encouraging news for Republicans down the ballot, the polls do show some good news for Trump as well.
Pluralities in each of the three states — 48 percent in Arizona, 48 percent in Florida and 47 percent in Ohio — believe that the economy has improved and that Trump deserves some credit for it. That's compared with about a quarter of voters in each state — 27 percent in Arizona, 24 percent in Florida and 26 percent in Ohio — who say the economy has improved but that Trump does not deserve credit.
About one-in-five voters in all three states say the economy hasn't improved.
The NBC News/Marist poll of Arizona was conducted June 17-21 of 839 registered voters (which has a margin of error of plus-minus 4.5 percentage points) and 371 Republican primary voters (plus-minus 6.7 percentage points.
The NBC News/Marist poll of Florida was conducted June 17-21 of 947 registered voters (plus-minus 3.9 percentage points), 344 registered Democrats (plus-minus 6.5 percentage points) and 326 Republicans (plus-minus 6.7 percentage points).
The NBC News/Marist poll of Ohio was conducted June 17-22 of 778 registered voters (plus-minus 4.4 percentage points). All three live-caller polls interviewed respondents by landline and cell phone.