WASHINGTON — Exactly two weeks from today, we'll be breaking down the exit polls, watching the vote totals come in, seeing which candidates won and lost, and finding out which party controls Congress next year. But here's a very important reminder: The 2018 midterms won't end on Election Night.
And the overtime could possibly determine the balance of power in the House and Senate.
Let's start with possible overtime in the Senate: If no candidate gets more than 50 percent in Mississippi's special "jungle primary" to succeed former Sen. Thad Cochran, R-Miss. — which features appointed GOP Sen. Cindy Hyde-Smith, Democrat Mike Espy and Republican Chris McDaniel — then the Top 2 finishers will compete in a runoff on November 27. That's five days after Thanksgiving. And so it's possible that Senate control could come down to the runoff, if either party finds itself one seat short of a majority after November 6.
And guess what: A new NBC/Marist poll of Mississippi shows Hyde-Smith at 38 percent among likely voters, Espy at 29 percent, McDaniel at 15 percent and Democrat Tobey Bartee at 2 percent.
In a hypothetical November 27 runoff, Hyde-Smith leads Espy by 14 points among likely voters, 50 percent to 36 percent; 13 percent are undecided. But if the two candidates are Espy and McDaniel, Espy is ahead by 7 points, 43 percent to 36 percent; 19 percent are undecided.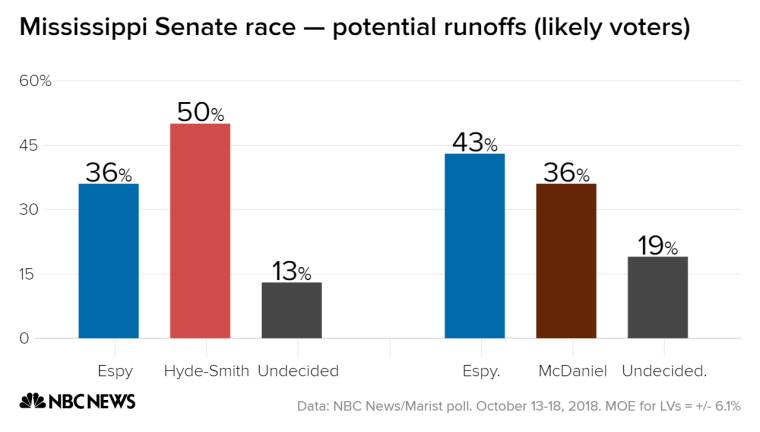 Here's the overtime factor when it comes to the House: It's possible that we won't know which party controls the U.S. House until mid- to late-November, since California has a history of taking its time counting votes. And the Golden State is home to at least seven competitive contests, including the CA-48 race, which is essentially tied per a new Monmouth poll (Republican Dana Rohrabacher 50 percent, Democrat Harley Rouda 48 percent).
And here's how there could be overtime in a key gubernatorial contest: If no candidate in Georgia's gubernatorial race surpasses 50 percent — remember, there's a Libertarian candidate in the general election — then the Top 2 finishers will participate in a runoff on December 4. And there's a case that Democrat Stacey Abrams could be stronger in a low-turnout runoff, given the large percentage of African-American voters in the state.
So November 6 will be a long night. But rest up: we'll likely still be counting votes through late November — and possibly even early December.
'I'm a nationalist': Trump's closing midterm message focuses on race, immigration
"President Trump on Monday sharply intensified a Republican campaign to frame the midterm elections as a battle over immigration and race, issuing a dark and factually baseless warning that 'unknown Middle Easterners' were marching toward the American border with Mexico," the New York Times writes. "The unsubstantiated charge marked an escalation of Mr. Trump's efforts to stoke fears about foreigners and crime ahead of the Nov. 6 vote, as he did to great effect in the presidential race."
And at his rally for Sen. Ted Cruz, R-Texas, last night in Houston, Trump said this: "You know what a globalist is? A globalist is a person that wants the globe to do well, frankly not caring about our country so much. And you know what, we can't have that. We have a word, it sort of became old-fashioned. It's called a nationalist. And I say really, we're not supposed to use that word. You know what I am? I'm a nationalist. OK? I'm a nationalist. Nationalist. Use that word. Use that word."
Fact-checking Trump on the caravan
NBC's Julia Ainsley and Daniella Silva: "A caravan of thousands of Honduran migrants is headed north in hopes of crossing the U.S. border. You may have heard some scary things about it. What's true and what's false? Here are five allegations bouncing around the internet that are definitely 'alternative facts.'"
MYTH 1: It's being funded by Democrats
THE FACTS: "There is no evidence the caravan is being led by anyone other than Hondurans."
MYTH 2: "Criminals and unknown Middle Easterners are mixed in"
THE FACTS: "A former senior intelligence official who continues to be briefed on current intelligence told NBC News that there is no evidence that any Middle Eastern terrorists are hiding in the caravan. Middle Eastern and African immigrants have routinely crossed illegally across the U.S.-Mexico border for years, but their numbers pale in comparison to the number of Central Americans. Last fiscal year, they accounted for less than one out of every 100 — 0.7 percent — of border apprehensions."
MYTH 3: The border will be flooded by the caravan
THE FACTS: "Although the size of the caravan, estimated to be as large as 4,000, is unprecedented, it is unlikely that its members will all arrive at once. The largest portion of migrants that crossed Guatemala together was estimated to be between 2,000 to 3,000, while smaller groups were further behind."
MYTH 4: The caravan has triggered a national emergency
THE FACTS: "Senior officials at U.S. Customs and Border Protection tell NBC News they have been given no special orders on how to deal with the approaching migrant caravan."
MYTH 5: It's the Democrats' fault
THE FACTS: "Republicans have controlled the White House and both chambers of Congress since January 2017, and have not passed immigration reform or funded Trump's border wall. Federal court decisions and international asylum law dictate many rules hamstringing Trump's wishes, including how long children can be held in detention and the rights of asylum seekers. Those decisions will not be easily overturned, even with immigration legislation."
Turkey says Khashoggi's killing was premeditated
"Turkish President Recep Tayyip Erdogan said Tuesday that evidence showed the killing of Washington Post contributor Jamal Khashoggi was 'brutal' and 'premeditated,'" per NBC News. "The accusation, which contradicts Saudi claims that the dissident journalist died after a 'quarrel' at its Istanbul consulate, could further inflame the diplomatic crisis over the case."
"'It appears that the squad who planned and executed the murder had been informed of Jamal Khashoggi's visit,' Erdogan said in a much-anticipated speech in parliament detailing what Turkey believes happened to the Saudi critic after he entered the building on Oct. 2."
Washington Post poll of the 69 most competitive House seats
"The latest survey shows only a marginal change in the race during October, with 50 percent currently supporting the Democratic candidate in their district and 47 percent backing the Republican," the Washington Post writes of its new WaPo-Schar School poll. "Candidates from the two parties collectively are running almost even in 48 contested congressional districts won by President Trump in 2016, while Democrats hold the advantage in 21 competitive districts won by Hillary Clinton. The Democrats' lead in those Clinton districts has narrowed a bit since the beginning of the month."
"The overwhelming majority of the districts surveyed — 63 of the 69 — are currently represented by a Republican in the House. Collectively these battleground districts voted strongly for Republicans in the 2016 election. The fact that the margins today are where they are illustrates the degree to which the GOP majority is at risk but also the fact that many individual races are likely to be close."
Join Chuck in Tampa!
MSNBC's "MTP Daily" will be on the road today in Tampa, Fla., where the show will air from Barefoot Beach Bar at Whiskey Joe's — 7720 W. Courtney Campbell Causeway. If you're in the neighborhood, join us!