Despite a bumpy first year, President Donald Trump can point to at least one important success: the number of jobs grew and the unemployment rate fell in 2017. Friday's government jobs report showed 148,000 new jobs created and the unemployment still at a 17-year low of 4.1 percent.
How big of an accomplishment was that? That's a question that can be answered in a lot of different ways.
By the most basic measure, 2017 was a good year for job creation under Trump. The U.S. economy added more than 2 million jobs, according to the Bureau of Labor Statistics. That's obviously pretty good, but it is by no means stratospheric. In fact, it is the lowest level of annual job creation since 2010.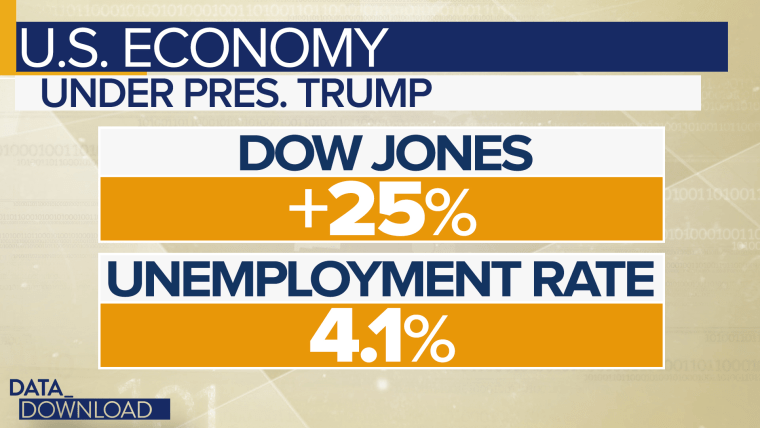 But there may be a few reasons behind those lower job numbers. Remember that for the last several years the U.S. economy has been emerging from the Great Recession. There were a lot of people finding jobs as the economy improved. Eventually, you hit a point where the economy is doing well – as it has been in the United States for several years now – and there isn't a lot of room for job growth without larger structural changes in the workforce. (More on that later.)
And more to the point, those are just the overall numbers. In his campaign for the White House, Trump talked about jobs in specific industries that had been impacted by trade, regulation, and automation, jobs like those in manufacturing and coal mining. And in Trump's first year in office, those industries also added jobs.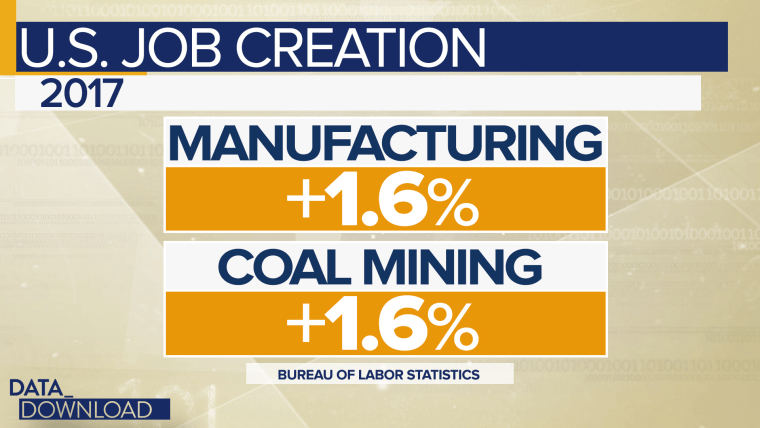 Manufacturing jobs grew by about 196,000 between from December 2016 to December 2017, an increase of about 1.6 percent overall, according to the Bureau of Labor Statistics. That was slightly larger than the overall increase in jobs in the United States in that time. And the number of people employed in manufacturing in November, 12.5 million, was the highest it had been since early 2009.
Coal mining jobs climbed by about 800 from December 2016 to December 2017, according to BLS. That doesn't sound like a lot, but because of the small number of people who still work in coal mining, about 50,000, it's still decent growth of about 1.6 percent. And some of the numbers were better just a few months earlier in the warmer months, coal mining jobs were up by more than 3,000 in September compared to September of 2016.
The coal mining employment numbers also show how far the industry has fallen, however. Just four year earlier, in December of 2013, another 26,000 people were employed in the industry. In other words, if the goal is to restore that industry, there is still a lot of work to be done
Considering the deep political divisions that dominate so much of American life, did red or blue America see more of the job benefits in the Trump 2017 economy? There wasn't much difference when you compare January of 2017 to November of 2017, the latest figures available.
On the whole, counties that voted for Hillary Clinton added about 2 million jobs and saw their unemployment rate fall to 3.9 percent in November from 4.9 percent in January, according to BLS data. Meanwhile, in total, Trump counties added about 1.6 million jobs and saw their unemployment rate fall to 3.9 percent from about 5.4 percent.
So Clinton counties added more jobs, but Trump counties saw a bigger drop in unemployment. That's in part because more people entered the workforce from Clinton counties in 2017.
But even with all the good news in 2017, a closer look at the numbers show the challenges that still exist for the economy. Start, for instance, with the question of how many people are actively looking for a job, the "labor force participation rate."
During Barack Obama's time in the White House, Republicans argued that low unemployment rates were deceptive because the labor force participation rate was trending down. Fewer people actually seeking work meant it was easier to get a low rate of unemployment.
In a sense, they were right. In January of 2008, the U.S. labor force participation rate was 66.2 percent. By January of 2017, the number was 62.9 percent – 3.3 points lower.
But in 2017 the number barely moved and wound up at 62.7 percent in December – which was slightly lower than it was in January by .2 points. And that was even with all the good news about the economy, which should have lured some workers back.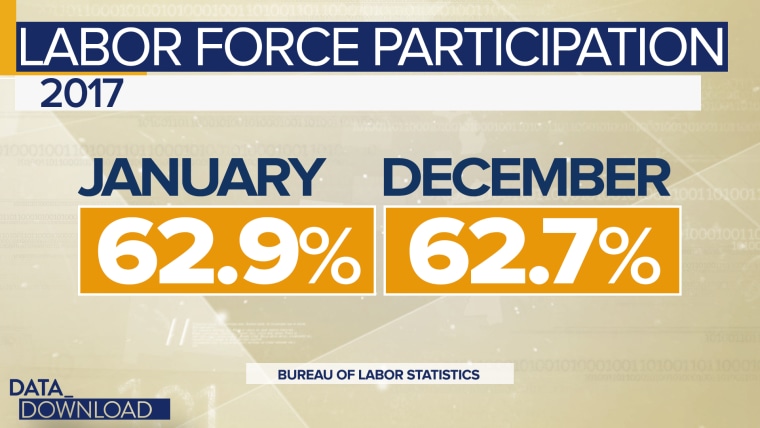 The labor force participation number has been dropping for years. Some of the decline is likely due to people living longer and simply retiring, but the number has also dropped among "prime age workers" between the ages of 25 and 54, some have argued due to disability. This last year doesn't seem to have dented those numbers in any real way.
The other concern for many American workers, stagnant wages, did not see a marked improvement in 2017. In November 2017, average hourly earnings were up by about 64 cents from the previous year. Weekly hours worked were up slightly, by about an hour to 34.5 a week, but the changes were not dramatic considering how well the economy seemed to be doing.
Trump's supporters will likely argue that a lot of these numbers are pretty good and that it's early in his presidency. One year does not define a presidential term and we haven't seen any of the impacts from the tax cut plan that Congress passed just before the year's end.
That's all true. But the numbers from 2017, while good overall, weren't great. They were better than some, worse than others and largely follow the trends set in recent years on a range of markers.
President Trump can and will take at least some credit for 2017's good jobs numbers. That's what presidents do. How much of it is actually his doing is harder to answer.