By most any political estimation, last week's Alabama special Senate election was an outlier. Democrats generally don't win statewide races in Alabama and Doug Jones likely wouldn't have if a series of child molestation stories hadn't surfaced about Republican candidate Roy Moore.
But tallies out of Alabama's biggest vote-producing counties suggest the election was just another example of a trend that's shaped the most-watched races of 2017: the GOP's retreat from the suburbs.
More than 60 percent of the vote on Tuesday night came out of just five counties — Jefferson, Madison, Mobile, Montgomery and Shelby — around big metro areas. And the swing away from Moore in those counties compared to the state's last Senate race in 2016 was extraordinary.
Roy Moore lost the vote from those five counties by 24 points, 37 percent to 61 percent. In 2016 Republican Sen. Richard Shelby won those same counties by 9 points, 54 percent to 45 percent. That's a 33-point swing.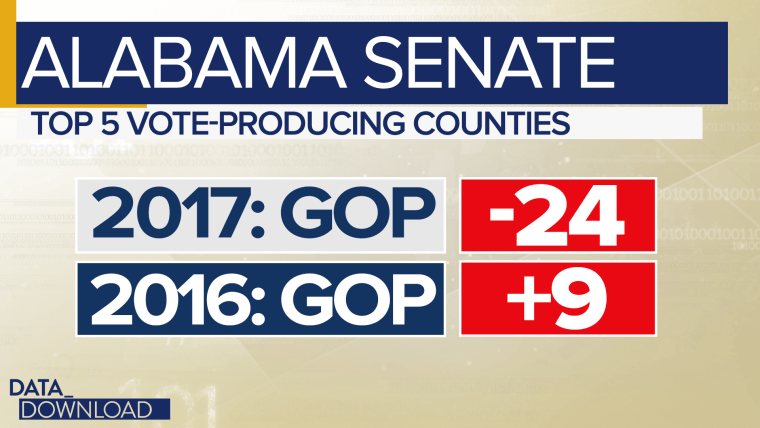 Yes, there are some important provisos here. Shelby was a long-time incumbent and Moore was a deeply flawed candidate, but the GOP's struggles in areas with large suburban populations have extended well beyond Alabama this year.
Consider 2017's two big governor's races, in Virginia and New Jersey. Democrats won both, holding one mansion and flipping the other. And the vote shift in each state's big suburban counties was remarkable.
In Virginia, Republican candidate Ed Gillespie lost the state's five biggest vote-producing counties by 23 points. Back in 2013, the last gubernatorial race in the state, Republican Ken Cuccinelli lost those same counties by a total of 10 points. That's a net 13-point drop in those communities for the Republican candidate.
In New Jersey, Republican Kim Guadagno lost the state's five biggest vote-producers by 11 points. Four years earlier Republican Chris Christie won those same counties by a massive 23-point margin.
Again, some of that New Jersey shift has to do with Christie's strength in the polls in 2013 and his hard fall after the Bridgegate scandal, but that is still a 34-point swing in New Jersey's big suburban enclaves. (Also it's worth noting that Donald Trump lost those five counties in 2016 by 11 points as well, so Guadagno's number was likely not just about her.)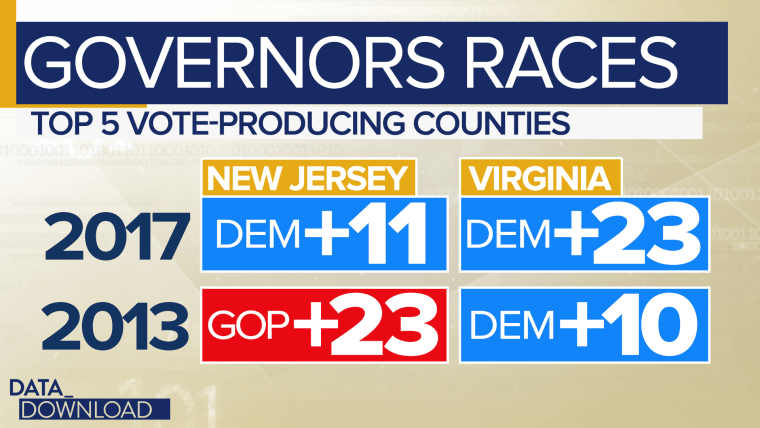 And earlier in 2017, special congressional elections showed similar suburban problems for the GOP, even in races the party won.
In Georgia's 6th District, in suburban Atlanta, Republican Karen Handel, won her race by 4 points. But in 2016 Republican Tom Price, who was appointed to the Trump administration, had just won the same seat by 23 points in 2016. That's a 19-point decline for the Republican candidate.
And in Kansas's 4th District, which includes Wichita and its suburbs, Republican Ron Estes won his race by 6 points. In 2016, that same seat was won by Trump appointee Mike Pompeo by 31 points. That's a 25-point drop for the GOP there.
These are numbers to keep in mind as 2018 and the midterm elections approach.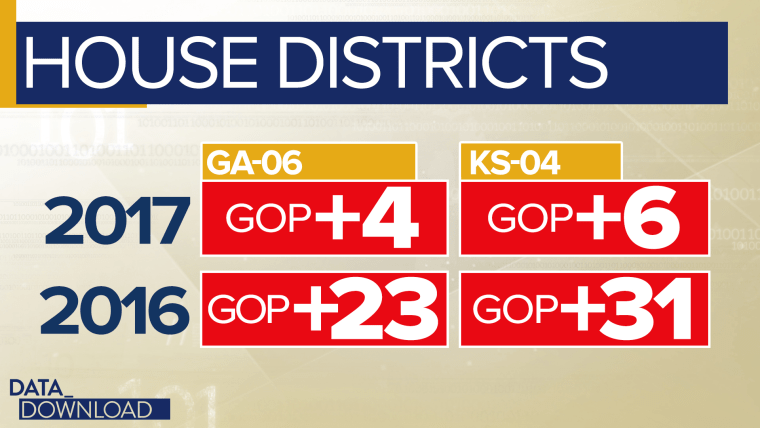 In politics, there is no question that candidates matter, as Republicans have said often this week. And even before stories about sexual impropriety emerged in the last few weeks, Roy Moore was a flawed candidate who was not wildly popular in Alabama, as Data Download noted in November.
But the numbers here are about more than Moore and Alabama or the challenges Chris Christie created for the Republicans in New Jersey. The consistency of the Republican Party's declines in the suburbs this year through a long list of elections suggests the party has a problem in those communities with Donald Trump in the White House.
In some places these shifts may about turnout — lack of enthusiasm within the GOP and increased anger/excitement among unhappy Democrats. In other places, they may be about Republican voters leaving the GOP or switching parties.
Regardless of the "why," these drops should be a major concern for Republicans.
Suburban voters will be particularly important in 2018's congressional elections because many of the seats currently rated as "competitive" are largely suburban — seats like Arizona's 2nd, Colorado's 6th, Michigan's 11th and Virginia's 10th.
And don't forget the big suburban areas in states with key senate races — St. Louis in Missouri, Phoenix in Arizona, and the sprawling Las Vegas metro area in Nevada.
So was Alabama an outlier election? Yes, without question. But that doesn't mean it offers no lessons for what's to come. The numbers out of Alabama and elsewhere say the GOP has a growing problem in the suburbs. If the party doesn't get it fixed before next November, its congressional majority may be in real jeopardy.