As the year comes to a close, ad spending so far in the 2016 election has topped $111 million, and a third of that amount has come from Jeb Bush and his allies, according to ad-tracking data from SMG Delta.
By comparison, $35 million had been spent on TV and radio ads at this same point in time in the 2012 presidential race – with Mitt Romney and his allies (at $8.5 million) and pro-Obama forces (at $7.4 million) being the biggest spenders by the end of 2011.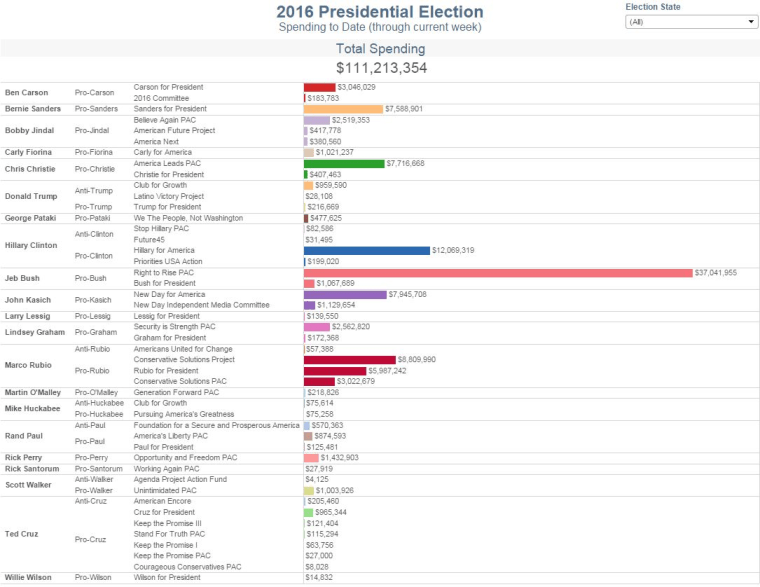 But in this current election cycle, Jeb Bush's Super PAC, Right to Rise, is the No. 1 spender, having aired $37 million in TV ads, while the campaign has chipped in an additional $1 million.
Put it another way: Bush and his allies have spent more in ad money so far in the 2016 presidential race ($38 million) than all of the ad money at this point in the 2012 cycle ($35 million).
Team Bush's $38 million is followed by Marco Rubio and his allies ($17.8 million), Team Hillary Clinton ($12.2 million) and Team John Kasich ($9.1 million).
The smallest advertiser? Donald Trump – at $217,000.
Top ad spenders in the 2016 race – so far
Team Bush: $38.1 million ($37M from Right to Rise Super PAC, $1.1 million from campaign)
Team Rubio: $17.8 million ($8.8M from 501c4, $6M from campaign, $3M from Super PAC)
Team Clinton: $12.2 million ($12M from campaign, $200K from Super PAC)
Team Kasich: $9.1 million (all from two outside groups)
Team Christie: $8.1 million ($7.7M from Super PAC, $400K from campaign)
Team Sanders: $7.6 million (all from campaign)
Team Carson: $3.2 million ($3M from campaign, $184K from Super PAC
Team Cruz: $1.3 million ($965K from campaign, rest from outside groups)
Team Paul: $1.0 million ($875K from Super PAC, $125K from campaign)
Team Fiorina: $1.0 million (all from Super PAC)
Team O'Malley: $219,000 (all from Super PAC)
Team Trump: $217,000 (all from campaign)
SOURCE: NBC/SMG Delta