For years, Democrats have dreamt of turning the state of Texas blue, or at least a competitive shade of purple. Tuesday's Democratic and Republican primary votes may offer some hint as to whether that dream is any closer to becoming a reality.
The idea of turning the Lone Star State into a battleground may seem far-fetched, but consider that in 2016 Hillary Clinton came closer to winning Texas than she did to winning the traditional swing state of Iowa.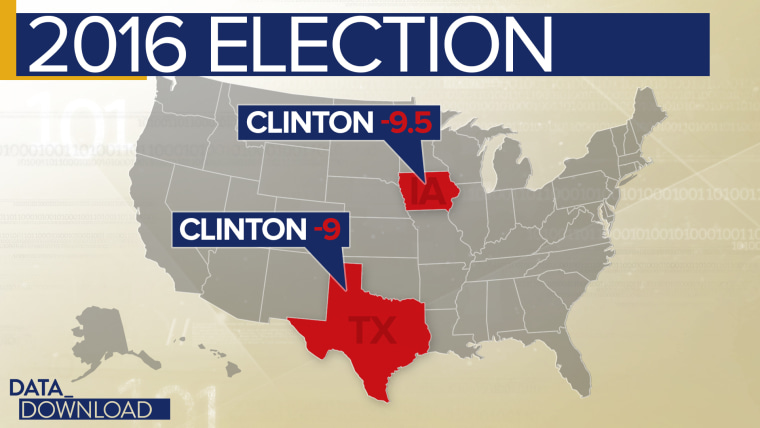 And beyond the 2016 results, the most recent set of ratings from the Cook Political Report places four Republican Texas House districts in the battleground category for the 2018 midterms. Those four show some advantages for Democrats.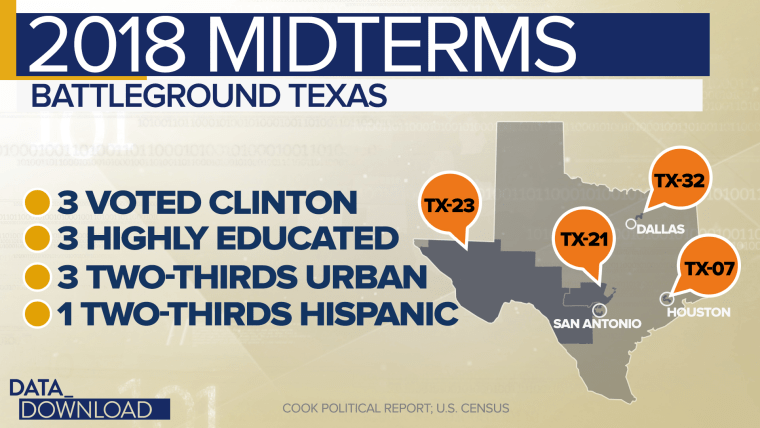 Three of the four chose Clinton over Donald Trump in their presidential vote. Three are above the national average for those with at least a bachelor's degree and three hold populations that are at least 66 percent urban — both increasingly signs of a Democratic lean among voters. One holds a particularly large Hispanic population, with more than two-thirds of its resident falling into that demographic slice.
Add those factors up and Republicans could have reason to be concerned about the 7th, 21st, 23rd, and 32nd districts. Democrats and Republicans will likely be looking at turnout numbers in those places as a gauge of voter enthusiasm.
There are already signs, statewide, that the GOP could be facing a large enthusiasm gap in Texas. Early vote numbers from the state's 15 largest counties show a strong Democratic tilt.
Through 11 days of early voting, 29,000 more Democrats had voted than Republicans in those 15 biggest counties. That was an enormous flip from the 2014 midterm primaries when registered Republicans held an edge of more than 100,000 over registered Democrats in the early vote.
In fact, through the first 11 days of early voting, the number of registered Democrats who had cast a ballot was up more than 100 percent from 2014. The number of Republicans was up from 2014 too, but only by about 16 percent.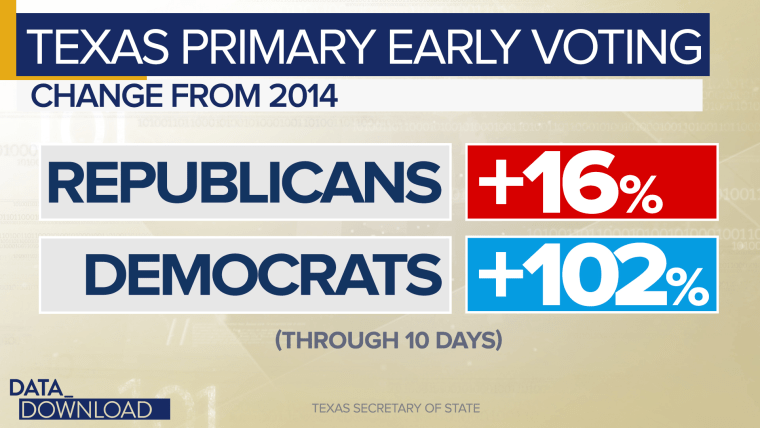 Those are sharp differences and they suggest that something may indeed be brewing in Texas. But before anyone declares a major shift in the state, consider some other numbers.
Underlying the Democratic dreams of a competitive Texas are the state's changing demographics. It is way ahead of the nation in terms of the size of its minority population, particularly Hispanics.
Nationally about 18 percent of the country is Hispanic or Latino, according to the U.S. Census Bureau, but in Texas that figure is over 39 percent. Overall in Texas, only 43 percent of the population are non-Hispanic whites.
But when you look at who actually votes in the state, the numbers look a lot better for Republicans. The 2016 exit polls showed that white, non-Hispanic voters produced 57 percent of all ballots cast in the state. That's 14 points higher than the group's share of population.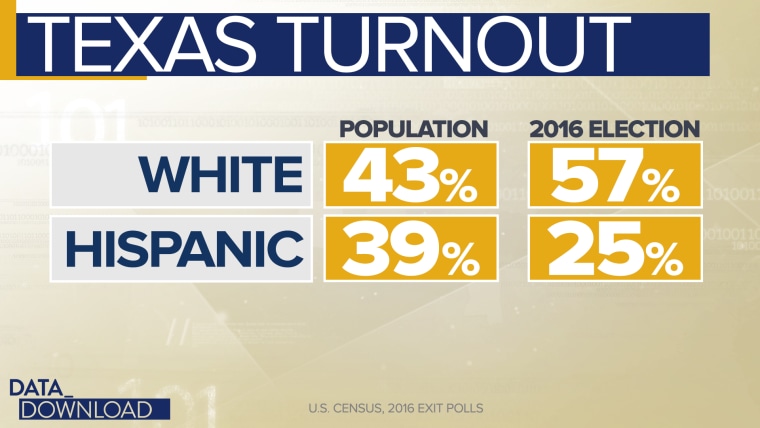 The story behind the difference in population and turnout is complicated.
On the whole, Hispanics tend to vote at lower rates than whites. And remember that the Census counts people regardless of whether they are eligible to vote. More than 20 percent of the Hispanics in Texas are not U.S. citizens, according to the Census, and therefore not allowed to cast ballots.
But regardless of the reason, the broader point holds. The voter profile in Texas has long looked different — and more Republican — than the state's demographic profile.
One big question to watch Tuesday is whether the wave of Democratic enthusiasm that has emerged across the country in the last year — and in Texas's early vote tallies — seems big enough way to make a dent in those fundamental differences. Until it does, the Democrats' dream of a competitive Texas is likely to remain just that.