First Read is a morning briefing from Meet the Press and the NBC Political Unit on the day's most important political stories and why they matter.
NBC Battleground Map: Clinton's lead narrows
In NBC News' updated presidential battleground map, Hillary Clinton has 274 electoral votes in her column -- which is more than the 270 needed to win the presidency, but it's down from where it was last month (at 287). Meanwhile, Donald Trump's electoral-vote total has grown to 180, up from 157 in mid-October. And we have 84 electoral votes in the Tossup column.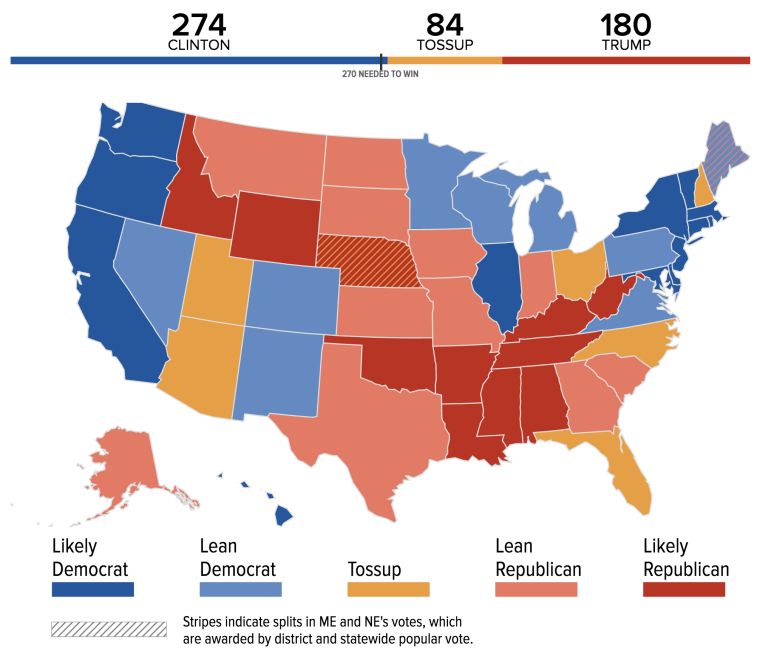 Likely Dem: CA, CT, DC, DE, HI, IL, MD, MA, NJ, NY, OR, RI, VT, WA (182 electoral votes)
Lean Dem: CO, ME (3 EVs), MI, MN, NV, NM, PA, VA, WI (92)
Tossup: AZ, FL, NE (1 EV), NH, NC, OH, UT (84)
Lean GOP: AK, GA, IN, IA, KS, ME (1EV), MO, MT, ND, SC, SD, TX (108)
Likely GOP: AL, AR, ID, KY, LA, MS, NE (4 EVs), OK, TN, WV, WY (72)
The big changes here: We moved Georgia, Iowa, and Maine's 2nd Congressional District from Tossup to Lean GOP; we moved Nevada from Tossup to Lean Dem; and we moved both New Hampshire and North Carolina from Lean Dem back to Tossup. We attribute these changes to the natural tightening of the race, with Republican voters coming back home to Trump. But we will continue to watch any fallout from last Friday's Comey news.
Can Trump scale Clinton's Big Blue Wall in the Midwest?
In this tightening race, Trump's Electoral College map is still daunting: Even if he runs the table in Florida, North Carolina, and Ohio, he's still short of 270 electoral votes. Indeed, give Trump ALL of the 84 electoral votes in our Tossup column, and he falls short of 270 (it gets him to 264). So his best -- and maybe only -- path is picking up one of Michigan (where Clinton has led in every public poll since August), Pennsylvania (where another recent poll had her up double digits), or Wisconsin. It's why Trump was campaigning yesterday in Wisconsin, and also why Clinton is now spending ad dollars in Wisconsin and Michigan. And guess what: The Marquette Law poll, the gold standard of Wisconsin polling, comes out with a poll this afternoon.
The different paths to 270: Here are a few different scenarios:
Clinton - 2012 plus: Clinton could largely match Barack Obama's 2012 performance against Mitt Romney, swapping a win in Iowa for one in fast-changing North Carolina. Potential outcome: Clinton 340, Trump 198.
Clinton loses: AK, AZ, GA, IN, IA, KS, ME (1EV), MO, MT, ND, NE (1 EV), SC, SD, TX, UT
Clinton wins: CO, FL, ME (3 EVs), MI, MN, NH, NC, NV, NM, OH, PA, VA, WI
Clinton - Winning the Sun Belt, losing the Rust Belt - Clinton could lose Ohio, Iowa, Pennsylvania AND Wisconsin but make up ground in the South and West. Potential outcome: Clinton 303, Trump 235.
Clinton loses: AK, GA, IN, IA, KS, ME (1EV), MO, MT, ND, NE (1 EV), OH, PA, SC, SD, TX, UT, WI
Clinton wins: AZ, CO, FL, ME (3 EVs), MI, MN, NH, NC, NV, NM, VA
Clinton – Winning without Florida and Ohio. It hasn't been done since 1960, but she could do it. Here's one potential path with a potential outcome of Clinton 278, Trump 260.
Clinton loses: AK, AZ, FL, GA, IN, IA, KS, ME (1EV), MO, MT, ND, NE (1 EV), NC, OH, SC, SD, TX, UT
Clinton wins: CO, ME (3 EVs), MI, MN, NH, NV, NM, PA, VA, WI
Trump - Rust Belt Plus.. Trump hopes to throw traditionally blue states like Pennsylvania and Wisconsin into play. He could do it, but he'd still have to go on offense in another big state -- like North Carolina or Florida -- too. Here's one such path, with a possible outcome of Trump 279, Clinton 259.
Trump wins: AK, AZ, FL, GA, IN, IA, KS, ME (1EV), MO, MT, ND, NE (1 EV), NH, OH, PA, SC, SD, TX, UT, WI
Trump loses: CO, ME (3 EVs), MI, MN, NC, NV, NM, VA
Trump - A path without Clinton firewall states: Polling in Pennsylvania, Virginia, New Hampshire and New Mexico has consistently shown a Clinton advantage. If that wall holds, and if Trump fails to play offense in a classically blue Rust Belt state like Wisconsin, here's what he'd likely have to do. Possible outcome: Trump 275, Clinton 263.
Trump wins: AK, AZ, CO, FL, GA, IN, IA, KS, ME (1EV), MO, MT, NC, ND, NE (1 EV), NV, OH, SC, SD, TX, UT
Trump loses: ME (3 EVs), MI, MN, NH, NM, PA, VA, WI
Nail-biting for Dems?
With that Wisconsin poll coming out today, we've observed that Democrats are more nervous right now than they've been this entire general-election race. Is this race as stable as it's always been, and the moves that we're seeing all noise and typical campaign moves? Or is something really going on here?
Clinton fired up in Florida
Campaigning in Florida last night, Clinton responded to a heckler who brought up charges of Bill Clinton's sexual past. "I am sick and tired of the negative, dark, divisive, dangerous vision and behavior of people who support Donald Trump. It is time for us to say no, we are not going backwards-we're going forward into a brighter future."
If you change your mind, I'm the first in line. Honey I'm still free, take a chance on me:
Meanwhile, stumping in Wisconsin yesterday, Donald Trump told his audience than anyone who voted early for Clinton in the state could change their mind and vote for him. This is true for a handful of states -- mainly those that don't have in-person early voting. "According to voting laws in Connecticut, Michigan, Minnesota, Mississippi, New York, Pennsylvania and Wisconsin, if you change your mind on who you wish to vote for, you can have a do-over," the Palm Beach Post writes. But here's a reality check: Those states -- especially Michigan, Pennsylvania, and Wisconsin -- haven't seen as much early voting as some other states. And you need an excuse to early vote in Michigan and Pennsylvania (so it's unlikely those people have the time to change their mind).
Early voting totals as of yesterday, per NBC/TargetSmart:
AZ: 1 million
CO: 1 million
FL: 3.7 million
GA: 1.3 million
IA: 446,000
MI: 720,000
NC: 1.8 million
NV: 500,000
OH: 1.1 million
PA: 132,000
VA: 308,000
WI: 446,000
Heck flip-flops on Trump
Politico: "Nevada Senate candidate Joe Heck still won't say if he's voting for Donald Trump on Election Day, but said Tuesday the Republican nominee is qualified to be president and would make a good commander-and-chief. Heck, who along with numerous other prominent Republican figures withdrew their support of Trump following the revelation of his sexually aggressive comments during an 'Access Hollywood' taping in 2005, told Las Vegas' KSNV News3LV that Trump cleared his bar to be qualified for the presidency." With Trump's perceived momentum (at least right now), Republicans like Heck are reluctantly rallying around their presidential nominee. And it's quite the gamble. Because if Trump doesn't win, they own him more than ever before.
First Read's downballot race of the day: CO-6
Republican Rep. Mike Coffman's name is familiar to biennial House race watchers; he's had a target on his back since being elected in 2008. In suburban Denver district that's now almost 20 percent Latino, Coffman has touted learning Spanish, highlighted his independence and promised in an ad to "stand up" to Donald Trump. His Democratic opponent is state Senate Minority Leader Morgan Carroll.
And don't miss this
Tonight, Chuck Todd and Carrie Dann take to Virtual Reality to break down the top races you'll want to watch on election night. RSVP HERE: http://nbcnews.to/2e6IFAw #MTPinVR
On the trail
Hillary Clinton campaigns in Las Vegas, NV at 6:15 pm ET and then in Tempe, AZ at 9:30 pm ET… Donald Trump spends his day in Florida, hitting Miami at noon ET, Orlando at 4:00 pm ET, and Pensacola at 8:00 pm ET… Mike Pence is in Arizona, New Mexico, and Colorado… Tim Kaine stumps in Iowa, including with Bill Clinton in Des Moines… Vice President Joe Biden is in Florida… And Bernie Sanders hits Michigan and Wisconsin.
Countdown to Election Day: 6 days