Even before he heard the devastating verdict in his federal corruption case, former Virginia Gov. Robert McDonnell had already watched his once-promising political career completely collapse.
A jury in Virginia on Thursday found McDonnell guilty on 11 counts of corruption and fraud. His wife Maureen was also found guilty on nine counts, including obstruction of justice.
It's a stunning fall for a politician who cultivated a squeaky clean appearance, crafting his political identity as a Christian conservative family man. And only two years ago, McDonnell was near the top of the political world, being strongly considered as Mitt Romney's vice-presidential candidate ahead of an election the GOP thought it could win.
McConnell's fall was fast, and now it's permanent. After more than a decade in the Virginia state legislature and then a term as attorney general, he was elected governor in 2009. His victory alone immediately put him on every list of Republican politicians on the rise, winning in a key swing state while also holding deeply conservative views on issues like abortion that appealed to the party's base.
Less than three months after his victory, Republicans tapped McDonnell to deliver the response to President Obama's State of the Union address, a huge honor for McDonnell and a sign party leaders felt he had major potential. The Republican Governors Association made McDonnell their chairman in 2011, another vote of confidence in him.
And while neither man has publicly confirmed this, it is believed that Romney seriously considered choosing McDonnell as his vice-presidential candidate before opting for Wisconsin Rep. Paul Ryan.
McDonnell's tenure in Virginia as governor featured few major accomplishments, and it was never clear he had the charisma to be a credible presidential candidate on his own.
But in early 2013, as his governorship was winding down (Virginia does not allow governors to serve consecutive terms), McDonnell was in position to either run for a president in 2016 or vie for a major cabinet slot if a Republican was elected to the White House.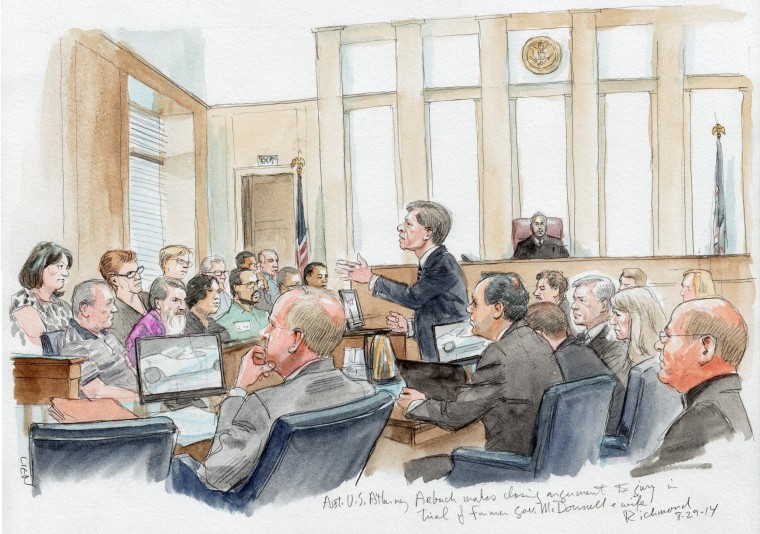 Then came the indictment.
Even before Thursday's guilty verdict came down, McDonnell's political career was beyond resuscitation.
It wasn't the indictment alone; Texas' Rick Perry was charged with abusing his office last month, but Republicans have rallied around him. Perry is accused of being overzealous in trying to remove a political rival from office, but the Texas prosecutor Perry threatened is hardly a sympathetic figure, having been arrested for drunken driving and then been taped while in jail ranting at police officers for taking her into custody.
On the other hand, the McDonnells, even if the jury had found that they did not violate the law, received a Rolex watch, money for their daughter's wedding and other benefits from a wealthy Virginia businessman who was trying to use his connections with the governor to grow his company.
In their own defense, the McDonnells argued their marriage was in shambles and they didn't speak to each other often enough to coordinate a bribery scheme. But that legal argument didn't convince the Virginia jury, and it is hardly one that would have ever appealed to voters.