As allegations of sexual misconduct against Roy Moore multiply and polls suggest he could lose the senate race he once led by double-digits, political analysts offer one cautionary refrain: Remember, it's Alabama and he's a Republican.
But a look at Moore's last general election in the state shows its voters may be a bit more complicated than that – and December's senate race could be as well.
To be certain, Alabama is a deep shade of Republican red. President Donald Trump won the state by 28 points in 2016. And 42 percent of the state identifies as evangelical Christian, according to data from the Association of Religion Data Archives. That's the highest rate in the country and it could be an aid to Moore who is explicitly appealing to evangelical Christians.
Against those numbers, however, consider Alabama's 2012 general election results. That ballot featured Republican Presidential nominee Mitt Romney and Moore as the Republican candidate for State Supreme Court Chief Justice, and the vote tallies indicate Moore has some challenges in the state, even with GOP voters.
In 2012, Romney, the definition of an establishment Republican, actually outperformed Moore, the evangelical populist, in Alabama by nine points. The former Massachusetts governor captured 61 percent of the vote in the state, compared to Moore's 52 percent.
Furthermore, when all the results were in, Romney won nine more Alabama counties in the presidential race, 52 of them, than Moore did in his contest, 43.
Even in Moore's home county of Etowah, Romney outperformed Moore and by a wide margin, 13 points – 68 percent for Romney to 55 percent for Moore.
What drove the difference between the Romney and Moore vote in 2012? The numbers hint that it was voters flipping parties on those two lines of the ballot.
Overall, the presidential and the state chief justice races produced about the same number of votes, a little more than 2 million in each. But Romney won 204,000 more votes out of Alabama than Moore did in 2012.
That suggests there were about 200,000 of Alabamians voting for establishmentarian Republican Mitt Romney, who did not pull the lever for populist Roy Moore. Instead, many voted for the Democrat challenging Moore, Bob Vance. (Vance got about 180,000 more votes in Alabama than Barack Obama in 2012.)
And remember all those Republican defections from Moore happened back in 2012, long before the candidate found himself facing a growing set of allegations of sexual misconduct with teenage girls.
None of that necessarily indicates that Moore is headed for a loss in December.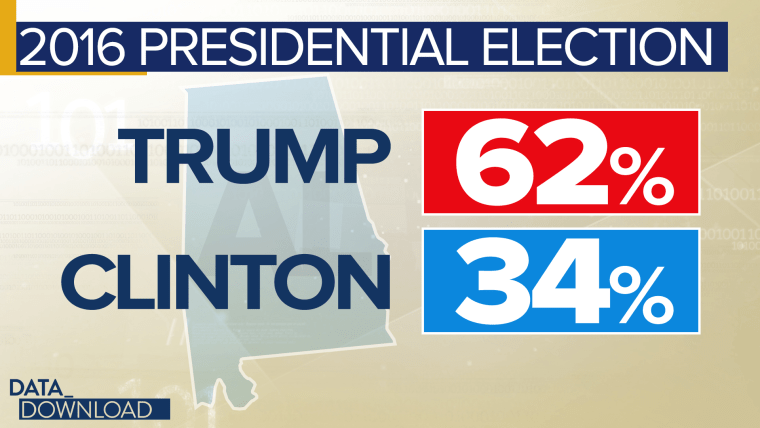 Serving as a U.S. Senator in Washington is different than serving as the Chief Justice of Alabama's Supreme Court in Montgomery. Voters may want different things out of those elected officials. The 2012 vote came in a presidential election year and presidential electorates tend to look different than others. And the political environment in the era of Donald Trump is hard to get a read on; the standard norms have often not held.
But the 2012 numbers show that Alabama Republicans are not an easily-defined monolith that march in lock-step behind a GOP nominee. Long before any of the recent allegations Moore was a divisive figure, even among Republicans in the state. December 12 may tell us how divided they are on the man.