The closely watched Iowa Senate race between Republican Joni Ernst and Democrat Bruce Braley is locked in a dead heat, a new NBC News/Marist poll shows, while New Hampshire Democratic Sen. Jeanne Shaheen has an eight point lead over likely Republican challenger Scott Brown.
In Iowa, Ernst and Braley each have the support of 43 percent of registered voters. But both candidates remain unknown to many in the state; 14 percent of voters are undecided about who they support in the race, and about a third say they are unsure about their opinion on the candidates or have never heard of them.
But both candidates are polarizing to the voters who know them. Braley gets positive marks from 36 percent of voters and a negative rating of 32 percent. Ernst's fav/unfav rating is 38 percent to 33 percent.
"Any way you slice the numbers, you end up with a close race," said Lee Miringoff, the director of the Marist College Institute for Public Opinion, which conducted the poll for NBC News. "This is one that bears watching as the campaign unfolds."
The Senate race in New Hampshire isn't as fluid, with only 6 percent of registered voters saying that they're undecided between incumbent Shaheen and Brown. It also isn't as close: Shaheen is beating her GOP rival 50 percent to 42 percent.
Shaheen's support is buoyed by strong personal approval ratings. Fifty-two percent of voters say they have a favorable impression of the freshman senator and former governor, versus 39 percent who give her a negative rating. That includes broad support from independents (54-35 percent), moderates (60-31 percent), and white voters (51-37 percent).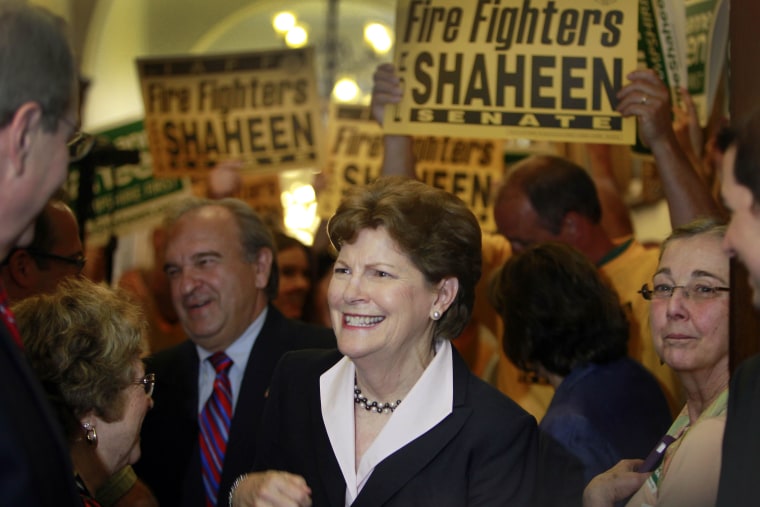 Brown, who moved to New Hampshire after serving as the Republican senator from Massachusetts for two years, doesn't fare as well. New Hampshire voters are about equally divided (40 percent to 39 percent) on their opinions of him, including unfavorable assessments from 37 percent of independents and 40 percent of moderates.
Full New Hampshire poll results (.pdf)
Also in Iowa, Republican Gov. Terry Branstad has a commanding lead in his re-election run over Democratic challenger Jack Hatch, 53 percent to 38 percent. Iowa voters offer good marks for Branstad's tenure as governor, with almost six-in-10 saying they approve of his job performance.
New Hampshire Gov. Maggie Hassan, also up for re-election this year, has a 54 percent approval rating among New Hampshire voters.
Gender matters
As they did in NBC News/Marist polls of Colorado and Michigan released Monday, female supporters are helping Democratic Senate candidates in these key races maintain their edge.
"Any way you slice the numbers, you end up with a close race."
Shaheen, the first woman in American history to be elected both as a governor and a senator, bests Brown by 25 points among female voters (59 to 34 percent). Only 28 percent of women have an unfavorable opinion of her, compared with 58 percent who give her a good grade.
But the gender gap is much smaller in Iowa.
Women back Braley by eight points (45 percent to 37 percent) while men support Ernst – who gained national fame with an ad describing an Iowa farm upbringing that included the frequent castration of pigs – by a similar margin (48 percent to 40 percent.)
"The party factor seems to be trumping gender as far as how voters are assessing these two candidates at the moment," Miringoff said.
On the issues
President Barack Obama won both Iowa and New Hampshire in the 2008 and 2012 elections, but his approval rating in both states is sagging. Just 37 percent of Iowa voters and 39 percent of New Hampshire voters say they approve of the president's job performance.
The president's signature health care law is also struggling for support in both Iowa and New Hampshire. About half of voters in both states call the law a bad idea, compared to 35 percent in New Hampshire and 32 percent in Iowa who say it's a good idea.
More popular is a proposal to cut greenhouse gas emissions, even if it means higher costs for consumers. That plan has the support of a majority in New Hampshire (53 percent approve/ 40 percent disapprove); in Iowa, 51 percent approve and 39 percent disapprove.
When it comes to immigration, voters in both states are about equally split on a proposal that would allow undocumented immigrants a path to citizenship.
In New Hampshire, 50 percent of voters say they favor a path to citizenship (19 percent strongly), while 46 percent oppose it (30 percent strongly.) In Iowa, it's 46 percent in favor (17 percent strongly) versus 48 percent against (31 percent strongly.)
Latinos make up about 4 percent of registered voters in Iowa and 2 percent of registered voters in New Hampshire.
The Iowa poll was conducted July 7-13 of 1,599 registered voters, and has a margin of error of +/- 2.5 percentage points.
The New Hampshire poll was conducted July 7-13 of 1,342 registered voters, and the margin of error is +/- 2.7 percentage points.