First Read is your briefing from Meet the Press and the NBC Political Unit on the day's most important political stories and why they matter.
Dearth of a Salesman: Trump failed to persuade — and lead — in health care battle
As the famous political scientist Richard Neustadt argued, the only real power that a president holds — especially when it comes to Congress — is the power to persuade. And President Trump barely tried during the GOP's unsuccessful push on health care. He never held a town-hall meeting on the subject. He never gave a prime-time speech or press conference. And when he hit the road, he spent more time on other subjects than on health care. Ultimately, Trump failed to sell the GOP health care efforts to his own voters.

According to our NBC/WSJ poll looking at the key counties that propelled Trump to the White House, just 12 percent of Americans living in these counties said the House Republican health-care legislation was a good idea. And among Trump voters living in these counties, only 25 percent believed the House bill was a good idea, 16 percent said it was a bad idea, and a whopping 59 percent had no opinion or were unsure. (By comparison, Clinton voters in these same counties were 0 percent good idea, 75 percent bad idea, and 26 percent undecided/unsure. By the way, the numbers here don't add up to 100 percent because of rounding.) Let us repeat that again: Nearly six-in-10 Trump voters in these key counties said they were UNDECIDED or UNSURE about the House bill.
On Twitter yesterday, President Trump blamed Democrats, a handful of Republicans, and Senate process for health care's collapse. But there was another reason he didn't mention — the stunning lack of presidential leadership. As Trump said in another tweet back in 2013, "Leadership: Whatever happens, you're responsible. If it doesn't happen, you're responsible." Exactly.
'Power comes with consequences' — especially if you don't deliver
And given the president's lack of leadership on the Republican Party's top legislative goal over the last seven years, what does that mean for other agenda items — taxes, the debt limit, even a budget? "Power comes with consequences," the Washington Post's Dan Balz writes. "What price, if any, Republicans will pay for this setback will be revealed over the coming months. Perhaps they will be able to move quickly on other priorities — a tax bill being the most appealing now, although not necessarily a slam dunk — and wash away the bitter taste of the health-care debate. That might be the best they can hope for, but there are no guarantees."
So what's next for health care?
NBC's Benjy Sarlin: "After six months of twists and turns in Congress, Republican efforts to repeal Obamacare crashed on Tuesday as Senate Majority Leader Mitch McConnell conceded his party lacked the votes to pass a replacement. But that's not the end of the story. There are still significant problems in Obamacare's exchanges to address and a looming political fight in the midterm elections next year. Here are some of the biggest questions going forward for both parties and the White House."
"Does Trump blow up Obamacare on his own?"
"Can Republicans agree on a bipartisan bill?"
"Will Democrats come to the table?"
"What happens to the House Republicans?"
What's the big deal about Trump's second, previously undisclosed meeting with Putin? Answer: 'Anything a president utters in a meeting like that becomes policy'
"President Donald Trump met with Russian President Vladimir Putin a second time during the G-20 summit earlier this month, a White House official confirmed to NBC News Tuesday," NBC's Kristen Welker and Ali Vitali report. "Trump spoke to Putin at the end of a couples-only social dinner at the summit in Hamburg, Germany, the official said, reiterating it was a social dinner. Pull-asides are typically less formal than official bilateral meetings, which Trump and Putin also shared. The White House did not previously disclose or offer a record of what was discussed during the meeting, which was first reported by Ian Bremmer, president of the international consulting firm Eurasia Group."
So what's the big deal with that? As Michael McFaul, Obama's former ambassador to Russia, said on "Today" this morning: "Anything a president utters in a meeting like that becomes policy," especially when the president doesn't have a note-taker and uses Russia's translator. "What's strange about this particular meeting ... is that he spoke with just one leader [Putin] for an hour," McFaul added. Trump responded to this story over Twitter, saying: "Fake News story of secret dinner with Putin is 'sick.' All G-20 leaders, and spouses, were invited by the Chancellor of Germany. Press knew."
Americans in 'Trump Counties' like his policies, not his style
We released the rest of our NBC/WSJ "Trump Counties" poll this morning, and one of the other big findings was what residents in these counties like — and don't like — about Trump: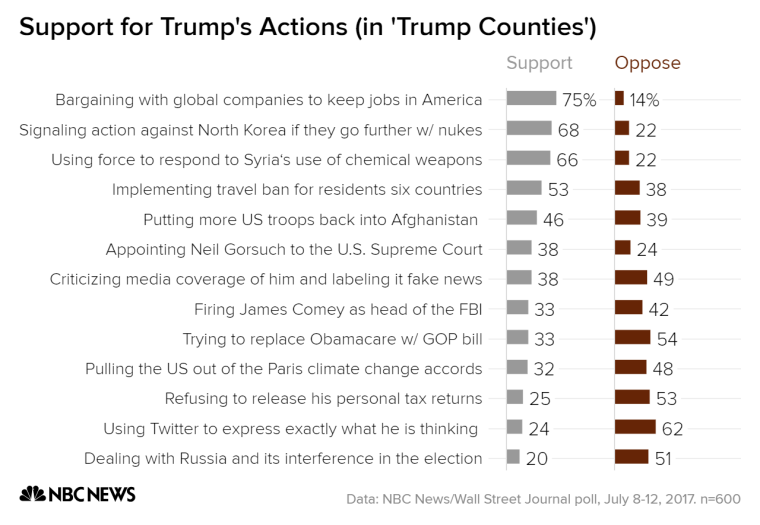 Who's popular (and who isn't) in these counties
Barack Obama: 50% positive, 37% negative (+13)
Bernie Sanders: 42% positive, 32% negative (+10)
Mike Pence: 38% positive, 32% negative (+6)
Donald Trump: 43% positive, 43% negative (even)
Hillary Clinton: 27% positive, 54% negative (-27)
A reminder: This NBC/WSJ poll's sample was taken from 439 counties in 16 states — Colorado, Florida, Georgia, Indiana, Iowa, Maine, Michigan, Minnesota, Missouri, Nevada, New Hampshire, North Carolina, Ohio, Pennsylvania, Virginia and Wisconsin — that either flipped from Barack Obama to Trump, or where Trump greatly outpaced Mitt Romney's performance in 2012. And as a result, these counties are whiter, older, more rural, and less educated than the national average.