First Read is your briefing from Meet the Press and the NBC Political Unit on the day's most important political stories and why they matter.
WASHINGTON — The latest NBC/WSJ poll not only shows Democrats holding their biggest lead in congressional preference since 2008, it also finds them enjoying a double-digit advantage when it comes to voter intensity ahead of next year's midterms.
According to the poll, 59 percent of Democratic voters say they have a high level of interest in next year's elections (registering either a 9 or 10 on a 10-point scale), versus 49 percent of Republican voters saying the same thing. Additionally, 62 percent of voters who said they voted for Hillary Clinton in 2016 have a high level of interest in next year's midterms, compared with 50 percent of Trump voters.
"A double-digit margin here is an important indicator of Democratic intensity," said Republican pollster Bill McInturff of Public Opinion Strategies, who conducted this survey with Democratic pollsters from Hart Research Associates.
We saw this play out in Virginia and Alabama — and even in Kansas, South Carolina and Georgia: Democrats have the enthusiasm advantage, which typically matters more in a midterm environment than in a presidential year (when voter turnout is much higher).
This morning, Trump tweeted that "Republicans will do well in 2018," and he dismissed the results from Alabama and Virginia, where he enthusiastically backed the GOP candidate.
"Remember, Republicans are 5-0 in Congressional Races this year. The media refuses to mention this. I said Gillespie and Moore would lose (for very different reasons), and they did. I also predicted 'I' would win. Republicans will do well in 2018, very well!"
But as long as Democrats hold this kind of advantage in intensity, the GOP will be swimming in dangerous waters for the midterms.
Trump's job rating in the NBC/WSJ poll is the lowest for any modern president at the end of his first year in office
Also in our new NBC/WSJ poll, Trump's job-approval rating stands at 41 percent, up 3 points from our last survey in October.
But that 41 percent is the lowest for any modern president at the end of his first year in office. Here are the comparisons (the pre-Clinton numbers come from Gallup; the rest are from the NBC/WSJ poll):
George W. Bush: 85 percent (December 2001)
Kennedy: 76 percent (December 1961)
Johnson: 68 percent (November 1964)
Eisenhower: 68 percent (December 1953)
George H.W. Bush: 67 percent (November 1989)
Carter: 56 percent (December 1977)
Clinton: 56 percent (December 1993)
Nixon: 55 percent (December 1969)
Ford: 51 percent (June 1975)
Truman: 50 percent (March 1946)
Reagan: 48 percent (December 1981)
Obama: 47 percent (December 2009)
Trump: 41 percent (December 2017)
Now, being near the bottom of this list isn't predictive when it comes to a president's chances for re-election; Obama, Reagan and Truman all won re-election, while George H.W. Bush and Carter lost.
But Trump's job rating at 41 percent — with a high of 44 percent and a low of 38 percent in the NBC/WSJ poll — shows that he never really enjoyed a honeymoon during his first year in the White House.
Breaking down Trump's job approval by key subgroups
Looking at the crosstabs in our NBC/WSJ poll, here's Trump's job rating among key subgroups: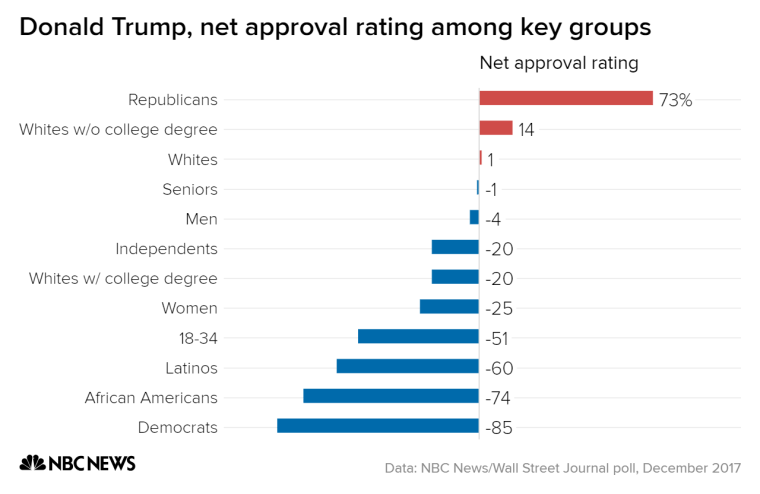 Trump's approval rating ticked up 3 points from October due mainly to improving among Republican voters (from +64 to +73) and independents (from -23 to -20).
Trump White House insists it's not considering firing Mueller
Asked yesterday if he's considering firing Special Counsel Robert Mueller, President Trump answered, "I'm not. no."
That followed White House Legislative Affairs Director Marc Short saying this on "Meet the Press" yesterday: "There's no conversation about [firing Mueller] whatsoever in the White House," he said. "You guys keep bringing that up. We've continued to cooperate at every single possible way with that investigation."
But while the White House says it isn't firing Mueller — and technically, it can't (the decision is up to Deputy Attorney General Rod Rosenstein or whomever replaces him) — what is clear is an effort by Trump allies to undermine Mueller's credibility. "A top lawyer for President Donald Trump's transition team has accused a government agency of unlawfully turning over thousands of emails to special counsel Robert Mueller as part of his investigation into Russia's election meddling and potential collusion with the Trump campaign," NBC's Saphora Smith and Ken Dilanian write.
"Peter Carr, spokesman for the special counsel's office, dismissed Langhofer's claims that Mueller had received the documents improperly. 'When we have obtained emails in the course of our ongoing criminal investigation, we have secured either the account owner's consent or appropriate criminal process,' Carr told NBC News."
On "Meet" yesterday, Sen. Joe Manchin, D-W.V., said: "I do not at all believe that Mr. Mueller has been compromised or his investigation. I think he's beyond reproach. I think anybody who's ever worked with him, who have watched him operate for the last how many years under Democrats and Republicans."
On McCain's absence and the "Corker Kickback" ahead of this week's tax vote
There are two developments ahead of this week's expected final votes on the GOP tax plan: One, Sen. John McCain, R-Ariz., won't be in Washington, which will reduce the GOP vote number by one. "Sen. John McCain flew home to Arizona on Sunday and will miss a vote on the Republican tax bill that is expected early this week," per NBC's Tim Stelloh.
And two, Sen. Bob Corker, R-Tenn. — who last week said he'll vote for the GOP tax plan after opposing it earlier, which makes up for McCain's absence — finds himself in controversy. "Sen. Bob Corker said his sudden switch from a no vote to a yes vote on the GOP tax bill had nothing to do with a last-minute provision that could benefit his real estate empire," the New York Daily News writes. "Corker [said his switch] is not based on a provision that would put more money in his pocket by cutting taxes on income from real estate-affiliated limited liability corporations. Corker made $7 million from such companies in 2016, according to records obtained by the International Business Times."
Corker's office released a statement yesterday saying the senator "wrote to Senate Finance Committee Chairman Orrin Hatch (R-Utah) [Sunday] seeking information about where the provision in question originated. The senator is not a member of the tax-writing committee and had no involvement in crafting the legislation. He requested no specific tax provisions throughout the monthslong debate and had no knowledge of the pass-through provision in question."
Trump's national security strategy is pretty much the same strategy his predecessors followed
At 2:00 pm ET from downtown DC, President Trump delivers a speech on his administration's national-security strategy, and NBC's Vivian Salama previews his remarks. "President Donald Trump is set to unveil his national security strategy Monday, largely adhering to the approach of his two predecessors with a pledge to bolster homeland security and prosperity while exerting American influence abroad," Salama writes.
More: "It's the first framework of its kind to be issued since former President Barack Obama's second and last strategy was provided in 2015. White House officials say it's meant to serve as a springboard for several more in-depth policy outlines to come. Trump's national security adviser, H.R. McMaster, said last week that the plan is broken down into four pillars: Defending the homeland, American prosperity, advancing American influence, and peace through strength."
NBC: House Republicans are planning to wrap up their Russia investigation
Finally, as the House Intelligence Committee is expected today to interview publicist Rob Goldstone – who sent Donald Trump Jr. emails saying, "This is obviously very high level and sensitive information but is part of Russia and its government's support for Mr. Trump" – NBC's Mike Memoli writes that House Republicans are planning to wrap the Russia investigation.
"Senior Republicans on the House Intelligence Committee tell NBC News that they hope and expect to draw their year-long investigation to an end in the coming weeks, saying they have largely completed all interviews relevant to the narrow scope of inquiry Democrats had agreed to last spring. The committee has conducted interviews with key witnesses almost daily this month, sometimes seeing multiple witnesses on a single day, as they eyed the finish line. Though Democrats say they have requested as many as 30 additional interviews with new witnesses, none have been scheduled beyond the end of this month."
A point of comparison: The House Benghazi Committee lasted more than two years (John Boehner announced it on May 2, 2014, and it issued its final report on July 8, 2016), this congressional investigation on Russia has lasted less than a year.