First Read is your briefing from Meet the Press and the NBC Political Unit on the day's most important political stories and why they matter.
Despite environment and controversy, Republicans win another race
Well, if you wanted to know if someone could win a competitive special election one day after being cited for misdemeanor assault, you got your answer. "Republican Greg Gianforte declared victory in Montana's special congressional election, barely a day after he was charged with misdemeanor assault following accusations that he slammed a journalist to the ground," per NBC's Alex Johnson.
With 100% reporting, Gianforte captured 50% of the vote, Democrat Rob Quist got 44%, and Libertarian Mark Wicks got 6%. The result is a victory for Republicans, who spent more than the Democrats to win this race in a challenging environment (though they will now have to deal with new colleague who has to appear in court on assault charges). And it's a loss for Democrats, who couldn't capitalize on the political environment (where President Trump's job approval stands in the high 30s) or on Gianforte's alleged body slam of the Guardian's Ben Jacobs — for which he apologized, but only after declaring victory.
"Last night, I made a mistake, and I took an action that I can't take back," Gianforte said. "I should not have treated that reporter that way, and for that, I am sorry, Mr. Ben Jacobs." That apology, of course, is in stark contrast to the statement the campaign originally released about the incident.
The pressure is on for Democrats to win in Georgia next month
Let's be honest: National Republicans went all-in in this competitive race, while national Democrats half-assed it. The Dems' defeat now only raises the pressure for them to win next month's competitive runoff in Georgia — on June 20. The good news for Democrats in Georgia: It's a much more favorable district than Montana was. The bad news: It looks like a pure 50%-50% race, so victory is far from guaranteed.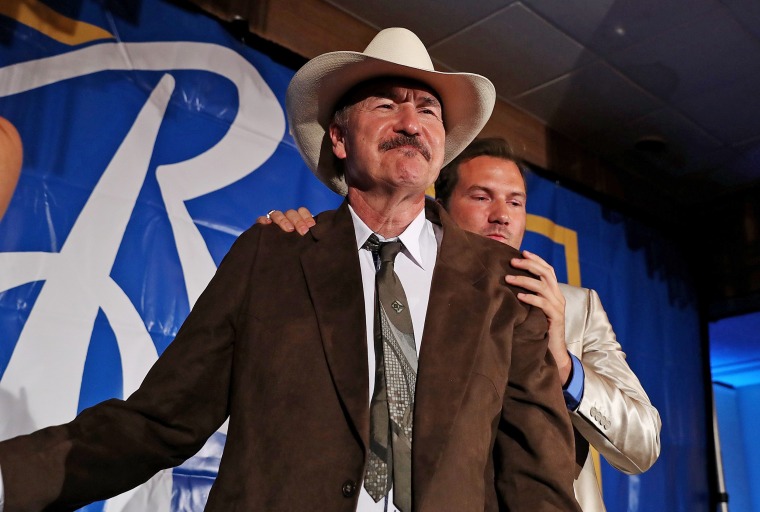 The bright spot for Democrats: They continue to perform better than they did in 2016
The silver lining for Democrats last night is that they have continued the trend of over-performing in these special elections — either compared with the 2016 congressional vote, or the Trump-Clinton result. Here's a look at the numbers:
KS-4 in 2016: Mike Pompeo 61%, Daniel Giroux 30% (R+31)
KS-4 in 2016 (presidential results): Trump 60%, Clinton 33% (R+27)
KS-4 in 2017: Ron Estes 53%, James Thompson 46% (R+7)
GA-6 in 2016: Tom Price 62%, Rodney Stooksbury 38% (R+24)
GA-6 in 2016 (presidential results): Trump 48%, Clinton 47% (R+1)
GA-6 in 2017 (initial round): John Ossoff 48%, Karen Handel 20%, Bob Gray 11%, Dan Moody 9%, Judson Hill 9%.
MT-AL in 2016: Ryan Zinke 56%, Denise Juneau 40% (R+16)
MT in 2016 (presidential results): Trump 57%, Clinton 36% (R+21)
MT-AL in 2017: Gianforte 50%, Quist 44% — with 98% reporting (R+6)
As the Cook Political Report's David Wasserman wrote earlier this week (and before Gianforte was cited for misdemeanor assault): "[T]aken collectively, the margins in specials can tell us a good deal about the political environment — and so far, it's looking really bad for Republicans. There's no such thing as a 'make or break' special election. In June 2006, Democrats fell four points short in a nationally hyped San Diego special election. In May 2010, Republicans fell eight points short in a Western Pennsylvania special. In both cases, the losing side wrested control of the House just a few months later." Focus on the trend, and see if that carries over to Georgia.
'Unearth[ing] some demons': What happens when voters keep rewarding bad behavior?
Yet maybe the most troubling aspect to Gianforte's win — for Republicans, Democrats, and observers of politics — is that it's another example of a candidate being rewarded by voters for behaving badly. So what's the incentive for good behavior? Rep. Mark Sanford (R-SC) summed up our thoughts pretty well, per the Washington Post. "There is a total weirdness out there. And, like I said, [Trump's] unearthed some demons, and people feel like if the president of the United States can say anything to anybody at any time then I guess I can, too. And that is a very, very dangerous phenomenon." If you are relishing this today, you are part of the problem.
The 'push aside' seen around the world
Speaking of the president and his behavior, here's the New York Times' dispatch from yesterday's NATO meeting: "President Trump on Thursday punctured any illusions that he was on a fence-mending tour of Europe, declining to explicitly endorse NATO's mutual defense pledge and lashing out at fellow members for what he called their 'chronic underpayments' to the alliance. On a tense day when Mr. Trump brought the 'America first' themes of his presidential campaign to the very heart of Europe, he left European leaders visibly unsettled, with some openly lamenting divisions with the United States on trade, climate and the best way to confront Russia. The discord was palpable even in body language. When Mr. Trump greeted Emmanuel Macron, France's new president, they grabbed each other's hands, jaws clenched, in an extended grip that turned Mr. Trump's knuckles white. When the leaders lined up to pose for the traditional photograph at NATO headquarters, Mr. Trump appeared to push aside the Montenegrin prime minister, Dusko Markovic, to get to his assigned place in the front."
What looked like a relatively successful trip turned into a disaster
Two days ago, you wouldn't have been wrong to declare Trump's overseas trip a relative success. But after yesterday — the "push aside," critical comments about Germany, no firm Article 5 embrace by Trump, and no formal position on Russia sanctions (!!!) — the trip became a disaster. As former Obama ambassador to Russia Michael McFaul observed, "In Saudi Arabia, Trump promised no lectures. But at NATO, he lectured our allies at length."
Kushner under scrutiny in Russia probe
In other news from yesterday, NBC News reported that Trump top aide and son-in-law Jared Kushner has come under FBI scrutiny in the Russia probe. "Investigators believe Kushner has significant information relevant to their inquiry, officials said. That does not mean they suspect him of a crime or intend to charge him. The FBI's scrutiny of Kushner places the bureau's sprawling counterintelligence and criminal investigation not only on the doorstep of the White House, but the Trump family circle... The officials said Kushner is in a different category from former Trump aides Paul Manafort and Michael Flynn, who are formally considered subjects of the investigation. According to the Justice Department's U.S. Attorneys' Manual, "A 'subject' of an investigation is a person whose conduct is within the scope of the grand jury's investigation."
Per MSNBC's Ari Melber, this all means that Kushner has significant information that authorities want to get — but it doesn't mean he's under threat of being charged of a crime.