First Read is a morning briefing from Meet the Press and the NBC Political Unit on the day's most important political stories and why they matter.
Donald the Disrupter
If we've learned anything from President-elect Donald Trump over the month since his surprise presidential win, it's that he's a disruptive force -- and it's delivered results for him so far. He's chided Corporate America for exporting jobs, and that spurred Ford in part to scrap its plans to build a plant in Mexico. On Tuesday, he criticized House Republicans for gutting an outside ethics office (though the criticism was on the timing, not the substance), and they backed down. He's fired off tweets left and right that have distracted us in the media. (Remember those conflict-of-interest stories? We still don't know what he's going to do with his business empire, including his DC hotel that the federal government leases.) And then last night, after feuding with the intelligence community over its conclusion that Russia intervened in the 2016 presidential election, Trump is considering restructuring the CIA, the Wall Street Journal first reported.
He's already bringing change. But will that outweigh the uncertainty, unpredictability, and backlash?
This is how a new president can -- despite our government's checks and balances and our country's powerful institutions -- affect change. Or at least influence behavior. And change is what Trump promised during his campaign. But while disruptive forces can produce change, they can also produce economic uncertainty (remember when Corporate America railed against that back in 2009-2010?), diplomatic unpredictability, and potential backlash. So brace yourselves: Trump is going to bring a lot of change to government, foreign relations, and the media. The question to watch over the next few months is whether this change outweighs the uncertainty, unpredictability, and eventual backlash that will follow it.
Trump vs. the intelligence community
Speaking of potential backlash, top intelligence officials will testify before the Senate Armed Services Committee beginning at 9:30 am ET on Russia's intervention in the 2016 election. NBC's Andrea Mitchell teed up the hearing on "Today": "This morning, all eyes on Capitol Hill after a war of words...President-Elect Trump attacking the credibility of the nation's 16 intelligence agencies, challenging their unanimous conclusions that Russia interfered with the U.S. election. A rare public rebuke ...Trump's VP Mike Pence not walking it back. 'Given some of the intelligence failures of recent years, the president-elect made it clear to the American people that he's skeptical about conclusions from the bureaucracy, and I think the American people hear him loud and clear.'" More from Mitchell: "Today, Armed Services Chairman John McCain -- who has called Russia's actions an act of war -- will hold hearings on the Russian hacking, giving the spy chiefs a platform to talk back, as the Director of National Intelligence -- and the directors of the CIA and FBI -- prepare to brief the president-elect Friday at Trump Tower. Intelligence officials, at first incredulous, now furious with Trump, senior officials tell NBC News -- a dispute boiling over Wednesday when the president-elect sided with Wikileaks founder and fugitive Julian Assange against them."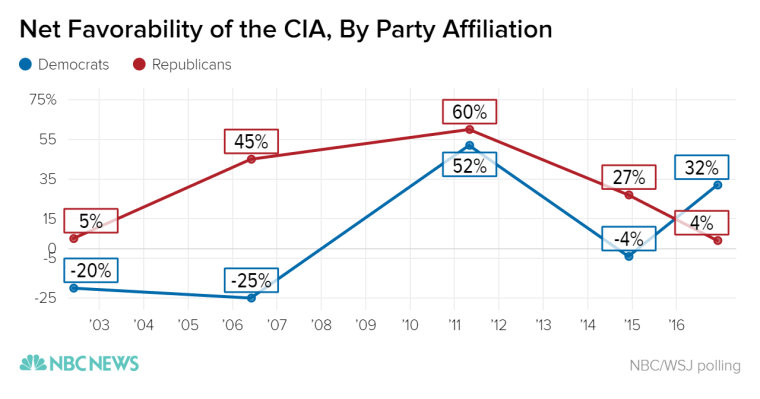 More examples of how partisanship continues to be the greatest force in American politics
Note the changing perceptions of the CIA and Julian Assange: As for views of the CIA, don't miss what one of us wrote yesterday: Democrats now give it higher marks than Republicans do. "While the CIA still remains relatively popular — much more so than Congress or either political party — the past two decades have shown significant fluctuation in how Republicans and Democrats view the agency, according to polling conducted by NBC News and the Wall Street Journal. And for the first time since the survey asked about the CIA back in 2002, Democrats now have a more positive view of the nation's foreign intelligence agency than Republicans do." And then there's Julian Assange's increasing popularity with Republicans and conservatives. "Mr. Assange, long reviled by many Republicans as an anarchist lawbreaker out to damage the United States, has won new respect from conservatives who appreciated his site's release of Democratic emails widely perceived to have hurt Hillary Clinton's campaign," the New York Times writes.
Role reversal: McConnell says public "will not tolerate" Democrats blocking Supreme Court pick
Yesterday, we mentioned how Chuck Schumer said Democrats wouldn't make it easy for Trump to fill the Supreme Court vacancy. Well, now comes this news via NBC's Alex Jaffe: "Senate Majority Leader Mitch McConnell dismissed a pledge from his Democratic counterpart to block President-elect Donald Trump's Supreme Court nominee, insisting 'the American people simply will not tolerate' such a move... 'Apparently there's yet a new standard now, which is to not confirm a Supreme Court nominee at all,' McConnell said, adding: 'I think that's something the American people simply will not tolerate, and we'll be looking forward to receiving a Supreme Court nomination and moving forward on it.'"
Trump Cabinet Watch
Secretary of State: Rex Tillerson OFFERED
Attorney General: Jeff Sessions OFFERED
Treasury: Steve Mnuchin OFFERED
Defense: JamesMattis OFFERED
Homeland: John Kelly OFFERED
Interior: Ryan Zinke OFFERED
HHS: Tom Price OFFERED
HUD: Ben Carson OFFERED
Education: Betsy DeVos OFFERED
Commerce: Wilbur Ross OFFERED
Transportation: Elaine Chao OFFERED
Labor: Andy Puzder OFFERED
Agriculture: Sid Miller, Heidi Heitkamp, Elsa Murano, Abel Maldonado
Energy: Rick Perry OFFERED
Veterans Affairs: Scott Brown, Jeff Miller, Adm. Michelle Howard
OMB Director: Mick Mulvaney OFFERED
U.S Trade Representative: Robert Lighthizer
CIA Director: Mike Pompeo OFFERED
UN Ambassador: Nikki Haley OFFERED
Environmental Protection Agency: Scott Pruitt OFFERED
National Security Adviser: Michael Flynn OFFERED
Director of National Intelligence: Fran Townsend, Carly Fiorina, Dan Coats
Small Business Administration: Linda McMahon OFFERED
RNC Chair: Ronna Romney McDaniel OFFERED