First Read is a morning briefing from Meet the Press and the NBC Political Unit on the day's most important political stories and why they matter.
Despite tightening polls, Clinton maintains battleground lead
Sure, the 2016 presidential race is closer than it was a month ago, when Donald Trump was battling with the Khan family, Paul Ryan, and Barack Obama. Still, Hillary Clinton holds a significant battleground lead over Trump, according to the newest NBC News battleground map. Clinton stands at 272 electoral votes, Trump is at 174, and 92 are in the tossup column.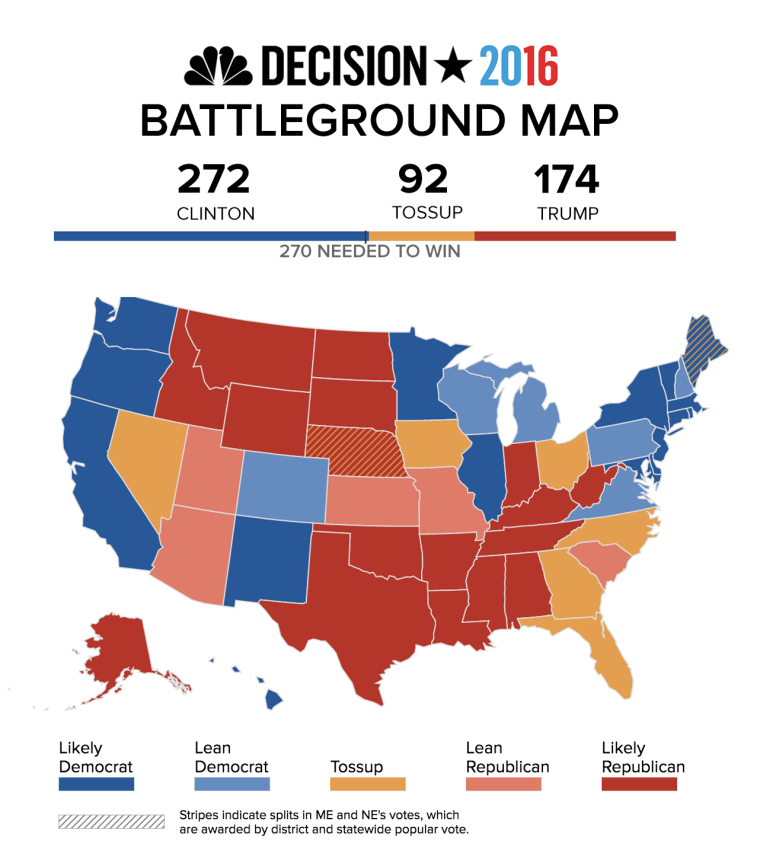 Likely Dem: CA, CT, DC, DE, HI, IL, ME (3 EVs) MD, MA, MN, NJ, NM, NY, OR, RI, VT, WA (200 electoral votes)
Lean Dem: CO, MI,, NH, PA, VA, WI (72),
Tossup: FL, GA, IA, ME (1EV), NE (1 EV), NV, NC, OH (92)
Lean GOP: AZ, KS, MO, SC, UT (41)
Likely GOP: AL, AK, AR, ID, IN, KY, LA, MS, MT, NE (4 EVs), ND, OK, SD, TN, TX, WV, WY (133)
That's a slightly smaller lead than Clinton's 288-174 advantage last month. The two changes here: We moved North Carolina from Lean Dem to tossup (Clinton is still leading in the Tar Heel State per most polls, but not as much as the nine-point edge in our August NBC/WSJ/Marist poll). And we also moved the one electoral vote from Nebraska's 2nd Congressional District from Lean Dem to tossup. So Clinton isn't ahead by as much as she was last month, but she still exceeds the 270 electoral votes needed for victory. And perhaps more notably, Trump hasn't added anything to his column here.
Steady as she goes
In the latest weekly installment of the NBC|SurveyMonkey online tracking poll, Hillary Clinton is at 48%, Trump at 42% among registered voters. That's exactly where the race stood a week ago in the same poll. More: "In a four-way general election match-up, Clinton leads Trump by a slightly narrower 4-point margin — 41 percent to 37 percent. That is also unchanged from last week. Libertarian candidate Gary Johnson gains a single point in support with 12 points and Green Party candidate Jill Stein drops a single point with 4 percent." That said, a new CNN poll of likely voters has Trump up two points, 45%-43%, though Clinton is ahead by three points among registered voters. Here's the deal as we mentioned above: The race is tighter than it was a month ago in the aftermath of the Democratic convention. And PR-wise, the CNN is helpful to Team Trump, especially given the battleground maps and the other polling out there.
A clear-cut example of pay for play?
Here's a hypothetical: A donor gives thousands of dollars to a politician overseeing a lawsuit involving the donor's business. And then that same politician later drops the lawsuit. Is that pay for play? The AP from back in June: "Florida's attorney general personally solicited a political contribution from Donald Trump around the same time her office deliberated joining an investigation of alleged fraud at Trump University and its affiliates The … disclosure from Attorney General Pam Bondi's spokesman to The Associated Press on Monday provides additional details around the unusual circumstances of Trump's $25,000 donation to Bondi. The money came from a Trump family foundation in apparent violation of rules surrounding political activities by charities. A political group backing Bondi's re-election, called And Justice for All, reported receiving the check Sept. 17, 2013 — four days after Bondi's office publicly announced she was considering joining a New York state probe of Trump University's activities, according to a 2013 report in the Orlando Sentinel. After the check came in, Bondi's office nixed suing Trump, citing insufficient grounds to proceed." Two things can be true: One, the Clinton Foundation has deserved legitimate scrutiny. Two, the Trump donation to Bondi (as well as one to former Texas AG Greg Abbott, who is now the state's governor) is a much clearer case of pay to play.
Trump responds to Bondi story
Speaking to reporters about the Bondi story yesterday, Trump said: "No, I never even -- I never spoke to her. First of all, she's beyond reproach. She's a fine person. Never spoke to her about it at all. She's a fine person. Never spoke to her about it. Never. Many of the attorney generals turned that case down, cause I'll win that case in court. But many attorney generals throughout the country [inaudible]. I never spoke to her about." Yet in that same AP article mentioned above: [Bondi political consultant Marc[ Reichelderfer told AP that Bondi spoke with Trump 'several weeks' before her office publicly announced it was deliberating whether to join a lawsuit proposed by New York's Democratic attorney general. Reichelfelder said that Bondi was unaware of dozens of consumer complaints received by her office about Trump's real-estate seminars at the time she requested the donation."
Bernie Sanders: Hillary should cease all ties to Clinton Foundation if she wins in November
As for the Clinton Foundation, Bernie Sanders said Hillary Clinton "should cease all operations, all contact" with the Clinton Foundation if she wins in November. NBC's Sally Bronston: "On NBC's 'Meet the Press,' Clinton's one-time rival was pressed on if that means the foundation should shut down entirely. Sanders replied, 'At the very least, she should not be involved. At the very least.'" In an interview with ABC yesterday, Hillary Clinton said her husband shouldn't step down until she wins the White House. "I'm very proud of the work that the Clinton Foundation has done," Clinton said in the interview. "It's a world-renowned charity because of the work that my husband started and many, many people helped him with… He started this great work. He has made it his life's work, after the presidency. And he has said, if I am so fortunate enough to be elected, he will not be involved. And I think that is appropriate."
Trump is indeed advertising in CO, IA, NV, NH, VA
Over the Labor Day weekend, we finally got updates on the additional five states where Trump is advertising -- it's a total of $3.4 million in Colorado, Iowa, Nevada, New Hampshire, and Virginia (from Sept. 3-8).
Colorado: $578,000
Denver: $468K
Colorado Springs: $84K
Grand Junction: $26K
Iowa: $332,000
Cedar Rapids: $71K
Davenport: $83K
Des Moines: $109K
Ottumwa: $14K
Sioux City: $55K
Nevada: $505,000
Las Vegas: $251K
Reno: $93K
Cable: $161K (Vegas only)
New Hampshire: $237,000
Boston: $118K
Burlington: $119K
Virginia: $1.6 million
Charlottesville: $51K
Norfolk: $120K
Richmond: $98K
Roanoke: $122K
Washington, DC: $1.28M
Cable: $57k (Richmond only)
88 retired generals and admirals back Trump
Finally, the Trump campaign has released an "open letter on Tuesday from about 90 retired generals and military officials endorsing his presidential campaign, urging a 'long overdue course correction in our national security posture,'" the New York Times writes. "The letter in support of Mr. Trump, signed by 88 retired military figures, will come as the campaign prepares for a week focused on national security, with a forum hosted by NBC and MSNBC on Wednesday evening alongside Hillary Clinton, the Democratic presidential nominee... The group of signatories was put together by Maj. Gen. Sidney Shachnow of the Army, a Holocaust survivor, and Rear Adm. Charles Williams of the Navy.
On the trail
Hillary Clinton holds a rally in Tampa, FL at 11:45 am ET… Donald Trump stumps in Virginia Beach, VA before heading for a rally in Greenville, NC at 7:00 pm ET… Tim Kaine is in Wilmington, NC, while Bill Clinton is in Durham, NC… And Mike Pence campaigns in Chesterfield, MO.
Countdown to NBC's Commander-in-Chief Forum: 1 day
Countdown to first presidential debate: 20 days
Countdown to VP debate: 28 days
Countdown to second presidential debate: 33 days
Countdown to third presidential debate: 43 days
Countdown to Election Day: 63 days