First Read is a morning briefing from Meet the Press and the NBC Political Unit on the day's most important political stories and why they matter.
The education gap gets even wider
There are two big takeaways from our new round of NBC/WSJ/Marist polls. One, Donald Trump has a problem on the Midwest turf on which he's staked his general-election hopes -- he's trailing Hillary Clinton in Iowa (41%-37%), Ohio (43%-38%) and Pennsylvania (48%-37%). (And keep in mind that these states – particularly Iowa and Ohio – are just about the last battlegrounds Trump can afford to lose.) Two, the education gap between Clinton and Trump has gotten even wider. Just look at the numbers BEFORE and AFTER the conventions: Clinton's lead among college-educated whites grew, while Trump's support among whites without a college degree stayed about the same.
White voters with a college degree
Iowa: July poll: Clinton 44%, Trump 37% (Clinton +7); Aug poll: Clinton 56%, Trump 25% (Clinton +31)
Ohio: July poll: Clinton 39%, Trump 34% (Clinton +5); Aug poll: Clinton 45%, Trump 37 (Clinton +8)
Pennsylvania: July poll: Clinton 47%, Trump 37% (Clinton +10); Aug poll: Clinton 53%, Trump 32% (Clinton +21)
White voters without a college degree
Iowa: July poll: Trump 43%, Clinton 37% (Trump +6); Aug poll: Trump 42%, Clinton 35% (Trump +7)
Ohio: July poll: Trump 49%, Clinton 30% (Trump +19); Aug poll: Trump 49%, Clinton 31% (Trump +18)
Pennsylvania: July poll: Trump 43%, Clinton 33% (Trump +10); Aug poll: Trump 50%, Clinton 34% (Trump +16)
Trump's Keystone problem
Here's why our poll (and others) showing Trump trailing Pennsylvania by double digits is so significant: If you take the state off the map for Trump -- and you give Colorado and Virginia to Clinton -- that means Trump has to win EVERY ONE of the following states: Florida, Iowa, Nevada, New Hampshire, North Carolina, and Ohio. That's absolutely no margin for error.
Trump's Second Amendment misstep and why words matter
The GOP nominee and his campaign are vigorously denying that his comments about "Second Amendment people" in North Carolina yesterday suggested or condoned violence in any way. Trump's opponents didn't mince words about how the statement could be taken to encourage violence or armed resistance against Clinton or the judiciary; his backers called it everything from biased media spin to a misstatement to "joke gone bad," (how Paul Ryan labeled it.) Trump's problem here is twofold. 1) Trump's campaign is again asking for the benefit of the doubt about ambiguous rhetoric after more than a year of a candidacy predicated on Trump's embrace of imprecise and often aggressive language and 2) the comment comes as Trump is trailing Clinton significantly on measures like "being a good commander in chief" and "being able to handle a crisis." Particularly with Democrats' efforts to paint Trump as a walking threat to national security, another completely unforced error is again pushing the candidate away from a "reset" meant to convince voters he has the temperament to handle the job. And the familiar cycle continues: Trump utters something controversial, the campaign does cleanup (with a hefty dose of blaming the media), and a round of GOP folks say it's the last straw and jump ship,
Paul Ryan sails to victory as expected
Conservatives hoping to see Paul Ryan "Cantored" by an upstart challenger were disappointed last night when Ryan sailed to an 84 percent to 16 percent win over Paul Nehlen. This contest would have gone virtually unnoticed had Trump not blasted it into the headlines by suggesting that he might not endorse the House Speaker, a position he later reversed. Ryan is hugely popular in his home district – unlike Trump, who lost the district badly to Ted Cruz in the Wisconsin primary earlier this year. This was never going to be a squeaker, folks, but it did give us a revealing window into Trump's initial choice to pick a fight that he was bound to lose.
Wal-Mart Moms and the "lesser of two evils"
NBC's Andrew Rafferty reports on a focus group of Wal-Mart moms last night who feel stuck between "a dishonest Washington insider and an unqualified hothead that has a key bloc of women voters open to considering third-party candidates just three months before Election Day." MORE: "That's the takeaway from Phoenix, Arizona, and Columbus, Ohio, focus groups of "Wal-Mart moms" -- women who have at least one child under 18 living at home and who have shopped at Wal-Mart in the past month. The groups observed by NBC News on Tuesday painted an overwhelmingly negative picture of the campaign, frequently calling it a choice between the "lesser of two evils." Five of the ten women in the Columbus group said they would vote for a candidate other than Hillary Clinton or Donald Trump. In Phoenix, two said they would support third-party candidates. Yet of the 20 women between the two groups, 19 said they think Clinton will win in November. The other was undecided."
Team Clinton is outspending Team Trump in the battlegrounds by a 15-to-1 margin
Our latest ad-spending numbers show the Clinton campaign outspending the Trump camp, $52 million to $0. And when you factor in outside spending, it's Team Clinton $91 million to Team Trump's $8 million. And here's a look at the battleground-state disparity: It's Team Clinton at $77 million in nine states and Team Trump at $5 million.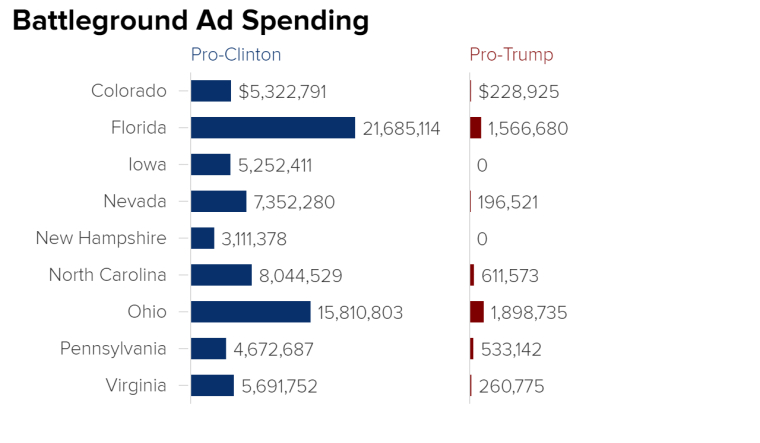 The Top 10 advertising markets
Here one more set of ad-spending numbers: The 10 markets with the most advertising dollars in the presidential election – from all advertisers. No. 1 and No. 2? Florida's I-4 Corridor. And another Florida market (West Palm Beach) checks in at No. 8.
1. Orlando-Daytona Beach-Melbourne, FL: $8.1 million
2. Tampa-St. Pete-Sarasota, FL: $7.6 million
3. Cleveland-Akron, OH: $6.2 million
4. Las Vegas, NV: $5.2 million
5. Columbus, OH: $4.2 million
6. Denver, CO: $4.0 million
7. Charlotte, NC: $3.7 million
8. West Palm Beach-Ft, Pierce, FL: $3.4 million
9. Boston, MA (NH market): $2.9 million
10. Raleigh-Durham, NC: $2.6 million
On the trail
Hillary Clinton is in Des Moines, Iowa. Donald Trump campaigns in Virginia and Florida. Mike Pence holds events in Ohio.
Countdown to Election Day: 90 days