First Read is a morning briefing from Meet the Press and the NBC Political Unit on the day's most important political stories and why they matter.
Stopping Trump and Clinton got harder after last night
Last night's big wins in New York by Donald Trump and Hillary Clinton didn't fundamentally alter the delegate math; in fact, the results were pretty much what we expected. But what last night served to do was make it harder to stop the two frontrunners. And that could be especially true after next week's contests in Connecticut, Delaware, Maryland, Pennsylvania, and Rhode Island. Are the two races over? It's close to that on the Democratic side, while Trump is on a stronger path to a majority than he was two weeks ago.
In the GOP race last night, Trump won 61% of the vote in New York, picking up 88 delegates to three for John Kasich (four more delegates are left to be allocated). To put the 88 pledged delegates that Trump gained last night into perspective, the total exceeds Cruz's delegate hauls in Wisconsin (+36) and Colorado (+34). Maybe more importantly, Trump needs to now win 57% of remaining delegates to hit that magic 1237 number -- down from the 61% he needed before last night. And if Trump runs the table in next week's contests, that 57% could be 52% or lower. Bottom line: Trump isn't a sure bet to reach a majority; it's more like a 50%-50% proposition. But he's in a MUCH better place than he was just two weeks after his loss in Wisconsin.
Trump holds a 285-delegate lead over Cruz (it was 197 before last night)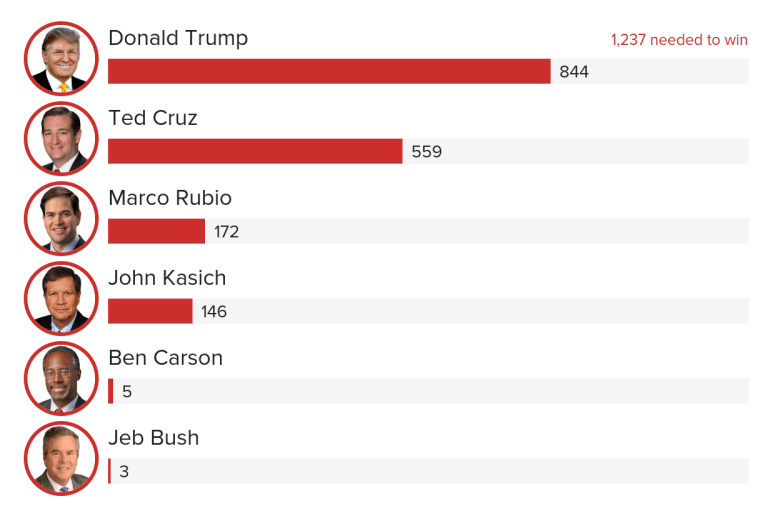 Trump needs to win 57% of remaining delegates to reach 1237 magic number (was 61%)
Cruz needs to win 98% of remaining delegates to reach 1237 magic number (was 86%)
Kasich needs to win 158% of remaining delegates to reach 1237 magic number (was 140%)
If you assume Trump wins 95 out of the 118 available pledged delegates up for grabs next week -- which is doable -- that would bring Trump's 57% down to 52%.
Clinton's New York gains all but erased her losses in Alaska, Idaho, and Wisconsin
On the Democratic side, Hillary Clinton defeated Bernie Sanders by 16 points, 58%-42%, picking up a net of 31 pledged delegates (with six still to be allocated). To put those 31 pledged delegates into perspective, they all but erase Sanders' gains in Idaho (+13), Alaska (+10), and Wisconsin (+10). And when you add superdelegates into the mix, Clinton needs to win just 29% of remaining delegates to hit the Democratic magic number of 2383, while Sanders needs to win 71%, which is nearly an impossible task given the Dems' proportional allocation system. Here's the math:
In pledged delegates, Clinton currently holds a lead of 271 delegates with Washington delegates to still be allocated (it was 240 before last night)
Clinton 1421 (55%)
Sanders 1150 (45%)
Clinton must win 41% of remaining pledged delegates to get a majority in pledged delegates (was 43%)
Sanders must win 59% of remaining pledged delegates to get a majority in pledged delegates (was 57%)
In overall delegates (pledged + super), Clinton holds an overall lead of 695 delegates (was 665)

Clinton must win 29% of remaining delegates to reach 2383 magic number (it was 33%)
Sanders must win 71% of remaining delegates to reach 2383 magic number (it was 67%)
If you assume Clinton and Sanders tie in Pennsylvania next week and Clinton wins the other four states by a 55%-45% margin – which would be a generous outcome for Sanders – Clinton's 29% would decrease to 22%-23%. A new Quinnipiac poll shows Clinton leading Sanders in Connecticut, 51%-42%, while Trump leads Kasich, 48%-28%.
How does Sanders land the plane?
Given the math on the Democratic side, the only remaining question is the one we posed yesterday -- how does Sanders land the plane? If campaign manager Jeff Weaver's appearance on MSNBC last night is any indication, they're still going to take the fight all of the way to the convention, with Weaver declaring that superdelegates will decide the contest. (But if you're counting on superdelegates, who are already breaking 464-40 for Clinton, to save you, that's some shaky ground.) For his part, Sanders insisted that there's still a path to victory after he touched down for the night in Vermont, per NBC's Danny Freeman. There is no doubt that Sanders has performed better than anyone -- including us -- expected a year ago. And you have to give his campaign credit for going all-in in New York (outspending Clinton 2-to-1 over the airwaves) to change the trajectory of the race. But Sanders now faces a real choice: Is his campaign about pushing his ideas and message, or it is about winning? Because right now, he's not accomplishing either.
Can the "Stop Trump" effort wait until Indiana?
In the GOP race, the question we had going into last night was -- where does the "Stop Trump" movement try to stop him next? NBC's Hallie Jackson reports that multiple anti-Trump strategists point to Indiana (May 3) and California (June 7) as the biggest battlegrounds for the movement. "If Indiana is a Wisconsin replay," said one strategist, "that pretty much guarantees us a floor fight [in Cleveland], barring a Trump sweep in California" far beyond current projections. In addition to Indiana, at least one anti-Trump groups is also looking to Nebraska: "Demographically, those states are a lot more similar to states where we've had a lot more success," notably Wisconsin. The question we have: Can they really wait until Indiana, especially if Trump runs off six-consecutive wins?
Democrats are energized; Republicans are divided
That's maybe the most stunning exit-poll result from last night: 66% of Democratic primary voters in New York said the Dem race has energized the party, versus 59% of Republican primary voters who said the GOP contests has divided theirs. By the way, just how small was the New York GOP primary last night? The 519,000 votes Trump won in his victory was smaller than his second-place finish in Ohio (728,000). There just aren't many New York Republicans.
Get excited about next week's Senate primaries
Next week doesn't just bring us five more presidential primaries; it also will give us results in two important Senate Democratic primaries -- Chris Van Hollen vs. Donna Edwards in Maryland, and Joe Sestak vs. Katie McGinty in Pennsylvania.
On the trail
Hillary Clinton campaigns in Connecticut… Ted Cruz stumps in Maryland and Indiana… And John Kasich hits Pennsylvania.