First Read is a morning briefing from Meet the Press and the NBC Political Unit on the day's most important political stories and why they matter.
Three possible outcomes in tonight's GOP Indiana primary
In what has become one of the most crucial contests of the entire Republican presidential race, tonight's Indiana primary offers three possible outcomes -- and two of them are bad news for Ted Cruz and the "Stop Trump" movement.
Outcome #1 is that the polls are right and Trump is poised for a double-digit or high single-digit win in the Hoosier State. That would pretty much ensure that Trump walks away with all of the state's 57 delegates (awarded winner-take-all statewide and winner-take-all in each congressional district). And that would mean -- in basketball terms since this is the Hoosier State, after all -- Trump would need to make a simple layup to get to 1,237 delegates; he'd need to win just 40% of all remaining delegates to get there.
Outcome #2 is that Trump barely wins tonight, and that he splits the delegates with Cruz (with the lion's share going to the statewide winner). That would turn Trump's shot at 1,237 into a five-foot attempt.
And Outcome #3 is that Cruz wins and largely shuts Trump out of delegates in the state. As we've written before, Trump would still have a viable shot at 1,237 under that scenario, but the degree of difficulty would become the equivalent of a three-pointer -- with everything hinging on Trump's performance in the delegate-rich state of California on June 7. Here's the current delegate math:
Trump holds a 433-delegate lead over Cruz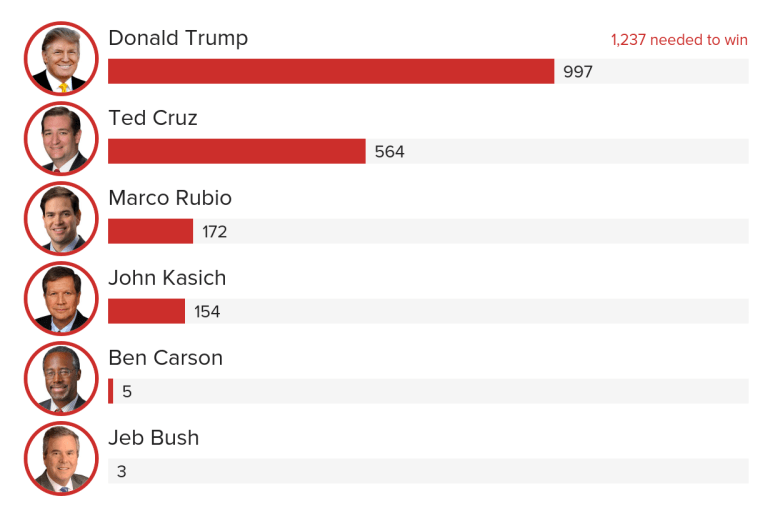 Trump needs to win 46% of remaining delegates to reach 1,237 magic number
Cruz needs to win 130% of remaining delegates to reach 1,237 magic number
Kasich needs to win 209% of remaining delegates to reach 1,237 magic number
No matter who wins in tonight's Dem race, the delegate math is unlikely to change
Meanwhile, in the Democratic race, there are essentially two likely outcomes: 1) a close Hillary Clinton win where she evenly splits the delegates with Bernie Sanders under the proportional allocation system, or 2) a close Sanders victory where he evenly splits the delegates with Clinton. So regardless how Indiana plays out tonight, the Democratic race really won't change -- and Clinton could brick every shot from here on out and still get to the 2,383 delegates she needs to win the Democratic nomination. Here's the Dem delegate math:
In pledged delegates, Clinton currently holds a lead of 321 delegates (with Washington delegates to still be allocated)
Clinton 1,641 (55%)
Sanders 1,320 (45%)
Clinton must win 35% of remaining pledged delegates to get a majority in pledged delegates
Sanders must win 65% of remaining pledged delegates to get a majority in pledged delegates
In overall delegates (pledged + super), Clinton holds an overall lead of 790 delegates

Clinton must win 19% of remaining delegates to reach 2,383 magic number
Sanders must win 81% of remaining delegates to reach 2,383 magic number
Who said it -- Cruz or Sanders?
Trailing in their respective races, it's striking how similar the rhetoric from Ted Cruz and Bernie Sanders has been over the last couple of days:
"We are in for the distance. We are competing, as long as we have a viable path to victory, I am in to the end" -- Cruz to NBC's Hallie Jackson yesterday.
"The convention will be a contested contest... We believe that we are in a very strong positon to win many of these remaining contests and win California" -- Sanders at his news conference on Sunday.
"Nobody is gonna get to 1,237. I'm not gonna get to 1,237, but neither is Donald Trump. And so we're headed to a contested convention" – Cruz to Jackson on Monday.
"It is virtually impossible for Secretary Clinton to reach the majority of convention delegates by June 14 with pledged delegates alone" – Sanders on Sunday.
Clinton apologizes for earlier remark on the coal business
Campaigning in West Virginia yesterday, as NBC's Andrea Mitchell reported on "Today" this morning, Hillary Clinton apologized to an out-of-work coal company worker for her earlier comment that "We're going to put a lot of coal miners and coal companies out of business." Said Clinton at a roundtable discussion: "I do feel a little bit sad and sorry that I gave folks the reason or the excuse to be so upset with me because that is not what I intended at all." Clinton said her earlier comment was taken out of context as she was then touting a $30 billion plan she announced last year to help struggling coal companies. Clinton will join NBC's Andrea Mitchell for an exclusive live interview from West Virginia at noon ET on MSNBC's "Andrea Mitchell Reports."
Addled alliances
The alliance between Ted Cruz and John Kasich to divvy up primary states probably made sense on paper; after all, it theoretically could have given Cruz a clear shot in Indiana. The problem? It backfired, big time. Our new NBC News| SurveyMonkey poll shows that a big majority – 70% -- of Republicans are either uncomfortable (35%) or angry (35%) about the deal. What's more, the vast majority of GOP voters are pretty cynical when it comes to Cruz's move to pick Carly Fiorina as his running mate: 83% of GOPers said the pick was made to revitalize Cruz's campaign, not because Fiorina was the best person for the job. Another poll out this morning from Morning Consult also shows that Fiorina hasn't helped Cruz much overall. A quarter of Republican voters said the decision made them more likely to vote for Cruz, while about the same share – 24% -- said they were actually less likely to vote for him as a result.
On the trail
Hillary Clinton stumps in West Virginia and Ohio, while husband Bill Clinton is in Kentucky… Bernie Sanders holds a rally in Louisville, KY tonight… Donald Trump gives Election Night remarks in New York City… And Ted Cruz makes a final swing through Indiana.