First Read is a morning briefing from Meet the Press and the NBC Political Unit on the day's most important political stories and why they matter.
Trump can't stay on message, and that's a problem
The news gods delivered a gift to Donald Trump -- FBI Director James Comey's rebuke to Hillary Clinton over her email practices -- and he squandered it in the span of 24 hours. As NBC's Ali Vitali and Shaquille Brewster report, Trump last night began his rally in Cincinnati, OH with a point-by-point takedown of Clinton and the emails, but then the speech devolved into a conversation about almost everything else. He doubled down on his controversial Star of David tweet. "They took the star down. I said too bad, you should have left it up. I would have rather defended it. Just leave it up. And say no, that's just a star." (That comes after Trump's son-in-law Jared Kushner, who is Jewish, acknowledged that the tweet was "careless.") Trump again talked about Saddam Hussein. "I don't love Saddam Hussein. I hate Saddam Hussein," he said. "But he was damn good at killing terrorists." And he discussed mosquitoes after a fly interrupted him. "I don't like mosquitoes!" Trump's lack of message disciple is a problem in his campaign against Hillary Clinton. As the New Yorker's Ryan Lizza puts it, "He's allowed Comey's reprimand of HRC to be a one-day story." But it's an even bigger problem once you're in the White House. Can you engage in diplomacy if you can't stick to the script? Can you negotiate with Congress on legislation if the matter quickly turns to another topic? Don't be surprised if the subject of Trump's message discipline -- or lack thereof -- comes up when Trump visits congressional Republicans this morning on Capitol Hill.
Will House Republicans overplay their hand as Comey heads to the Hill?
The other visit to Capitol Hill will be from FBI Director Comey, who testifies before the House Oversight and Government Reform Committee at 10:00 am ET on his email findings. One of the dangers for Republicans is if they overplay their hand -- criticizing Comey's ultimate decision not to recommend charges against Clinton, even after he gave them a political gift. "I think the FBI director is a man of integrity," House Oversight Chairman Jason Chaffetz (R-UT) said on "Today" this morning. But when NBC's Savannah Guthrie asked Chaffetz if he agreed with Trump's assessment that the FBI investigation into Clinton's email practices was rigged, Chaffetz replied, "That is the legitimate question for the FBI director." As we wrote yesterday, one of the patterns involving the Clintons is careless behavior followed by Republicans overplaying their hand. Will that continue today?
GOP Veepstakes: Then there were three (we think)
Yesterday, we learned that Bob Corker and Joni Ernst had taken themselves out of the running to be Trump's VP. Given our reporting, that appears to leave three top-tier contenders -- Newt Gingrich, Chris Christie, and Mike Pence. (Of course, it's always possible Trump surprises us without someone out of the blue.) And last night, Trump praised Gingrich, who appeared with him in Cincinnati. "We like Newt. And I'll tell you what. Newt, Newt has been my friend for a long time. And I'm not saying anything, and I'm not telling even Newt anything, but I can tell you in one form or another, Newt Gingrich is going to be involved with our government. That I can tell you. Okay? He's gonna be involved. He's smart, he's tough, he gets it, and he says I'm the biggest thing he's ever seen in the history of politics." Was this a head fake by Trump? Or did he let the cat out of the bag?
The United States of Trump, Part 2
In the second part of NBC's "United States of Trump" project, NBC's Leigh Ann Caldwell takes a comprehensive look at the economic, political and cultural dynamics over the past 50 years that led to the rise of Trump. Through interviews, public opinion polls, and economic indicators, she finds the Republican Party worked hard to recruit white working-class men into the party. But after decades of economic conditions worsened for white male workers, the Republican Party, from Reagan to Romney, ignored -- or misunderstood -- their needs. Enter Donald Trump.
Mo' Money, Fewer Problems?
On Wednesday, the Trump campaign released June fundraising numbers that are likely to calm some GOP worries after the previous month's poor report. It claimed it raised $30 million in June (with Trump chipping in $3.8 million of his own money) and an additional $25 for the party under its victory fund. Caveats: The press release announcing these figures was confusing, and the campaign admitted the victory fund money included the last week in May, so we will need to wait until July 20 for the official numbers here. But using these preliminary numbers, here's an apples-to-apples comparison with the Clinton campaign.
Clinton campaign in June: $40.5 million
Trump campaign in June: $30 million
Clinton total for party/victory fund in June: $28 million
Trump total for party/victory fund in June: $25 million
Total Team Clinton (campaign + party/victory fund) in June: $68.5 million
Total Team Trump (campaign + party/victory fund) in June: $55 million
And to put the $30 million the Trump campaign raised into perspective, here are past June hauls by the presumptive presidential nominees going back to 2004 (not adjusted for inflation):
Obama '08: $54 million
Obama '12: $46 million
Clinton '16: $40.5 million
Kerry '04: $38 million
Romney '12: $33 million
Trump '16: $30 million (with a personal donation of $3.8 million)
McCain '08: $22 million
Bush '04: $13 million
SOURCE: Federal Election Commission
Team Clinton is outspending Team Trump in the battlegrounds by a 46-to-1 margin
Speaking of money, the Clinton campaign and its allies are currently outspending Trump and his supporting groups over the airwaves by a 15-to-1 margin, $45 million to $3 million. And in the nine battleground states -- now including Pennsylvania -- it's a 46-to-1 margin, nearly $43 million to $929,000. (One of two pro-Trump ads buys is airing only on national cable, not in the battlegrounds.)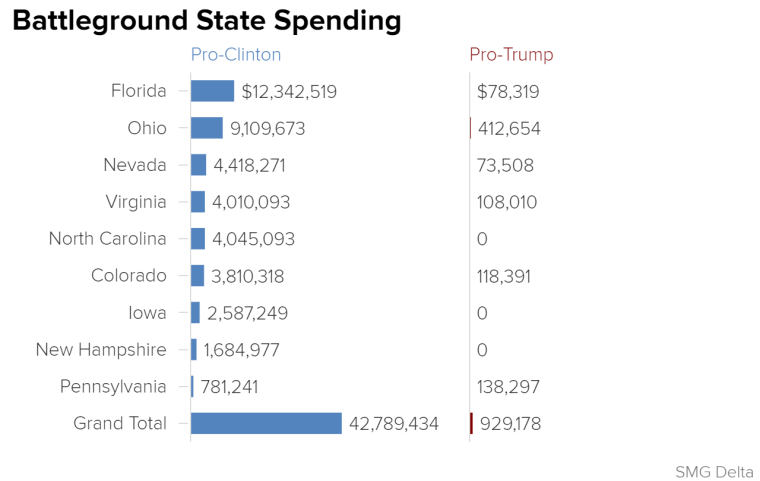 Veepstakes Watch
Check out the latest installment of VP Watch from Kailani Koenig, Alex Jaffe, Vaughn Hillyard and Danny Freeman… POLITICO writes that many shortlisters on both sides of the aisle are relatively unknown to voters… It's worth noting how unusually public Trump's vetting process has been… In quick succession yesterday, Bob Corker and Joni Ernst bowed out of the running for the job… Newt Gingrich auditioned for the gig yesterday at a rally in Cincinnati… And Yahoo News argues that Clinton's VP choice is particularly important, saying "The question is which way Clinton might go, now that she's finally in control of the party. Clinton's not just choosing a running mate. She's choosing a path."
On the trail
Hillary Clinton is down, while Trump visits Republicans on Capitol Hill. Don't forget to check out the political unit's rolling minute-to-minute coverage of all the latest 2016 developments at the On the Trail liveblog at NBCNews.com.