First Read is a morning briefing from Meet the Press and the NBC Political Unit on the day's most important political stories and why they matter.
Trump's charitable foundation takes another hit
As the Washington Post first reported Tuesday, Donald Trump spent more than a quarter of a million dollars from his charitable Trump Foundation to settle lawsuits. "Those cases … were among four newly documented expenditures in which Trump may have violated laws against 'self-dealing' — which prohibit nonprofit leaders from using charity money to benefit themselves or their businesses." This now becomes the third tough story in three weeks that has rocked the Trump Foundation, as the Trump campaign and GOP have made "pay for play" allegations against the Clinton Foundation. The first tough story was the Trump Foundation giving Florida Attorney General Pam Bondi a $25,000 donation (for which Trump had to pay a $2,500 fine to the IRS because charities aren't supposed to make campaign donations). And the second story was that Trump spent $20,000 from his charity to buy a six-foot portrait of himself. The rub here: The Post notes that most of the Trump Foundation money has come from other people, not Trump himself. As for the latest story on the quarter of a million of dollars from the Trump Foundation being used to settle lawsuits, tax-law expert Lloyd Mayer of Notre Dame Law School tells the New York Times, "That's way across the line," he said. "It's not even close. It's clearly self-dealing for a private foundation like the Trump Foundation."
Trump camp blasts the Post story -- but doesn't single out a single fact it got wrong
Last night, the Trump campaign responded to yesterday's Washington Post story. "In typical Washington Post fashion, they've gotten their facts wrong," the campaign said in a statement. "It is the Clinton Foundation that is set up to make sure the Clintons personally enrich themselves by selling access and trading political favors. The Trump Foundation has no paid board, no management fees, no rent or overhead, and no family members on its payroll. There was not, and could not be, any intent or motive for the Trump Foundation to make improper payments. All contributions are reported to the IRS, and all Foundation donations are publicly disclosed. Mr. Trump is generous both with his money and with his time. He has provided millions of dollars to fund his Foundation and a multitude of other charitable causes. The Post's reporting is peppered with inaccuracies and omissions from a biased reporter who is clearly intent on distracting attention away from the corrupt Clinton Foundation." The one problem here: The statement doesn't spell out a single inaccuracy or omission in the article.
Foundation story fits a larger pattern
Think about it -- the Trump Foundation, Trump University, the tax breaks. They all seem to fit a pattern of Trump either looking for the best deal possible, or doing whatever it takes not to spend his own money.
It's official: Clinton outraises Trump in August and has more money in the bank
The official August fundraising numbers are in, and here's the dispatch from NBC's Leigh Ann Caldwell: "Both Hillary Clinton and Donald Trump had their best fundraising months yet in August, with Clinton bringing in $59.5 million and Trump $41 million, according to new Federal Election Commission filings released Tuesday. How they spend their money is vastly different… Most of Clinton's spending went to buying television advertising. She spent $33 million on TV ads alone — more than Trump's entire monthly expenditure. Trump, who has been outspent by Clinton on TV five-to-one, only spent $5.2 million on television ads last month. Trump's largest expenditure was to the firm Giles-Parscale, for digital consulting and online advertising. Trump paid the firm $11 million in August and about $8 million in July, a large sum for the expenditure and more than Clinton spent on the same services during a full year of her campaign."
Raised in August:
Clinton: $59.5 million (up from $52.3 million in July)
Trump: $41.8 million -- half coming from candidate himself (up from $36.6 million in July)
Spent in August
Clinton: $49.6 million
Trump $29.9 million
Cash on hand as of Aug. 31
Clinton: $68.4 million (was $58.5 million as of July 31)
Trump: $50.3 million (was $38.4 million as of July 31)
Battleground ad spending: Team Clinton $131 million, Team Trump $30 million
Yesterday, we wrote that the Clinton campaign, even combined with outside groups, is outspending Team Trump by about a 5-to-1 margin. Well, a similar margin holds true in the battleground states, with Team Clinton (campaign + outside groups) spending a combined $131 million in nine battleground states, versus Team Trump's $30 million.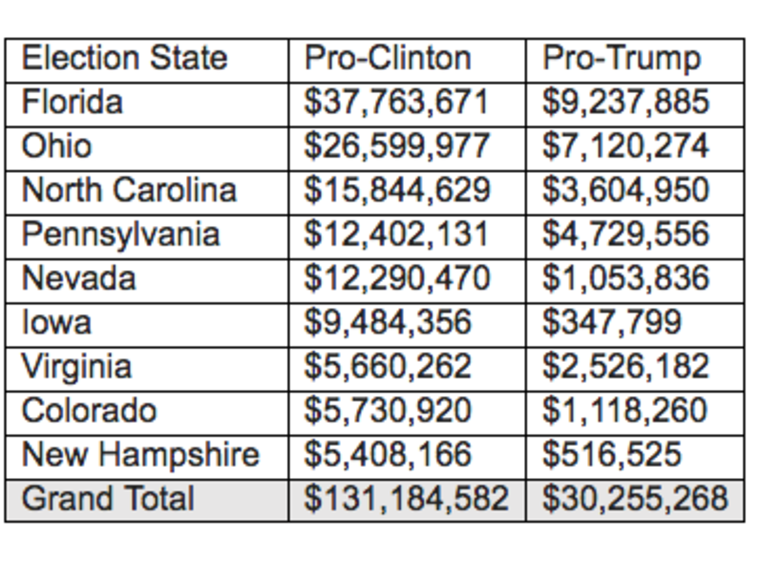 Top 10 advertising markets
Meanwhile, here are the TV markets that have seen the most advertising in the 2016 presidential race. As has been the case this entire general election, Florida markets make up three of the Top 10, including No. 1 and No. 2.
1. Orlando-Daytona Beach-Melbourne, FL: $16,653,930
2. Tampa-St Petersburg-Sarasota, FL: $14,482,778
3. Cleveland-Akron, OH: $10,979,405
4. Las Vegas, NV: $9,194,734
5. Columbus, OH: $7,670,427
6. Charlotte, NC: $7,660,120
7. Philadelphia, PA: $6,860,415
8. West Palm Beach-Ft. Pierce, FL: $6,641,842
9. Raleigh-Durham, NC: $5,819,682
10. Boston, MA (NH market): $5,321,703
Obama faces first veto override of presidency
"Senate Majority Leader Mitch McConnell on Tuesday said he expects the Senate will successfully override President Obama's expected veto of a bill that would allow the families of 9/11 victims to sue Saudi Arabia over its alleged support for the terrorists who carried out the attacks," the Washington Post says. "The White House has said the president intends to veto the bill, which it has until Friday night to do. McConnell (R-Ky.) said the Senate would act soon after."
Senate blasts Wells Fargo
Finally, how toxic is Wall Street? Just look at senators from Elizabeth Warren to Pat Toomey blasting Wells Fargo on Capitol Hill yesterday.
On the trail
Hillary Clinton campaigns in Orlando, FL at 2:00 pm ET (our No. 1 advertising market!)… And Donald Trump and Mike Pence hold a rally in Toledo, OH at 1:00 pm ET, before taping a town hall with Fox's Sean Hannity… And Tim Kaine fundraises out in California.
Countdown to first presidential debate: 5 days
Countdown to VP debate: 13 days
Countdown to second presidential debate: 18 days
Countdown to third presidential debate: 28 days
Countdown to Election Day: 48 days