First Read is a morning briefing from Meet the Press and the NBC Political Unit on the day's most important political stories and why they matter.
Why it's so hard for Trump to retreat on immigration
Since launching his presidential candidacy 14 months ago, Donald Trump's most consistent and uncompromising policy issue has been immigration. Indeed, it was the subject of his first general-election TV ad that started airing on Friday. Yet over the weekend, his top aides and advisers suggested that Trump might be shifting on his past position that all of the 11 million undocumented immigrants living in the United States must be deported forcibly. "To be determined," is what newly minted Campaign Manager Kellyanne Conway said on CNN when asked if Trump was retreating on the "deportation force" he talked about during the primary season. But here's why it's so hard -- if not impossible -- for Trump to retreat on immigration: He's caught between his clear, unambiguous past statements and a base that might not willing to see him moderate on the issue. His past statements:
Aug. 16, 2015"We're going to keep the families together, but they have to go," Trump said on NBC's Meet the Press." More Trump: "We will work with them. They have to go. Chuck, we either have a country, or we don't have a country," he said.
Nov. 11, 2015"You are going to have a deportation force, and you are going to do it humanely," Trump said on MSNBC's "Morning Joe" when asked how he would round up the nation's 11 million undocumented immigrants.
April 21, 2016"Look, we're either going to have a country or we're not going to have a country. But many people are very fine people. And I'm sure these are very, very fine people. They're going to go, and we're going to create a path where we can get them into this country legally, okay? But it has to be done legally" -- when asked by a questioner at a "Today" town hall that person's undocumented relatives would have to be deported if Trump becomes president.
Trump can't ignore a base that has cheered his uncompromising immigration position
And then there are the Trump supporters who've cheered the GOP presidential nominee for being so uncompromising on immigration. The Washington Post's Dave Weigel: "Jared Taylor hits play, and the first Donald Trump ad of the general election unfolds across his breakfast table. Syrian refugees streaming across a border. Hordes of immigrants, crowded onto trains. 'Donald Trump's America is secure,' rumbles a narrator. 'Terrorists and dangerous criminals kept out. The border, secure; our families, safe.' Taylor, one of America's foremost "racialists," is impressed and relieved. 'That's a powerful appeal,' he said. 'If he can just stick to that, he is in very good shape.' From his Fairfax County home, Taylor has edited the white nationalist magazine American Renaissance and organized racialist conferences under the 'AmRen' banner. He said that Trump should 'concentrate on his natural constituency, which is white people,' suggesting that winning 65 percent of the white vote would overwhelm any Democratic gains with minorities. When Trump made Breitbart News CEO Steve Bannon his campaign's chief executive last week, Taylor found reasons to celebrate. It was the latest sign for white nationalists, once dismissed as fringe, that their worldview was gaining popularity and that the old Republican Party was coming to an end."
Clinton camp: This is more about wooing Republicans and swing voters than Latinos and African Americans
Team Clinton believes that this Trump campaign talk about a possible retreat on immigration -- as well as Trump's recent appeals to African-American voters -- is aimed more at nervous Republicans and swing voters more than Latinos and African Americans. Their argument: If this were an actual play for these minority voters, the Trump campaign would be reaching out directly to these audiences and not airing a new ad on immigration. Most importantly, we've yet to hear directly from Trump on any immigration change. And until we do, all of this is talk rather than any kind of policy change. As National Journal's Ben Pershing observes:
Trump blurts something out on TV
Media analyzes strategic "shift"
There is no "shift" (and therefore no strategy).
Trump camp pounces on Clinton Foundation announcement
Meanwhile, the Trump campaign is pouncing on the Clinton Foundation's announcement last week that it won't accept foreign or corporate donations if Hillary Clinton becomes president. "The Clinton Foundation is the most corrupt enterprise in political history, and it's clear that Hillary Clinton and her campaign have no idea how to defend it," a Trump official tells NBC News. "Their refusal to cease foreign and corporate donations only highlights the fact her acceptance of such donations while Secretary of State were a conflict of interest and highly unethical. Until then, the drumbeat to release her FBI testimony and open the books on this shady operation will only intensify." Indeed, as the New York Times writes, "[W]hile the move could avoid the awkwardness of Mr. Clinton jetting around the world asking for money while his wife is president, it did not resolve a more pressing question: how her administration would handle longtime donors seeking help from the United States, or whose interests might conflict with the country's own."
Colin Powell: Clinton people are trying to pin email scandal on me
Maybe we now know why Colin Powell hasn't endorsed Hillary Clinton yet. People magazine: "On Friday, the New York Times reported that Clinton told FBI officials former Secretary of State Colin Powell had advised her to use a personal email account while she held the Secretary of State office herself. 'Her people have been trying to pin it on me,' Powell, 79, told PEOPLE Saturday night at the Apollo in the Hamptons 2016 Night of Legends fête in East Hampton, New York. 'The truth is, she was using [the private email server] for a year before I sent her a memo telling her what I did,' Powell added. Why does the former diplomat believe this to be the case? 'Why do you think?' he said. 'It doesn't bother me. But it's okay; I'm free.'"
Clinton camp unveils new TV ad hitting Trump on the commander-in-chief test
The Clinton camp is up with a new TV ad hitting Trump on the commander-in-chief test. "All it takes is one wrong move," the narrator says after the ad plays clips of Trump saying "And you can tell them to go f%@& themselves" and "I would bomb the sh!% out of them."
It's official: Clinton camp outraises Trump in July, has $20 million more in the bank
Over the weekend, we received the official fundraising numbers from July. Here's the apples-to-apples comparisons, per NBC's Leigh Ann Caldwell:
Clinton campaign raised in July: $52.3 million
Trump campaign raised in July: $36.6 million
Clinton campaign cash on hand as of July 31: $58.5 million
Trump campaign cash on hand as of July 31: $38.4 million
DNC raised in July: $32.3 million
RNC raised in July: $27.2 million
Total Clinton/DNC raised in July: $84.6 million
Total Trump/RNC raised in July: $63.8 million
Caldwell also writes this story: "With fewer than 80 days until election day, Republican kingmaker Sheldon Adelson still hasn't put any money toward Donald Trump's campaign for president, according to newly released filings from the Federal Election Commission. The snub from Las Vegas casino magnate, who is one of the GOP's largest donors, is another example of the concerns some members of the Republican Party still have with their presidential nominee."
A market-by-comparison of the Clinton-vs.-Trump TV ad war
Finally, here is the market-by-market comparison of the amount of money Trump has on the air in the four states where he's now advertising versus the Clinton campaign in these same four states from Aug. 19-29. (The Clinton campaign also is advertising in Iowa, Nevada, and New Hampshire, where the Trump camp isn't.)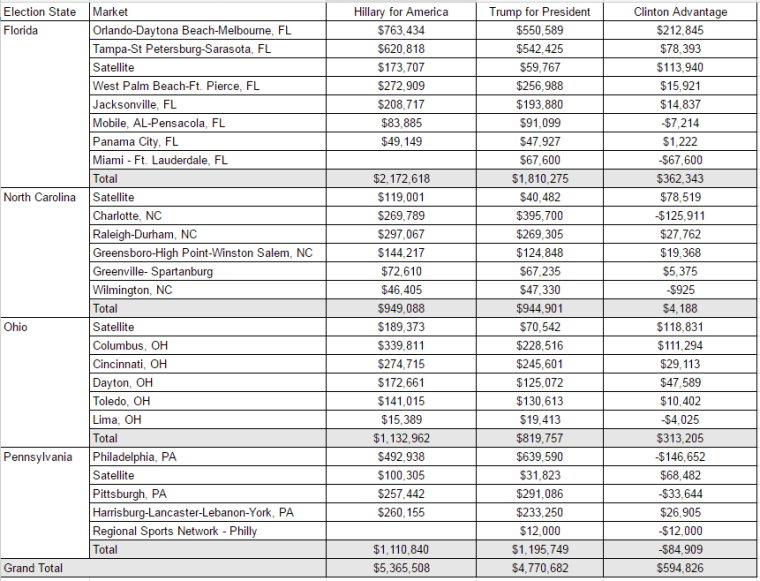 On the trail
Donald Trump holds a rally in Akron, OH at 7:00 pm ET… Mike Pence stumps in Cedar Rapids, IA… And Tim Kaine is in Nevada.
Countdown to Election Day: 78 days