First Read is a morning briefing from Meet the Press and the NBC Political Unit on the day's most important political stories and why they matter.
Why the Cruz-Kasich alliance could backfire
On paper, the alliance between Ted Cruz and John Kasich -- whereby Kasich will skip the May 3 Indiana primary to help Cruz against frontrunner Donald Trump, while Cruz will skip Oregon (May 17) and New Mexico (June 7) to help Kasich -- makes a lot of sense. After all, when you add up the Cruz-Kasich percentages in recent polls, that number beats Trump's percentage. The alliance is also necessary, given that the three public polls out of Indiana now show Trump ahead -- and if Trump wins the Hoosier State, it's game over for Cruz and Kasich. But we can count three reasons why last night's announced alliance/truce could end up backfiring. One, it plays right into Trump's argument that Republican forces are conspiring against him, and that the contest is rigged. Indeed, he released this statement last night: "When two candidates who have no path to victory get together to stop a candidate who is expanding the party by millions of voters, (all of whom will drop out if I am not in the race) it is yet another example of everything that is wrong in Washington and our political system. This horrible act of desperation, from two campaigns who have totally failed, makes me even more determined, for the good of the Republican Party and our country, to prevail!"
All Kasich supporters in Indiana aren't going to vote for Cruz
Two, it's not a sure thing that all of Kasich's voters in Indiana will support Cruz. According to a Fox poll released over the weekend -- which showed Trump leading Cruz in the Hoosier State by eight points, 41%-33% -- 53% of Kasich voters said Cruz would be their second choice, while 22% said it would be Trump. So without Kasich in the equation, the Indiana contest becomes much closer. But it doesn't guarantee a win for Cruz. What's more, Kasich is STILL on the ballot, and he hasn't instructed his supporters in Indiana to vote for Cruz; instead, he just said he won't actively campaign in the state. And Indiana voters have been voting absentee since April 5, which means some Kasich supporters have already voted for the Ohio governor. In fact, that same Fox poll (conducted April 18-21) found that 4% of Indiana Republicans had already voted in the primary, and that sliver of the electorate could matter in a close contest.
Indiana is more important to Cruz than it is to Trump and his path to 1,237
And three, Indiana and its 57 delegates on May 3 aren't Trump's only path to 1,237 delegates. According to our math, Trump could get SHUT OUT of Indiana, but still win a majority of delegates on a first ballot at the convention -- if he sweeps California and takes most of its 172 delegates on June 7, and if he wins most of Pennsylvania's 54 unbound delegates. Make no mistake: Success in Indiana would make 1,237 more doable for Trump. But it isn't his only path. Indeed, Indiana is much more important to Cruz than it is to Trump, which explains the alliance. Cruz and Kasich HAD to do it to keep their candidacies alive.
NBC/WSJ/Marist poll: Trump up 18 points in Pennsylvania
Speaking of Trump's different paths to 1,237, the NBC/WSJ/Marist poll of Pennsylvania released yesterday shows the real-estate mogul leading Cruz by 18 points in the Keystone State, 45%-27%, with Kasich in third at 24%. Per Pennsylvania's delegate-allocation rules, the statewide winner picks up just 17 delegates. But here is why Trump winning Pennsylvania by 15 to 20 points could be important: About two-thirds of the candidates running to be one of the 54 unbound delegates to the GOP convention say they will either back Trump or support the candidate who wins their congressional district. If that holds, Trump could end up winning 52 out of the state's 71 delegates -- or more. And when you add that up to his expected delegate hauls tomorrow (in Connecticut, Delaware, Maryland, and Rhode Island), what's going to be the bigger story come Wednesday: The Cruz-Kasich alliance in Indiana, or Trump's six-consecutive primary victories? Here's the current GOP delegate race:
Trump holds a 286-delegate lead over Cruz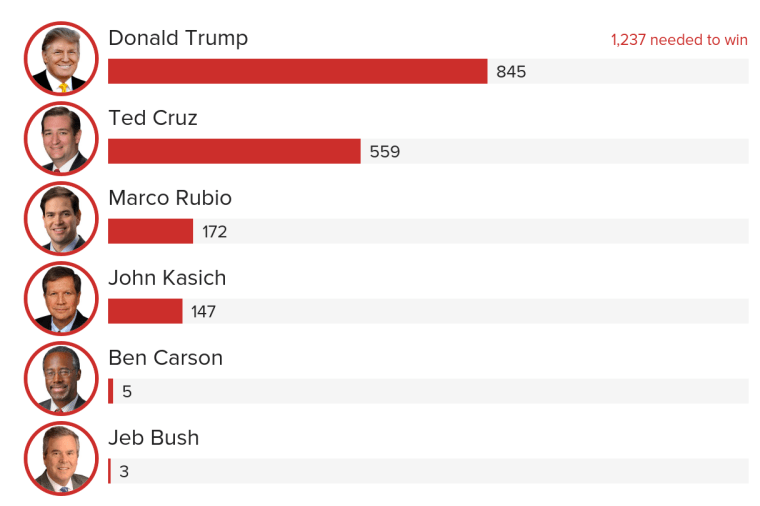 Trump needs to win 57% of remaining delegates to reach 1237 magic number
Cruz needs to win 98% of remaining delegates to reach 1237 magic number
Kasich needs to win 158% of remaining delegates to reach 1237 magic number
Sanders: "I will do everything that I can to make certain that Donald Trump is not elected president"
The same NBC/WSJ/Marist poll of Pennsylvania also found Hillary Clinton leading Bernie Sanders in the state, 55%-40%. On "Meet the Press" yesterday, Sanders repeated that he's in the Democratic contest until the final votes, despite facing the almost insurmountable task of catching Clinton in the delegate race. "We are in this race. We are not writing our obituary. We're in this race to California, and we're proud of the campaign we ran," he said. Asked if he has a responsibility to help Clinton if she's the nominee, Sanders responded, "I will do everything that I can to make certain that Donald Trump is not elected president. But if that scenario plays out, the major responsibility will be on Secretary Clinton to convince all people, not just my supporters, that she is the kind of president this country needs to represent working people in this country, to take on the big money interests who have so much power, to fight for what the American people want."
But Sanders still attacks Clinton -- and even Connecticut's Democratic governor
So that sounded like a Bernie Sanders who sees the political handwriting on the wall. But it didn't stop him from attacking Clinton while campaigning in Connecticut yesterday, per NBC's Alex Jaffe. "This campaign, unlike Secretary Clinton's, has not raised $15 million from Wall Street and millions more from other special interests. This candidate has not given speeches behind closed doors on Wall Street for [$225,000 a speech]." He also went after the state's Democratic governor, Dan Malloy, who was an early endorser of Clinton's. "I'm not sure why your governor has cut mental health services in the state." Here's the Democratic delegate math:
In pledged delegates, Clinton currently holds a lead of 270 delegates (with Washington delegates to still be allocated)
Clinton 1427 (55%)
Sanders 1157 (45%)
Clinton must win 41% of remaining pledged delegates to get a majority in pledged delegates
Sanders must win 59% of remaining pledged delegates to get a majority in pledged delegates
In overall delegates (pledged + super), Clinton holds an overall lead of 695 delegates

Clinton must win 29% of remaining delegates to reach 2383 magic number
Sanders must win 71% of remaining delegates to reach 2383 magic number
Charles Koch: I could possibly back Clinton over Trump or Cruz
The other noteworthy news over the weekend was GOP mega-donor Charles Koch saying that Hillary Clinton COULD be a better presidential candidate for him than Trump or Cruz.
ABC: So is it possible another Clinton could be better than another Republican this time around?
Koch: It's possible. It's possible.
ABC: You couldn't see yourself supporting Hillary Clinton, could you?
Koch: Well, I -- that -- her -- we would have to believe her actions will be quite different than her rhetoric, let me put it that way.
Now that final qualification is important. But still…
MSNBC to air town halls featuring Sanders (at 8:00 pm ET) and Clinton (at 9:00 pm ET)
Finally, MSNBC will air two town halls tonight – one at 8:00 pm ET featuring Bernie Sanders, and the other at Clinton 9:00 pm ET featuring Hillary Clinton.
On the trail
Hillary Clinton campaigns in Delaware and Pennsylvania, while husband Bill Clinton is in Rhode Island… Bernie Sanders hits Connecticut and Pennsylvania… Donald Trump campaigns in Rhode Island and Pennsylvania… And John Kasich stumps in Maryland and Pennsylvania.